THIS SALAD IS FALL IN A BOWL.
Fall is one of my favorite seasons, and this salad literally tastes like fall!
It's still hot and humid here in Singapore but this salad gives me all the fall vibes that I miss from home in New York.  It's warm, cozy, sweet, has a little spice and a little tang. 
Creamy pumpkin, crisp sweet apples, a bit of spicy nut mix, and all drizzled with a simple but delicious maple mustard vinaigrette.  
This one is perfect to serve as a side for Thanksgiving or as an easy weeknight meal accompanied by a protein of choice.
If you love the flavors of fall or love pumpkin like me, try these other recipes.  I am sure you will love them!
If you try this salad, let me know what you think!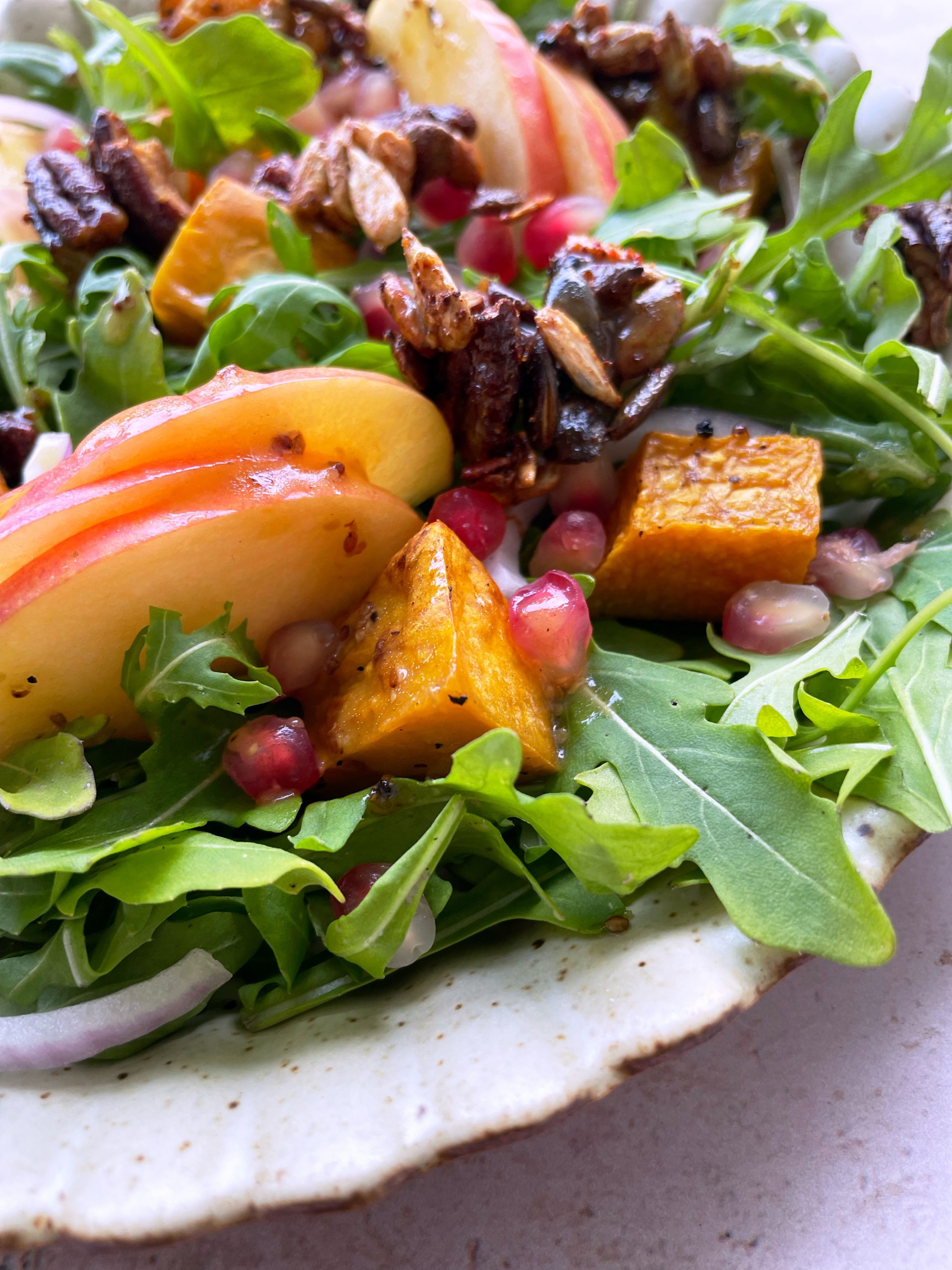 Yield/Servings: 4
Author: Riyana Rupani
Print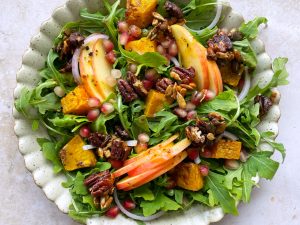 Fall Apple & Pumpkin Salad
A perfect salad for the fall season
PREPARATION TIME: 10 MIN
COOKING TIME: 15 MIN
TOTAL TIME: 25 MIN
INGREDIENTS
Salad
½ - ¾ cup of my sweet and spicy masala nuts. (I used pumpkin seeds, sunflower seeds, and pecans when making the salad instead of the original blend of nuts in the recipe)
450g/1lbs pumpkin, cubed and roasted

¼ cup

 red onion, thinly sliced

1 large or 2 small red apples

, sliced

150g/

5oz

 of arugula

½ cup

fresh pomegranate seeds or sub with dried cranberries

Optional - ⅓ cup

crumbled goat cheese or gorgonzola cheese
Dressing

⅓ cup extra-virgin olive oil

2 tbsp apple cider vinegar

1 tbsp Dijon mustard

1 medium garlic clove, pressed or minced

1 tbsp maple syrup

¼ tsp fine sea salt
INSTRUCTIONS
Make the sweet and spicy masala nuts. first.  If you have an air-fryer you can have the time in the instructions and prep them in there.
While the nuts are cooking, make the dressing.  Put all your ingredients into a jar and give it a good shake.
Assemble the salad. In a large bowl (not the one you will be serving in) toss arugula,  red onion, 1/2 cup spiced nuts, pomegranate seeds, and cheese if using with the dressing until coated. Taste and season with salt and pepper if you like.  Then add 1/2 the sliced apple, and give it a little toss.
Place the salad in the serving bowl and garnish with more spiced nuts, cheese, pomegranate, and apple.
NOTES:
If making ahead, get all the components ready beforehand, and toss right before serving.