THESE ARE THE PERFECT COMBINATION OF SWEET, SALTY, AND A LITTLE BIT OF SPICE!

Perfect for your next cocktail party!
I love spiced nuts and even though you can buy store bought, I always prefer making them at home. They are super easy to make, cost half as much as store bought mixes, and they don't have any nasty preservatives!
I made this batch for a holiday dinner party I was having at home. But these are perfect for snacking, or even giving away! Put them in a nice glass jar, add some ribbon and you have a lovely homemade goodie to giveaway!
You can use any nuts and seeds you have on hand, but I used pecans, almonds, walnuts, cashews, and coconut flakes.
If you ask me, the coconut flakes make the mix special. You don't usually find coconut in nut mixes but they bake up beautifully and taste delicious with the sweetness and spices in this mix.
To spice these up I used a traditional Indian spice called Garam Masala. This is a lovely blend of roasted cumin, coriander, cinnamon, cardamom, black pepper, and a few other spices. You can make this at home, but nowadays you can easily find this spice blend in most grocery stores.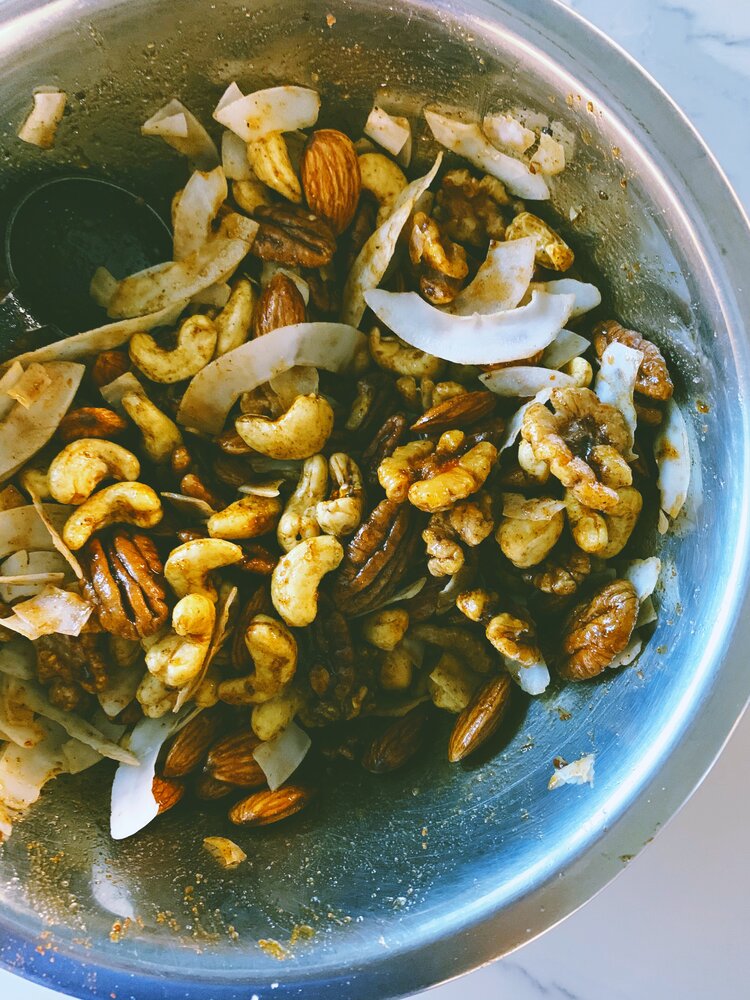 Yield/Servings: 6-8
Author: Riyana Rupani
Print
Sweet & Spicy Masala Nuts
Sweet, Spicy, Salty, Crunchy, & Delicious!
PREPARATION TIME: 5 MIN
COOKING TIME: 20 MIN
TOTAL TIME: 25 MIN
INGREDIENTS
1 cup Cashews
1 cup Almonds
1 cup Pecan halves
1 cup Walnuts
1/2 Large Coconut Flakes
1 tbsp Coconut Oil
3 tbsp Maple Syrup
1.5 tsp Garam Masala
1 tsp Salt
1/2 tsp Paprika
1/2  tsp Cayenne Pepper (or to taste)
1/2 tsp Ground Cinnamon
INSTRUCTIONS
Preheat oven to 180℃/350℉.
Line a large baking sheet with parchment paper.
Add nuts to a large bowl. Add in coconut oil and maple syrup and toss to coat.
Sprinkle on all the spices and mix well.
Bake nuts for 15-20 minutes. Check on them every 5 minutes and give them a little toss with a spatula for even baking. The nuts are done once they are golden brown.
Remove from oven and allow the nuts to cool completely on the pan before storing in an airtight container.