COMPLICATED FLAVORS, SIMPLE PREPARATION!
This fish is so full of flavor and comes together without a lot of work.
the marinade ingredients are simply blended together to really speed things up.  I recommend marinating this for at least 1 hour so I tend to marinate this at the start of the day and pop it in the fridge.  Cooking takes minutes after a busy day!
I typically cook this by pan frying but feel free to use an air fryer or the oven.  It turns out equally tasty!
Don't forget to pair this with some veg to complete the meal!  My go-tos would be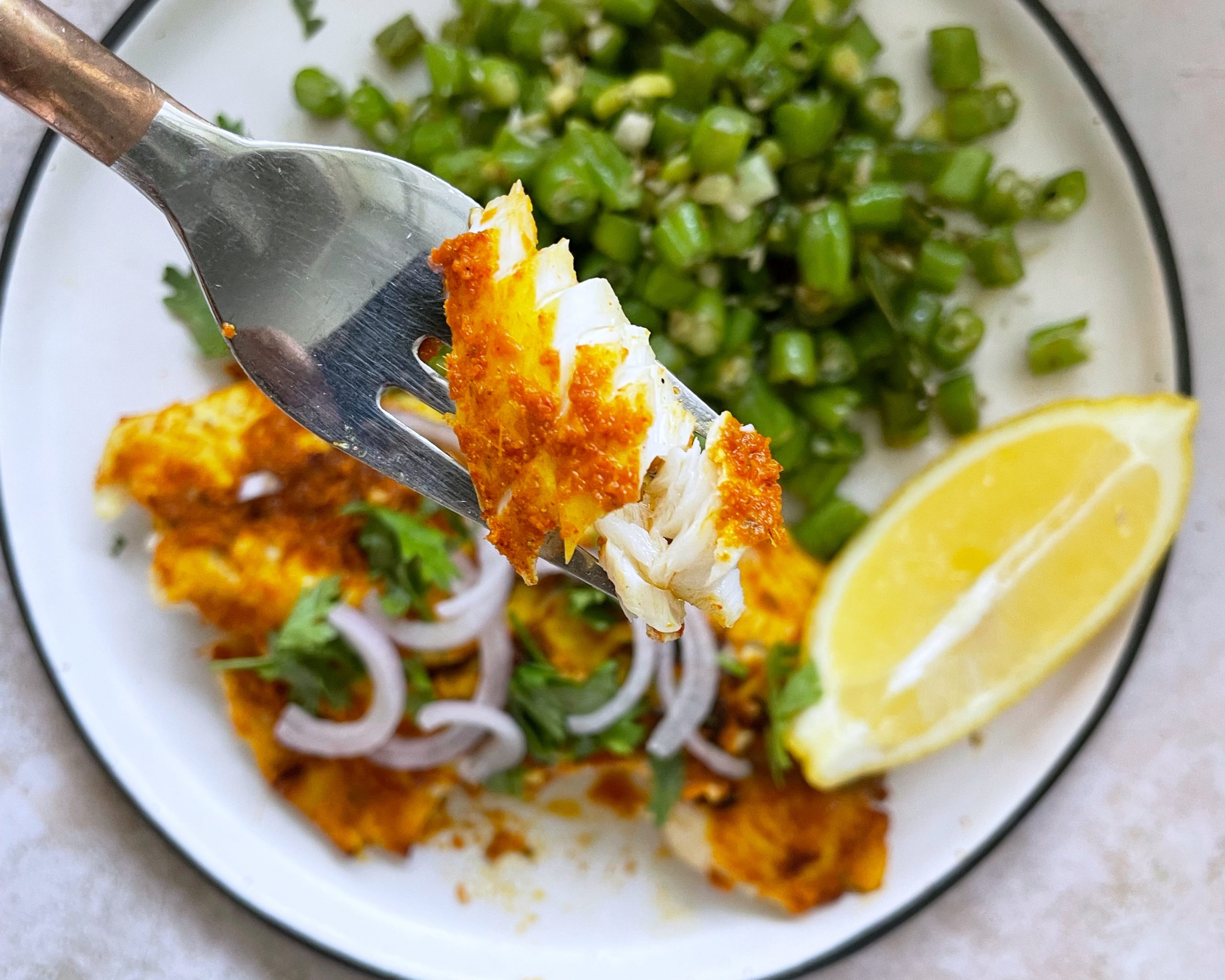 Yield/Servings: 4
Author: Riyana Rupani
Print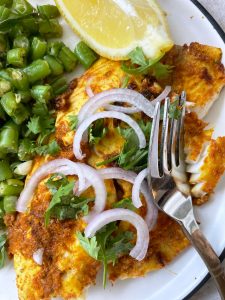 Indian Spiced Fish Fry
A simple and delicious pan fried fish, seasoned to perfection!
PREPARATION TIME: 10 MIN
COOKING TIME: 10 MIN
INACTIVE TIME: 1 HOUR
TOTAL TIME: 1 H & 20 M
INGREDIENTS
4 fillets fish of choice (about 150g each)
1/2 - 2 tsp chilli powder (depending on the spice level you like)
1 tsp paprika
1/2 tsp black pepper
1/2 tsp turmeric
1 tsp cumin powder
2 tsp coriander powder
1 small onion chopped
3 cloves garlic, chopped
1 inch piece ginger, chopped
1 sprig of small curry leaves (~8 leaves)
1 tsp mustard seeds
juice of 1/2 a lemon, about 2 tbsp

 

salt to taste
water as needed

1.5 tbsp ghee or coconut oil for frying
INSTRUCTIONS
Wash and pat dry your fish fillets.

 

In a small food processor, grind up the other ingredients and make a paste.

 

Use a little water if needed to thin a bit.
Marinate the fish fillets in the paste and keep in the fridge for at least 1 hour
Pan-fry the fish till done. (I have also baked this or used the air-fryer to cook this up with equally good results.
Garnish with lemon wedges, sliced onion, and fresh cilantro.

 

Serve alongside some veggies for a complete meal.  I love this with poriyal