A SUPER EASY BUT BEAUTIFUL APPITIZER THE NEXT TIME YOU ARE ENTERTAINING
If you are looking for an easy beautiful appetizer for when entertaining, look no further!
Right now there is quite a trend around making butter boards – Smearing butter on a board, adding toppings, and then serving it with bread to dip into.  I quite liked the idea but thought this would be beautiful with creamy goat cheese!
Needless to say, it turned out great!
I served this while having some friends over and the board was wiped clean!  I paired it with some crostini and gluten-free crackers!
I was clearly channeling Christmas vibes so will definitely be serving this up again during the holiday season!
Feel free to have fun with the toppings and flavors when creating your own!
Yield/Servings: 4
Author: Riyana Rupani
Print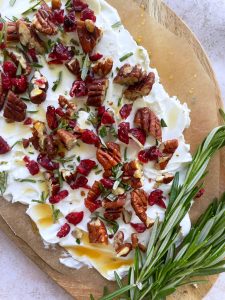 Grazing Goat Cheese Board
A delicious grazing board for when you are entertaining
PREPARATION TIME: 10 MIN
TOTAL TIME: 10 MIN
INGREDIENTS
200 g soft goat cheese
1/4 cup pecans, chopped
3 tbsp dried cranberries, chopped 
2 tsp chopped fresh rosemary 
1 tbsp honey
INSTRUCTIONS
Spread your goat cheese on a board evenly
Sprinkle on your pecans, cranberries, and rosemary
Finish with a drizzle of honey
Serve with crostinis or your favorite gluten-free crackers