A DELICIOUS SIDE OF GREEN BEANS THAT COOKS UP IN MINUTES.
Poriyal is a South Indian coconut stir fry made with green beans.
Usually found in Kerala, poriyal can be made with a variety of veggies. I have done this with cabbage, carrots, okra, Brussels sprouts, and broccoli. All have come out wonderful but somehow, green beans are my favorite!
Many Indian veggie dishes tend to be on the over-cooked and mushier side, but Poriyal calls for the veggies to have a fresh crisp bite to them.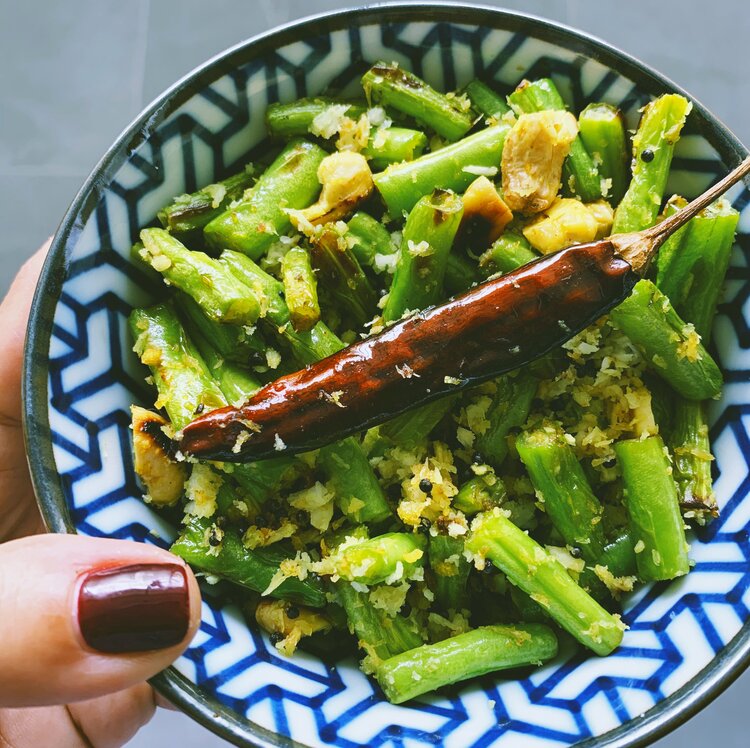 The base of this recipe is mustard seeds and curry leaves, which is common in many South Indian dishes.
I love how these flavors work so well with the nuttiness and sweetness of both the cashews and coconut. Poriyal traditionally uses urad dal (husked split black lentils) but I have replaced that with cashews to keep this recipe  Paleo.
If you enjoy this recipe, definitely try my Lemon Turmeric Cauliflower Rice. You will love it!
This dish also is wonderful on the side of my Goan Fish Curry.
Yield/Servings: 2
Author: Riyana Rupani
Print
Paleo Poriyal – Coconut Green Beans
A delicious side of green beans that cooks up in minutes.
PREPARATION TIME: 10 MIN
COOKING TIME: 6 MIN
TOTAL TIME: 16 MIN
INGREDIENTS
1 tbsp coconut oil
2 tbsp chopped cashews
2 tsp mustard seeds
6 curry leaves
1/2 inch piece peeled ginger, grated
1 dried red chili pepper or 1/4 tsp crushed red chili pepper
1/4 tsp turmeric
500g green beans trimmed and chopped into 1/2" pieces
1 tsp kosher salt or to taste
1/4 cup unsweetened desiccated coconut
salt & pepper to taste
INSTRUCTIONS
Heat oil in a large skillet over medium-high heat. When hot, add the cashews, mustard seeds, curry leaves ginger, and chile pepper. Cook, stirring frequently, until fragrant and the cashews toast up.
Add green beans, turmeric, and salt. Cook, stirring occasionally, until beans are crisp-tender, about 2 minutes.
Last, stir in the coconut.