A WHOLE30 TUNA SALAD WITH AN INDIAN KICK!
Make this Indian style tuna salad apart of your next lunch.  Your tastebuds will thank you!
If you love Indian flavors, you are gonna love this quick and easy desi tuna salad.
If you love your tuna salad, but looking to shake things up a bit, this one is for you too!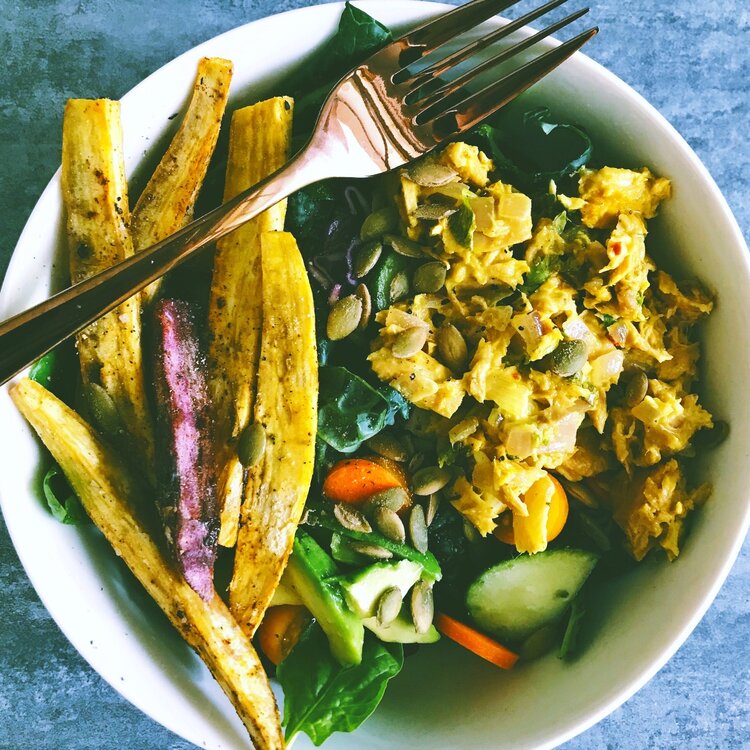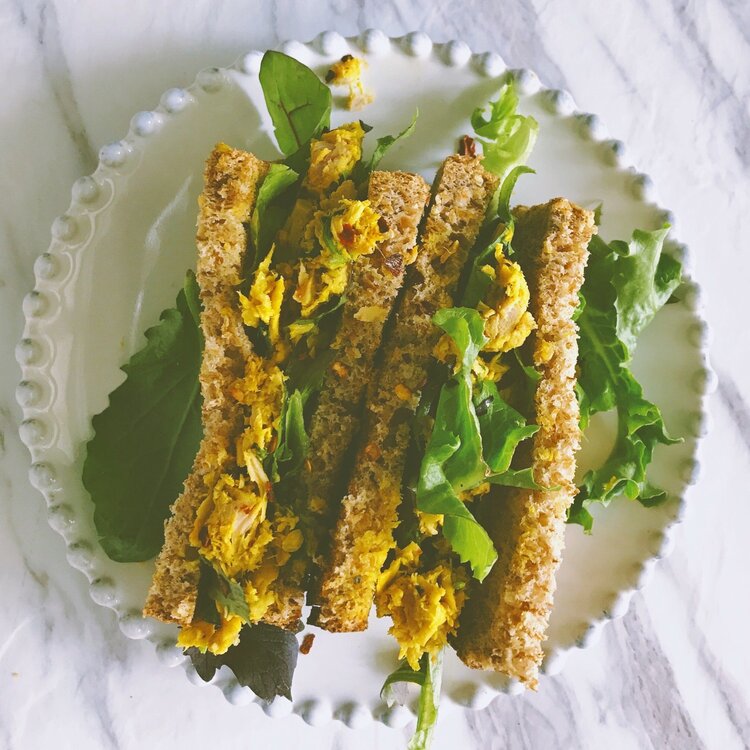 this is definitely a go-to at home. It's quick, easy and versatile. I usually like to serve it in a salad bowl with some greens, avocado raisins, and almonds. You cover all the flavor profiles, textures, and macronutrients that way! If you need a bit more carbohydrates, add some spiced sweet potato wedges. If you aren't having this during a whole30 I enjoy it as a sandwich on sourdough, or sprouted bread. Great for a take-away lunch!
When making this recipe, make sure you use a good quality mayo made of either avocado or olive oil. You can easily make mayo at home but if you don't have the time (like me), you can buy it. This is my go-to mayo.
You also want to make sure you are using a good quality sustainably caught tuna like this one.
Give it a try and let me know what you think!
Yield/Servings: 2
Author: Riyana Rupani
Print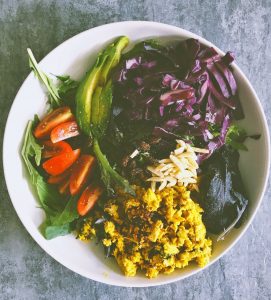 Desi Style Turmeric Tuna Salad
A delicious Paleo & Whole30 Tuna Salad with an Indian kick!
PREPARATION TIME: 5 MIN
COOKING TIME: 5 MIN
TOTAL TIME: 10 MIN
INGREDIENTS
1 tsp olive oil
1/2 small onion chopped
1 can good quality tuna
1/2 tsp turmeric
1 tsp fresh lemon juice
2 tbsp good quality mayo
chili flakes to taste
Small bunch fresh coriander chopped
salt & pepper to taste
Optional - any other small diced veggies you would like to add - carrots, green beans, etc. 
INSTRUCTIONS
Sauté the onion in a little bit of olive oil.
Add the tuna and break it up into flakes. 
Once heated through, add the turmeric, lemon juice, and season with some salt & pepper. 
Next add in the mayonnaise for some creaminess and last stir in the chopped coriander & chili. 
Serve as a topping on a salad or as a sandwich filling with toppings of choice (lettuce, sprouts, cucumber, tomato, pickled onion, etc). 
Feel free to add more mayo if you like a creamier tuna salad.