THIS SOUP IS WARM, CREAMY, AND JUST THE PERFECT AMOUNT OF SPICY!
Using simple ingredients, this is a go-to for me, and is definitely one of my favorite light meals.  
I love soups.  Not only are they jam-packed with veggies but they are also warm, nourishing, and delicious.  Most think about soups when it's cold outside but living in Singapore it doesn't really get cold. Right now though, it's the rainy season and that slightly cooler breeze plus the constant rain makes me crave all types of soup! I also love soup as a light weekend meal or when I'm down with a cold.
This soup has a good amount of ginger so it's wonderful for digestion. Ginger is also great at warming the body, so perfect for when recovering from a cold or flu.
I whipped this up when clearing out my fridge, so I used what was on hand. I was honestly surprised at how tasty it turned out.
In the recipe, I added 1 green chili and a pretty hefty amount of ginger. In our house, we like the heat! Please feel free to omit the green chili and reduce the ginger if spicy food isn't your thing!
I whipped mine up in the instant-pot which made getting a nice smooth velvety texture a breeze with the hand blending. If you are making this on the stove-top, please make sure it cooks long enough. You don't want your soup to be gritty!
I would love to hear your thoughts if you make this soup!
Yield/Servings: 6-8
Author: Riyana Rupani
Print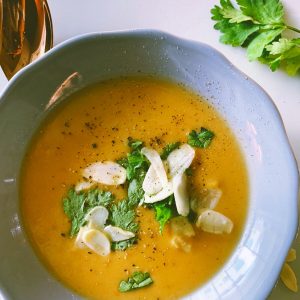 Curried Cauliflower Soup
A delicious soup that is creamy, warm, and full of flavor.
PREPARATION TIME: 10 MIN
COOKING TIME: 30 MIN
TOTAL TIME: 40 MIN
INGREDIENTS
2 tbsp organic ghee
1 large onion chopped
3 cloves of garlic chopped
inch piece of ginger grated
1 carrot chopped
1 medium sweet potato chopped (any variety)
1 medium head of cauliflower chopped
3 cups any broth / stock (vegetable or chicken or bone broth)
2 tsp curry powder
1 tsp cumin powder
1/2 tsp turmeric
salt (to taste)
1 cup coconut milk
2 tbp lemon juice
additional salt & pepper to taste
optional garnish - fresh chopped cilatro, slivered almonds, toasted pumplin seeds
INSTRUCTIONS
Instant Pot
Set your instant pot to sauté.
Add 2 tbsp of ghee and let heat through.
Add your onions, garlic, and ginger and cook for 1-2 minutes.
Add in all your chopped veggies along with 3 cups of your broth and the spices.
Give everything a good mix.
Cover your instant, ensure it is on sealing and set it to the soup function.
Once done cooking and the pressure has released naturally, open the pot and add in your lemon juice and coconut milk.
Use an immersion blender to puree the soup.
Give it a taste and season with salt & pepper as needed.
Serve garnished with chopped fresh cilantro, slivered almonds or toasted pumpkin seeds.
Stove Top
Heat up your ghee in a heavy bottom pot on the stove.
Add your onions, garlic, ginger, and sauté for 1 to 2 minutes.
Add your carrot and sweet potato. Cook till slightly soft (you can add a bit of water to help the cooking).
Next, add your Cauliflower, broth, and spices.
Bring everything up to a boil and then lower the heat to a simmer.
Cover and cook for about 30 minutes. or until all veggies are very soft.
turn off the heat and add your lemon juice and coconut milk.
Stir through then use an immersion blender to puree.
Give it a taste and season with salt & pepper as needed.
Serve garnished with chopped fresh cilantro, slivered almonds, or toasted pumpkin seeds.