THIS COCONUT-BASED CURRY HAS ALL THE SPICES AND FLAVOR GOA IS KNOWN FOR.
Coastal Indian food is one of my favorite cuisines!  If you haven't tried it, I highly recommend giving it a shot.   
I just got back from Goa in India and it was a culinary delight.
For those of you who aren't familiar with Goa. It is a state in the southwestern coast of India. The cuisine incorporates a lot of coconut, seafood, rice, and spices. Two spices you will see a lot of in Goa as well as other South Indian dishes are Curry leaves and mustard seeds. Both give the food a distinct flavor customary to the south of India.
Goan Fish Curry is one of my favorite dishes of the region. It incorporates your common Indian spices such as Cumin, Coriander, Turmeric, Curry, and Garam Masala, but also contains coconut milk, mustard seeds, and curry leaves.
Indian food may seem complicated, but I assure you once you have the basic spices stocked, it's quite simple and just about mixing and matching the different warm flavors.
I hope you guys love this curry as much as I do. If Fish isn't your thing, I have subbed with prawns, chicken, or vegetables such as cauliflower, sweet potato, or okra, all with great results
Yield/Servings: 3-4
Author: Riyana Rupani
Print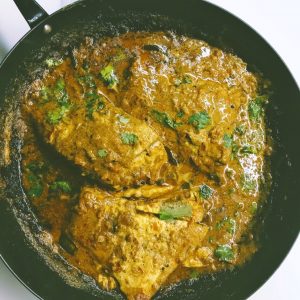 Goan Fish Curry
A delicious Whole30 Indian fish recipe.
PREPARATION TIME: 15 MIN
COOKING TIME: 25 MIN
TOTAL TIME: 40 MIN
INGREDIENTS
3 fish filet about 100-150g each (I like barramundi or salmon)
2 Tbsp coconut oil
1 tsp mustard Seeds
3-4 dry red chili broken in half
10 fresh curry Leaves (can sub with dried)
1 onion, chopped
1/2 tsp garam masala
1.5 tsp coriander powder
1.5 tsp cumin powder
¼ tsp turmeric powder
½ tsp curry Powder
1 chopped Tomato
1/2 can full-fat coconut milk
2 Tbsp pure tamarind paste (can sub with 1 Tbsp lemon juice if you don't have tamarind)
Salt to taste
Chopped Cilantro
Water if needed to thin the gravy
INSTRUCTIONS
Season the fish with salt & a bit of turmeric.
Let it marinate in the fridge while you prepare the gravy.
Heat 2 Tbsp of coconut oil in a heavy bottom pan. Once hot, add the mustard seeds along with the dried red chili and curry leaves. Cook until the mustard seeds start to pop and the curry leaves and chili sizzle. Careful, mustard seeds can splatter when hot!
Once the mustard seeds and curry become aromatic, add the onion and saute until soft and translucent.
Next add your dry masalas (all the spices)and let them roast till aromatic. About 3-5 minutes
Add your chopped tomato and a little water if the gravy is too dry. Let this cook together for 2-3 minutes.
Next, add the coconut milk and give it a good stir.
to finish the gravy, add tamarind (or lemon juice), and salt to taste.
Lastly add the fish filets. Spoon some gravy on top, cover, and let cook for 10-15 min.
Garnish with chopped cilantro and enjoy!