A HEALTHY AND DELICIOUS TUNA RECIPE THAT IS FULL OF FLAVOR AND EASY TO MAKE.
This dish is not only beautiful but comes together in minutes!
The simplicity of this dish is what I love the most.  Straight forward, quick-cooking, and full of flavor and texture. 
I paired my tuna with cool crunchy salad greens and complimented the warm flavors of the tuna with cool and creamy avocado.  The dish was light yet satisfying.  If you are looking for a more hearty meal, the tuna would be lovely with some jasmine rice (learn how to hack your rice here), and perhaps some Asian greens or sauteed broccoli to complete the meal.
No matter how you decide to serve this tuna, the flavors won't disappoint.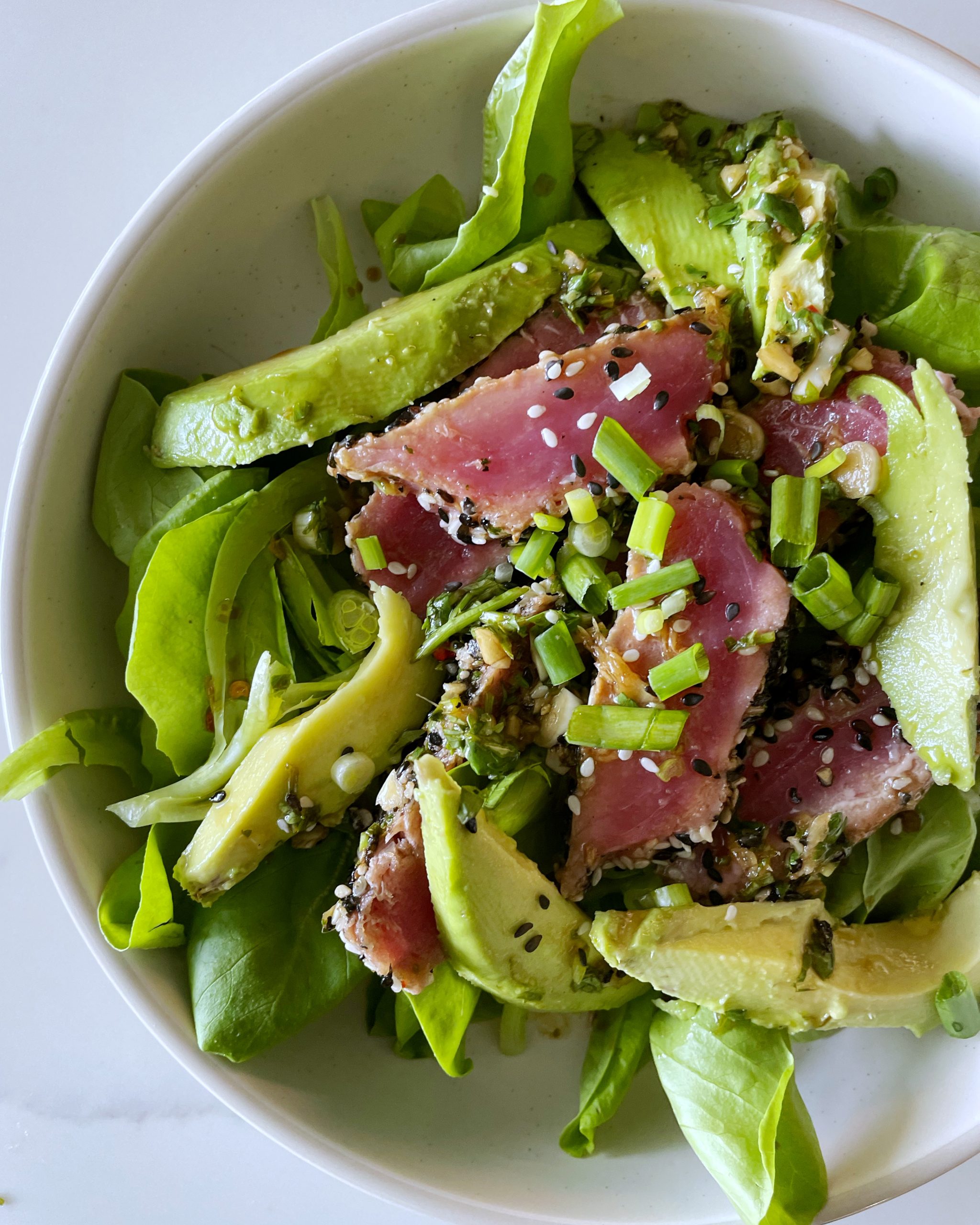 Yield/Servings: 2
Author: Riyana Rupani
Print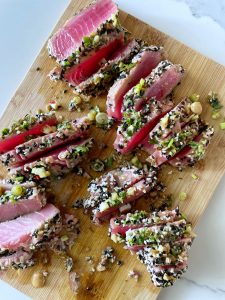 Beautiful Asian Style Pan-Seared Tuna
A delicious and simple Asian style tuna.
PREPARATION TIME: 10 MIN
COOKING TIME: 2 MIN
TOTAL TIME: 12 MIN
INGREDIENTS
Sauce
1 small bunch of fresh cilantro, finely chopped
2 scallions, chopped
2 tsp Ri's garlic chili oil (or sub with 1 garlic clove + 1 birds eye chili chopped)
1 teaspoon grated fresh ginger
2 Tbsp lime juice
2 Tbsp coconut aminos
salt and pepper to taste
1 Tbsp extra-virgin olive oil
2 tsp sesame oil
Tuna
1 Tbsp olive oil
350-4oo grams of mini tuna steaks 
salt and pepper to taste
4 Tbsp black and white sesame seeds mixed
1 ripe avocado, halved, peeled, pitted, and sliced
salad greens (optional)
INSTRUCTIONS
In a mixing bowl, combine all the sauce ingredients.
Season your tuna with salt and pepper, then dip to coat in the mixed sesame seeds
Place a skillet over medium-high heat and add the Tbsp of olive oil to coat. Once hot, lay the tuna in the hot oil and sear for 1 minute on each side to form a crust. Turn the steaks over and spoon sauce over the fish.  Reserve about 1/2 the sauce for drizzling later.
Serve the seared tuna sliced on a bed of greens with the sliced or cubed avocado and the remaining sauce drizzled over everything.