YOUR OMELETTE INDIAN STYLE!
The staple Indian breakfast.
Growing up, this omelette was the only omelette that was served up at home. This made it to the table for breakfast, brunch, or even a quick and easy dinner.
It's filling, tasty, and hits the spot. As a kid, I had this with a slice of toast and some ketchup for dipping, and I'll admit I did enjoy the ketchup, but now, coriander chutney is my favorite with this. To replace the toast, sweet potato toast, or just some simple raw veggies on the side.
Pair this with my golden latte for a satisfying start to your morning!
Yield/Servings: 1
Author: Riyana Rupani
Print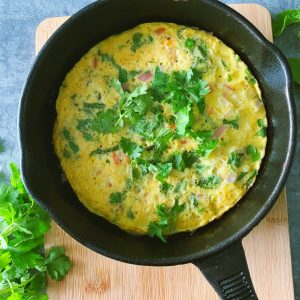 Masala Omelette
THE Indian Omelette
PREPARATION TIME: 5 MIN
COOKING TIME: 5 MIN
TOTAL TIME: 10 MIN
INGREDIENTS
2-3 eggs
1/4 tsp turmeric powder
salt & pepper to taste
1/2 tbsp ghee
1/2 red onion, chopped
1/2 a small tomato, chopped
1 medium green chilli, chopped (or to taste)
2 tbsp fresh coriander, chopped
2 tbsp fresh mint, chopped (optional)
INSTRUCTIONS
Beat 2-3 eggs along with the turmeric, salt, and pepper in a small bowl and set aside.
Heat 1/2 tbsp of ghee in a pan (preferably 8 in).
Once hot, add the onion, tomato, and chili. Cook for about 30 seconds, spreading it out around the pan.
Add your eggs, and the coriander, and mint.
Swirl the eggs to coat the bottom.
At this point you can either wait for the bottom to cook through and flip the omelette to cook the other side or simply cover the pan with a lid, allowing the steam and heat to cook the top.
Garnish with more fresh coriander & mint & serve immediately.