A SPICY ASIAN VARIATION ON THE HUMBLE NORTH AFRICAN/MIDDLE EASTERN DISH WE ALL LOVE!
For those of you who know me, you know I like big flavors, and this simple dish is full of them.
Even better it's got an Asian-inspired twist that works sooooo well!
This is a perfect dish to start your day with, but give it to me for breakfast, lunch, or dinner and you can call me happy!
Shakshouka is a North African/Middle Eastern dish with tomatoes, eggs, and spices, but today we are putting an Asian spin on things using Everiday chili sauces & coconut aminos, ginger, and sesame oil. 
Don't be afraid to change it up by adding extra veggies like eggplant, bell pepper, mushrooms, spinach, and zucchini – They all work beautifully!  You can even skip the eggs and make a vegan version of this dish.
Yield/Servings: 1
Author: Riyana Rupani
Print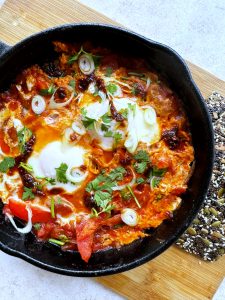 Spicy Asian inspired Shakshouka
A delicious unexpected Asian spin on Shakshouka.
PREPARATION TIME: 10 MIN
COOKING TIME: 10 MIN
TOTAL TIME: 20 MIN
INGREDIENTS
2 tsp olive oil
1/2 onion, sliced or chopped
1/2 bell pepper, chopped or sliced
1 clove of garlic, chopped
1 tsp grated ginger
3/4 cup good quality crushed tomatoes
1 Tbsp Everiday Foods House Chili
1 Tbsp coconut aminos
1 tsp toasted sesame oil
2 tbsp chopped coriander (leaves and stems)
2 eggs
Salt & pepper to taste
Optional Toppings
INSTRUCTIONS
Heat olive oil in a pan.  Sauté the onion and season with a bit of salt till translucent. 
Add the bell pepper, garlic, ginger and cook till fragrant.
Add your crushed tomatoes, chili sauce,

 

coconut aminos and give everything a stir.

 

Lower heat and cook for 2-3 minutes. If u feel your tomatoes are getting too dried out, u can add a little water. 
Mix in your coriander and sesame oil.
Make two wells and crack your eggs in. Cover and let cook for about 2-4 minutes (depending on how you like them done.
Garnish with toppings of choice and enjoy right out of the pan!
NOTES:
For entertaining, double or triple the sauce.  Pour into a baking dish, crack in your eggs, and bake in a preheated oven at 180℃ / 350℉ for 10 minutes or until the eggs are done to your liking