CHOCOLATE BREAKFAST PERFECTION!

Who doesn't love granola?
My kids love granola, not just eating it, but making it too! We love getting in the kitchen and experimenting with different flavors and textures.
hands down, chocolate is one of their favorites… mine too!
This recipe is simple and versatile. We made it nut-free because we were sharing it with a friend who has a nut allergy. I also love this made with almonds, pecans, and coconut! No matter what you choose as your base for this recipe you won't be disappointed. If you don't have molasses just omit and increase the honey or maple syrup. (I know molasses isn't a common ingredient for most!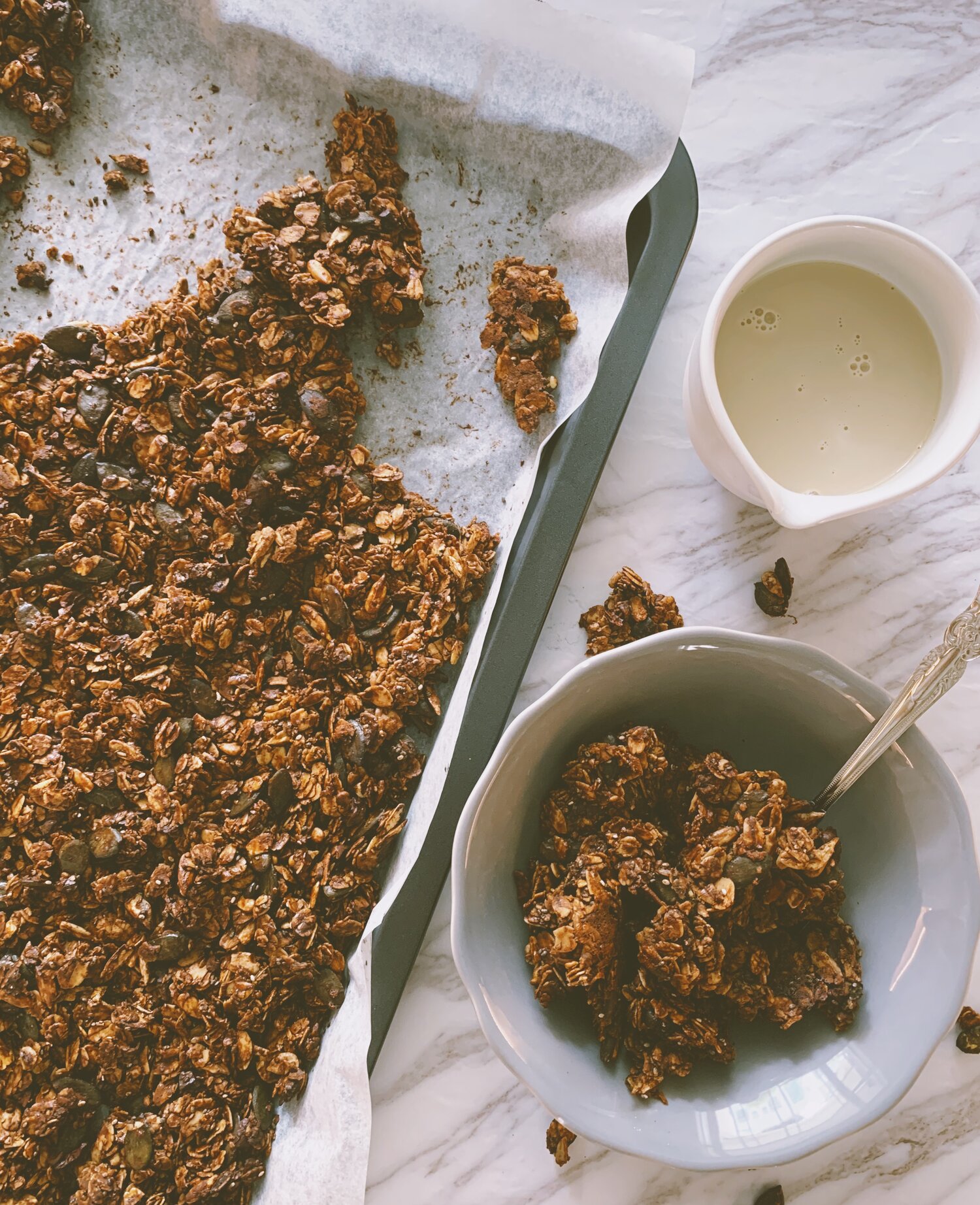 Yield/Servings: 8 (1/4 Cup Each)
Author: Riyana Rupani
Print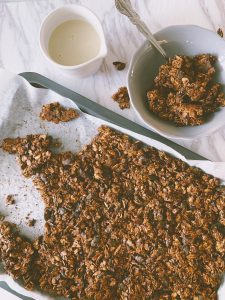 Nut-Free Chocolate Granola
My kids love making and eating this!
PREPARATION TIME: 5 MIN
COOKING TIME: 20 MIN
TOTAL TIME: 25 MIN
INGREDIENTS
3 cups gluten-free rolled oats
1/2 cup pumpkin seeds 
1/2 cup sunflower seeds
1/4 cup cacao nibs
2 Tbsp chia seeds
2 Tbsp Flaxseed meal
1/4 cup cacao powder 
3 Tbsp raw honey (replace with more maple syrup for vegans)
3 Tbsp maple syrup
1.5 Tbsp molasses
1/4 cup coconut oil
1 egg-white, whisked (omit for vegans)
INSTRUCTIONS
Preheat your oven to 180 C / 400 F
Mix all your dry ingredients
in a small sauce, combine your honey, maple syrup, molasses, and coconut oil.  Bring the mixture to a gentle boil.  About 1 minute.
Pour the hot mixture over your dried ingredients.
Last, add your whisked egg white.  This will make your granola more chunky.
Bake for 18-20 minutes and rotate your pan midway through baking.
Let your granola cool completely before breaking.
Serve with coconut yogurt, nut milk, or enjoy on its own!