CRISPY SPICED OKRA IS THE PERFECT SIDE TO ANY INDIAN INSPIRED MEAL.
crunchy, spiced perfection!
Fried bhendi or okra is a typical side dish in Indian cuisine and I love the crunchy, masala-covered okra as a snack or along with these classics.
Yield/Servings: 4
Author: Riyana Rupani
Print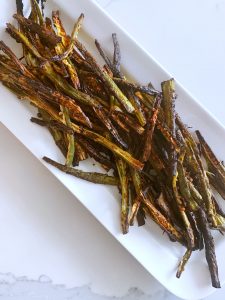 Baked Spiced Okra (Bhindi)
Crispy seasoned okra, perfect side dish to any Indian inspired meal.
PREPARATION TIME: 10 MIN
COOKING TIME: 25 MIN
TOTAL TIME: 35 MIN
INGREDIENTS
500 g / 1.1 lbs okra cut in half or quarters lengthwise
3 tbsp olive oil
4 tsp garam marsala
2 tsp paprika
1½ tsp salt
2 tsp coriander powder
½ tsp garlic powder
INSTRUCTIONS
Preheat the oven to 190 C/350 F.
Add the halved okra to a bowl along with the oil and seasoning. Toss with your hands to ensure all the okra is well coated.
Place a wire rack onto a baking sheet. Lay the okra out evenly on the wire rack making sure they don't overlap. Bake for approximately 25 minutes, flipping halfway through to ensure they evenly crisp.