IF YOU ASK ANY SINDHI WHAT THEIR FAVORIT DISH IS...
Sai Bhaji would definitely be in their top three!
Today I am sharing with you my family's recipe for this traditional Sindhi dish.  Every family does it a little differently but this recipe reminds me of all things home and my childhood.
So what is Sai Bhaji?
It's a 1 pot dish made from spinach, lentils, and other seasonal veggies.  It's the perfect nutrient-dense plant-based meal.
Serve this up with your choice of rice – 
Side
And lastly, Sai Bhaji isn't complete without a form of achar or Indian pickle!  While most store-bought pickles are made with questionable oils and ingredients, I find Ri's Sambal works as the perfect clean swap out!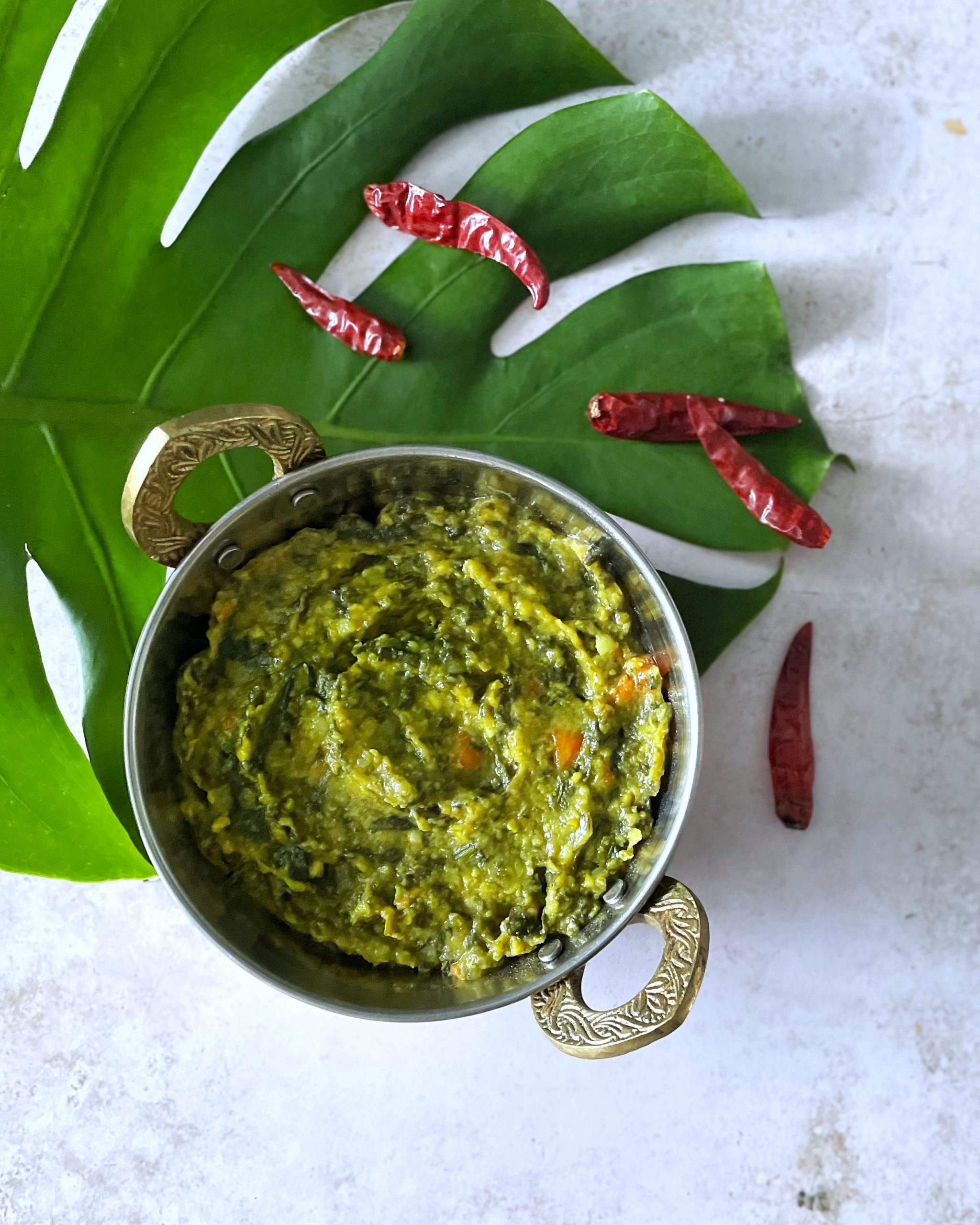 Yield/Servings: 4
Author: Riyana Rupani
Print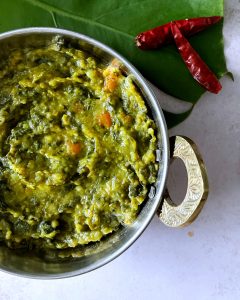 Sai Bhaji (Sindhi Spinach & Lentils)
A nourishing dish made of spinach and lentils that I have been having since childhood
PREPARATION TIME: 15 MIN
COOKING TIME: 45 MIN
TOTAL TIME: 1 HOUR
INGREDIENTS
4 tbsp ghee or olive oil, divided
1 large onion, chopped
​1.5 tbsp ginger, grated
2 fresh bird's eye chili (or to taste), chopped
1 large carrot, chopped
1 potato, peeled and cubed
1/2 tbsp coriander powder
1 tsp turmeric powder
1 tsp amchur (dried mango powder) 
1.5-2 tsp salt
2 medium tomatoes, chopped
1/4 cup cilantro, chopped
2 tbsp chopped fresh dill or 2 tsp dried dill
1 tbsp kasuri methi (dried fenugreek leaves) 
​500g spinach leaves, finely chopped
3/4 cup chana dal (yellow split bengal gram), soaked in 2 cups water for 1 hour +
1 tbsp lemon juice or to taste (optional) 
5 large cloves garlic, roughly chopped
INSTRUCTIONS
Instant Pot
Heat 2 tbsp ghee or oil on the saute function of your Instant pot or heat your pressure cooker on a medium flame.
Add in the onion, ginger, fresh chili, carrots, potatoes, and stir-fry for a few minutes until the onion softens.
Next, add your coriander powder, amchur, turmeric, salt, and tomatoes, and cook for 5 minutes, stirring occasionally.
Add finely chopped spinach, dill, cilantro leaves, kasuri methi, lentils, and mix well and cook for 2-3 minutes until spinach reduces in volume.
Add 1 cup water, stir well. and close your instant pot.  Make sure the valve is set to sealing and set to high pressure for 15 minutes.
Let the pressure release naturally. 
Mash the Sai Bhaji slightly using a whisk or potato masher.
At this point add lemon juice and stir well. (optional).
Before serving, heat 2 tablespoons ghee or oil in a small frying pan. Add garlic and fry on low heat until garlic starts to turn crispy and golden.
Pour the fried garlic and hot ghee into the Sai Bahji - stir.
Serve hot with steamed rice, yogurt, and pickle (FYI - Ri's Sambal is a perfect pickle replacement), and papadam for the perfect authentic Sindhi meal.
Stove Top
Follow steps 1-4 from the Instant Pot/Pressure cooker method in a large heavy bottom pan on medium heat.
Add 1.5 cups water; stir well and bring to a boil.  Cover and simmer on low heat for about 45-60 minutes until lentils are soft. 
 Follow steps 7 onwards from the Instant Pot/Pressure cooker method