BRINGING TOGETHER THE FLAVORS OF MY FAVORITE PASTA DISH AND MY FAVORITE VEGETABLE!
Take your Sprouts up a notch!
If you are looking for a simple and delicious veggie dish to add to your spread, this is it.
These brussels sprouts take just a few minutes to prepare and are full-on flavorful. I made these in the air fryer but they can be done in the oven too.
Love Cacio E Pepe like me?  Try my recipe for the pasta dish here.
Love brussels sprouts like me?  Try these recipes!
Yield/Servings: 3-4
Author: Riyana Rupani
Print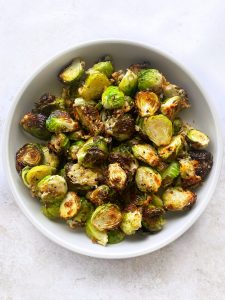 Cacio E Pepe Brussels Sprouts
A delicious rendition of roasted brussels sprouts
PREPARATION TIME: 10 MIN
COOKING TIME: 30 MIN
TOTAL TIME: 40 MIN
INGREDIENTS
500g brussels sprouts, cleaned and halved
A drizzle of olive oil
1/3 cup parmesan cheese
Salt to taste
1 tsp garlic powder
1 tbsp coarsely ground black pepper
Zest and juice of half a lemon
INSTRUCTIONS
Give your brussels sprouts and all other ingredients a good mix.
Pop your seasoned brussels sprouts into a preheated air fryer at 190 C / 375 F for 16 minutes, shaking halfway.  (If using an oven heat to the same temp and double the cook time.) 
Serve right away.