SMALL IN SIZE, BIG ON ALL THE FALL FLAVORS YOU LOVE!
I'm not a fan of super heavy Thanksgiving desserts and these little babies are the perfect end if you ask me.
These little bite-sized treats are moist and soft, and the candies pecan on top gives that perfect crunch! Add these to your after-dinner dessert lineup this Thanksgiving for a lighter and healthier option that will keep everyone happy!
I personally prefer making the mini size muffins because sometimes after all the goodies during your meal, all you need to end is just a bite of something sweet.  Large desserts can definitely overwhelm me or make me go overboard with my portions, so a bite-size option works perfectly for me!
If you do decide to do the traditional size muffins, they turn out just as good!  A perfect option for perhaps a post-Thanksgiving brunch!
If you don't feel like making the frosting or don't have cashew butter, you can use this on by simple mills and in a little cinnamon.
If you make these ahead of time, you want to store them in the fridge and take them about 1-2 hours before serving so they come up to room temperature. ⠀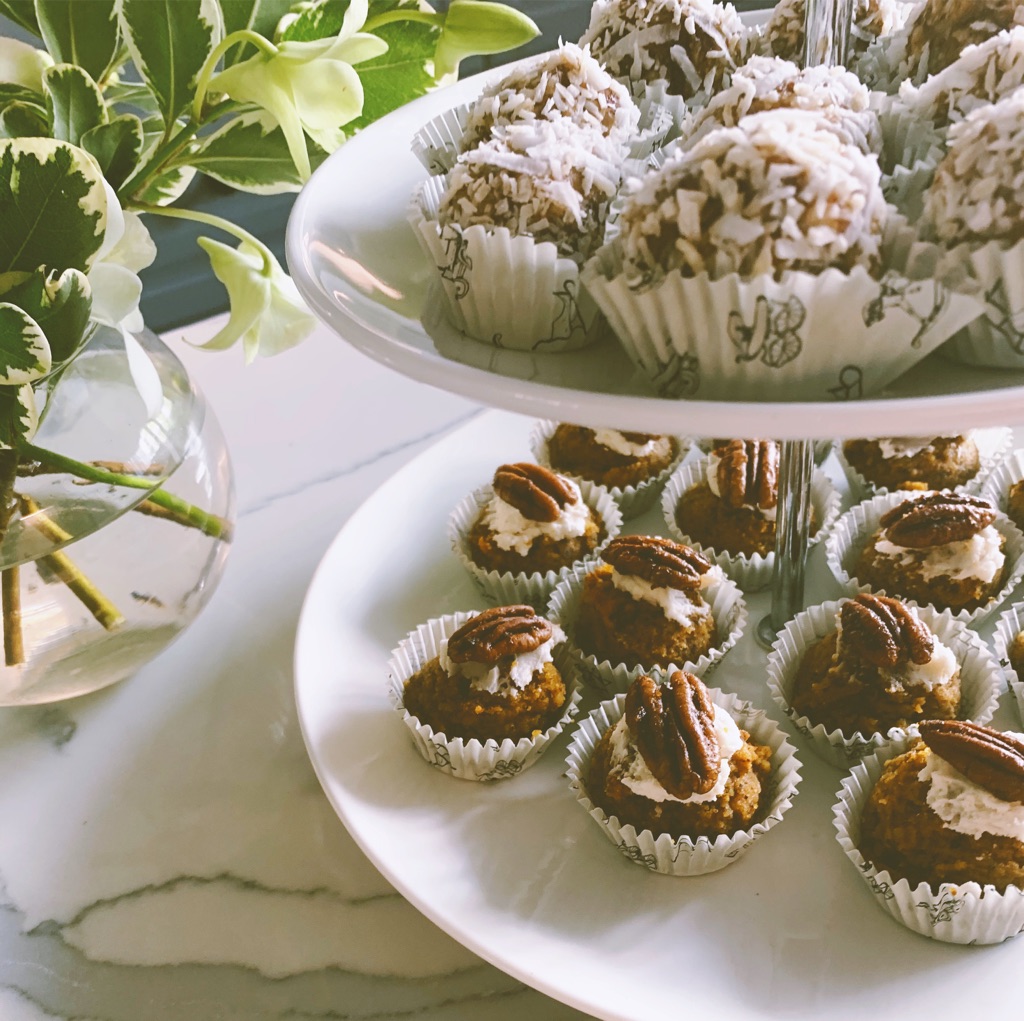 Yield/Servings: 24 Mini Muffins Or 12 Large
Author: Riyana Rupani
Print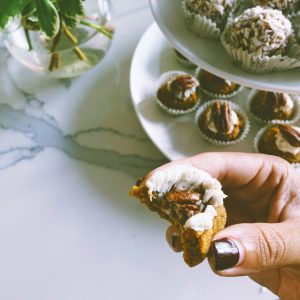 Pecan Pumpkin Bites
The perfect end to your Thanksgiving dinner
PREPARATION TIME: 15 MIN
COOKING TIME: 25 MIN
TOTAL TIME: 40 MIN
INGREDIENTS
Pumpkin Bite Batter
1 1/2 cups Almond flour
3 tbsp Coconut flour
1/2 tbsp Baking powder
1/2 tbsp Pumpkin pie spice*
1/2 tsp Salt
1/2 tsp Baking soda
1/2 cup pumpkin puree
1/4 cup Maple syrup
3 tbsp nut butter (I used Cashew)
1 egg, at room temperature
Frosting
4 tbsp Cashew butter
1 tbsp maple syrup
1/4 tsp cinnamon
Candies Pecans
24 pecans
2 tbsp maple syrup
1 tbsp coconut oil
Pinch salt
INSTRUCTIONS
Line a mini muffin tray with liners and heat your oven to 350 F / 180 C.
In a medium bowl, mix together all your dry pumpkin batter ingredients
In a separate large bowl, using an electric mixer, beat together all the wet ingredients until smooth.
Add the dry ingredients into the wet ingredients and stir until well combined. Use a cookie scoop (or just a spoon) to fill 20-24 mini muffin cavities up about 2/3 of the way. If you don't use all 24 fill the empty ones with water.
Bake until golden brown and a toothpick inserted in the center comes out clean, about 10-15 minutes. Let cool completely in the pan before removing.
If you are using a standard muffin pan, bake for 20-30 minutes. check for doneness with a toothpic.While your muffins are baking, combine the ingredients to make your frosting.
For the candies pecans. Put all ingredients in a bow and toss to coat. Bake for 5-7 minutes. (Watch closely so they don't burn).
Once everything has cooled, top each pumpkin bite with about 1/2 tsp of frosting and 1 candies pecan.
NOTES:
make your own pumpkin spice mix by combining 1.5 tsp cinnamon, 1/4 tsp ground nutmeg, 1/4 tsp ground ginger, and 1/8 tsp ground clove