A HEARTY PANT-BASED DISH THAT WILL LEAVE YOU SATISFIED!
Whether you are feeling fall, winter, monsoon, or simply in the need of some cozy vibes, this dish is for you.
It's got creamy pumpkin, tender chickpeas, and nutrient-dense greens. 
This is a balanced one-pot plant-based meal perfect for when you are craving something warm and comforting!  
The main spice used in this recipe is garam masala.  Garam means warm, and the spice blend has spices like pepper, coriander, cumin, cinnamon, and cloves and it gives a dish heat and depth.
It doesn't matter if you call this recipe a stew or a curry, it's downright delicious. I love this served over rice, cauliflower rice, or alongside some delicious Grain-free & low-carb flatbread/naan or  GF Kulchas!
However you decide to enjoy this, I am sure you will love it.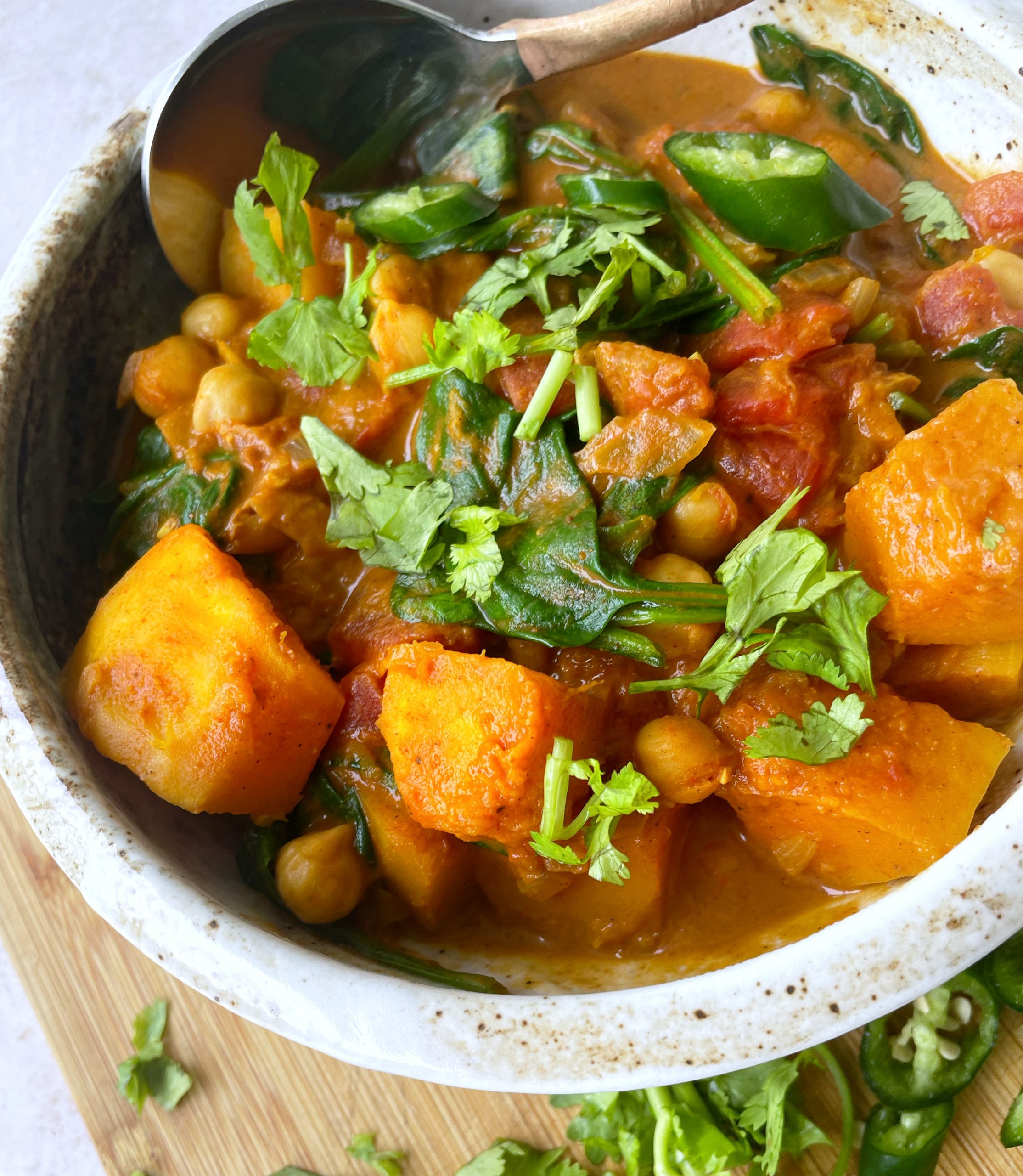 Yield/Servings: 3-4
Author: Riyana Rupani
Print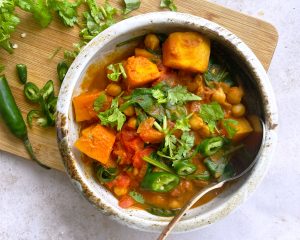 Pumpkin & Chickpea Curry
A delicious and nutrient dense Plant-based curry
PREPARATION TIME: 15 MIN
COOKING TIME: 40 MIN
TOTAL TIME: 55 MIN
INGREDIENTS
1/2 medium-sized butternut squash, peeled, seeded, and cut into 1/2 inch cubes
2 tbsp avocado or coconut oil, divided
1 yellow/white onion, diced
3 cloves of garlic, minced
1-inch piece of ginger, peeled and grated
1.5 tbsp garam masala
2 tsp paprika or Kashmiri Mirch
¼ tsp turmeric
1 tsp salt or to taste
black pepper to taste
1 tbsp tomato paste
1 14 ounce/400g can of diced/chopped tomatoes (or ~9 fresh tomatoes chopped)
1 cup cooked or canned chickpeas
1 cup packed baby spinach, or any other greens like mustard greens, kale, etc.
½ cup coconut milk
fresh cilantro for garnish
INSTRUCTIONS
Preheat the oven to 400℉/200℃.
Toss the cubed butternut squash with 1 tbsp of the coconut oil, place on a lined baking sheet, and roast in the oven until firm but tender, about 15 minutes. (You can do this in an air-fryer as well.  cut cook time by half.)
Heat the remaining 1 tbsp of oil in a large heavy bottom pot. Add the onion and sauté until it softened and starts to brown, about 5 minutes. Stir in the garlic, ginger, and dry spices and continue to cook for 1 minute longer or until fragrant.
Stir in tomato paste and chopped tomatoes.  give everything a mix and cook for 2 minutes
Next, add the coconut milk and stir through.
Now add the pumpkin and chickpeas.  Bring to a boil, reduce heat to low, cover and simmer for 15 minutes. Taste the curry and adjust seasonings as needed.
Before serving, stir in the baby spinach/greens and allow to wilt.
Garnish with fresh cilantro and enjoy.
I love this with cauliflower rice or my grain-free low-carb flatbread/naan or gluten-free kulcha for dipping.