FLATBREAD, NAAN, OR WHATEVER YOU LIKE TO CALL IT. IF YOU ARE TRYING TO GO GRAIN-FREE OR LOW-CARB BUT MISSING YOUR BREAD, GIVE THIS A TRY.
I have tried a lot of grain-free bread but you are going to thank me for this one! 
This goes perfectly with Indian food, Middle Eastern Food, and is wonderful served with any kind of dip, like my muhammara (yum!).
The ghee gives it that wonderful "Butter Naan" flavor, but if that's not for you, you can try subbing with olive oil or avocado oil.
I know when many try to give up grains, it can be hard.  Bread is one of those comfort foods we all love so much so I hope this recipe gives you a little joy and a little positivity if you are going grain-free!
As mentioned the recipe uses ghee, but if you don't have ghee, it's easier to make than you think!  Check out my simple method here!
Yield/Servings: 6
Author: Riyana Rupani
Print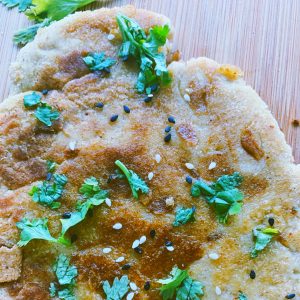 Low-Carb Flatbread
A delicious flatbread or naan replacement.
PREPARATION TIME: 10 MIN
COOKING TIME: 10 MIN
TOTAL TIME: 20 MIN
INGREDIENTS
1 cup coconut flour
2 Tbsp ground psyllium husk powder
1/2 tsp onion powder
1/2 tsp garlic powder
1/2 tsp baking powder
1 tsp salt
4 Tbsp melted ghee
2 cups hot water
additional ghee, for frying (optional)
INSTRUCTIONS
Mix all dry ingredients in a bowl. Add ghee and hot water (hold some of it back in case it's not needed) and stir thoroughly with a spatula.
Allow to rise for five minutes. The dough will turn firm fairly quickly, but stay flexible. If you find it's too runny then add more psyllium husk until it feels right. If it's too firm, add some of the remaining water. The amount needed may vary depending on what psylium husk or coconut flour you use.
Divide into 6 (or more) pieces and form into balls that you flatten with your hands directly on parchment paper or on the kitchen counter.
Fry rounds in a pan over medium heat until the flatbread turns a nice golden color. Depending on your pan you can add some ghee to it so the bread doesn't stick.
If you want to keep the bread warm and aren't eating right away, heat the oven to 70C/140F and keep the bread warm while you make more.