A SERIOUSLY AMAZING LOW-CARB ALTERNATIVE TO THE REAL THING!
I love falafel, it is one of the foods that remind me of my childhood!
I lived in Forest Hills, Queens until I was about 10 years old and one of my favorite memories is my Mom picking up my sister and me from school and walking home with us.  On Friday's we got an extra special treat and got to have falafels from the place in our neighborhood.  They were amazing!  Crunchy on the inside, fragrant, and soft on the inside.  They would be tucked into a warm pita drizzled with tons of tahini dressing and hummus and had lovely pickled veggies to go with it.
More recently I was fortunate enough to get to go to Israel and the falafel (and all the food) blew my mind!!!
Needless to say, I love falafel but making the classic version at home… not so much.  Mostly because they are deep-fried, and for me personally I find them a bit hard to digest.  If I am out at a great restaurant or traveling, you better believe I will indulge but at home, I love this light but still delicious version!
The way I have prepared them is in my oven, but if you have an air-fryer (dying to get one!) I am sure they would turn out fab in it! And one more note, please don't skimp on the herbs!!  
Below I have some of my favorite I enjoy these with.
Give these a try with your falafel, I am sure you are gonna love them!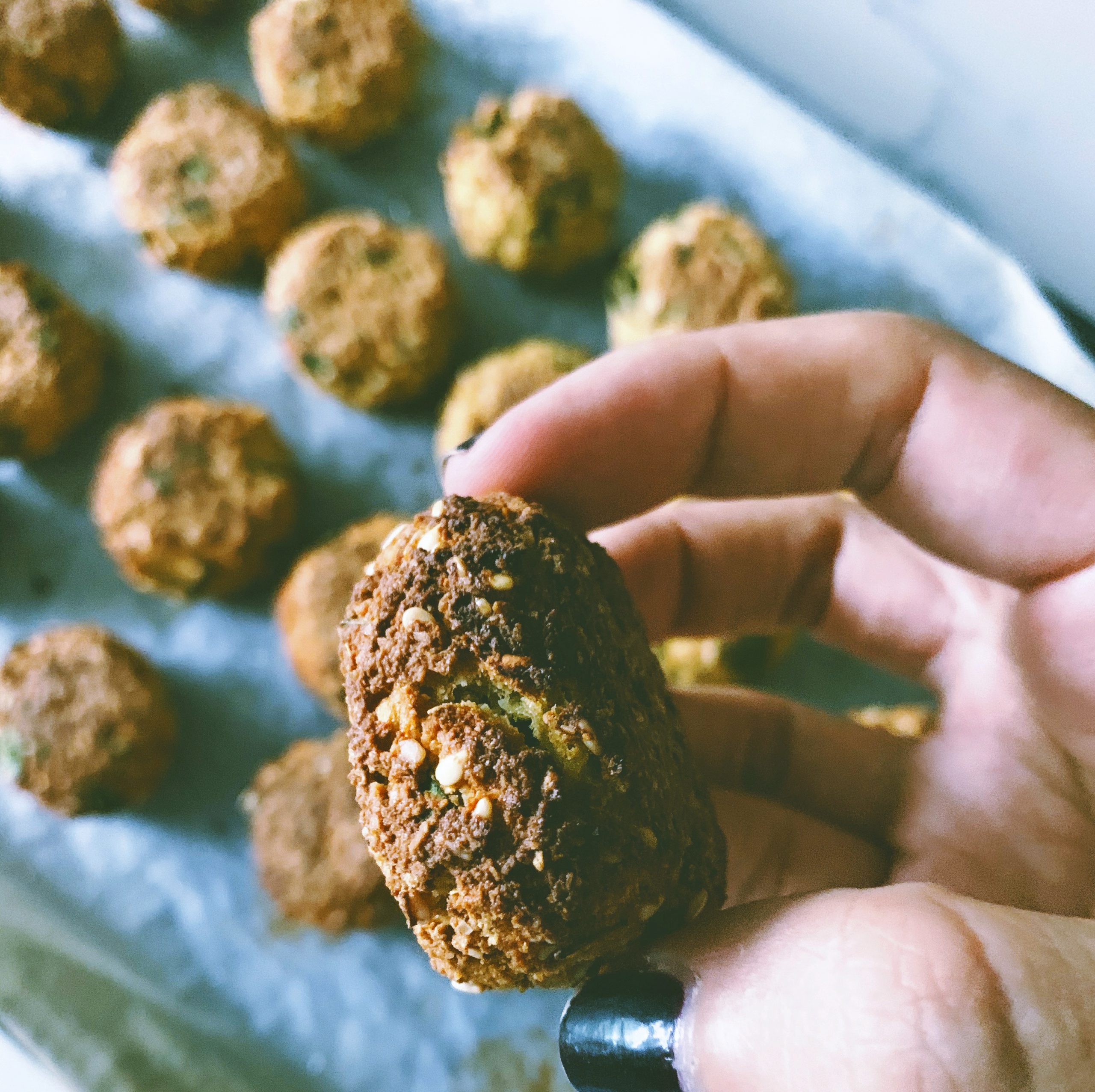 Yield/Servings: 15-20 Pieces
Author: Riyana Rupani
Print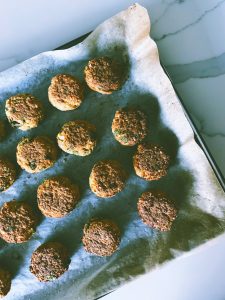 Cauliflower Falafel
A seriously amazing low-carb alternative to the real!
PREPARATION TIME: 15 MIN
COOKING TIME: 40 MIN
TOTAL TIME: 55 MIN
INGREDIENTS
1/2 cup, finely chopped onion
3/4 cup almond flour
3 tbsp coconut flour
2 eggs (replace with flax or chia eggs* for plant-based)
4 garlic cloves, minced
3/4 cup packed fresh flat-leaf parsley
1/4 cup fresh cilantro
3 Tbsp white sesame seeds
4 tsp coriander powder
4 tsp cumin powder
½ tsp turmeric
1 tsp sea salt
1/2 tsp cayenne pepper (or to taste)
1/2 tsp ground black pepper
1/2 medium head of cauliflower, minced (or about 2 packed cups riced cauliflower)
About 2 Tbsp Olive oil
INSTRUCTIONS
Preheat oven to 190C/380F. Line a baking sheet with parchment paper.
In a food processor blend together all the ingredients, except the cauliflower and olive oil (yes, even the eggs). Blend until all the herbs are well minced.
Once the herbs are minced, add in the minced cauliflower or cauliflower rice and pulse until combined.
Remove ingredients to a bowl and give everything a nice mix.
Form the falafel dough into 1" to 1.5 inch round balls.
Use a pastry brush and brush each falafel with olive oil or use a spray olive oil
Cook for 15-20 minutes then flip the falafels, brush with some more olive oil or give another spray and cook for another 15-20 minutes.
Serve with Your favorite salad, low-carb flatbread, and some homemade tahini dressing+ my quick chili sauce.
NOTES:
At step 4 If the mixture seems too wet, add an extra tbsp of coconut flour.

If you don't have fresh herbs, you can use dried. Remember the ratio of fresh to dry is 3:1. So for the parsley, you would need 1/4 cup of dried parsley and for the coriander, you would need about 1.5 Tbsp.
To make a flax/chia egg, combine 1 tbsp of either with 2 tbsp of cold water.  Let it sit for 5-10 minutes to thicken. Use as a replacement for egg.