THESE COOKIES ARE DEVINE! RICH, CHEWEY, AND BEAUTIFUL.
I have a little obsession with tahini… but do you blame me?
It's rich, nutty, earthy, and creamy.  I am sure dessert isn't the first thing you think of when you think tahini, but sesame (tahini is sesame paste) is used in many parts of the world as a base for dessert.
I recently took a trip to Dubai and when I came back I was craving this wonderful halva I had there.  It was jam-packed with pistachios and had a beautiful hint of rose to it.  The thought of it literally made me drool!  So I came up with these decadent cookies.  They have pistachio, cranberries, and that slight beautiful touch of rose.
Yield/Servings: 8-10
Author: Riyana Rupani
Print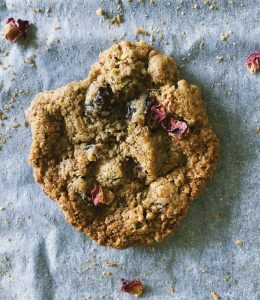 Flourless Tahini Cookies with Cranberries & Pistachio
A delicious exotic cookie that will have you coming back for more
PREPARATION TIME: 5 MIN
COOKING TIME: 15 MIN
INACTIVE TIME: 15 MIN
TOTAL TIME: 35 MIN
INGREDIENTS
1/3 cup coconut sugar, or date sugar, or date paste, or low-carb sweetner
1egg
1 tsp crushed culinary rose petals
1/4 tsp salt
3/4 cup tahini
1/4 cup chopped pistachios
2 Tbsp cup chopped cranberries
extra rose petals and chopped pistachios for garnish
INSTRUCTIONS
In a large mixing bowl, whisk together coconut sugar and egg until smooth.
Next, stir in rose extract, salt, & tahini and mix very well until a smooth sticky ball forms.
Gently fold in your pistachios and cranberries.
Cover and freeze the cookie batter for 15 minutes (put the timer on, you don't want it to get too hard!).
Preheat oven to 180C/350F.
Line a cookie sheet with parchment paper, set aside.
After your 15 minutes, remove the cookie batter from the freezer.
Using rounded tablespoons of dough, place dough balls on your cookie sheet leaving at least 1" of space between them (the cookies will expand while baking).
Bake for about 15 minutes or until edges start to brown.
Garnish with dried edible rose petals and chopped pistachios
Let cool completely before serving (they are quite delicate when warm).
NOTES:
A lovely substitute if you don't have rose petals is 1/2 tsp cardamom powder