TAHINI HAS A WONDERFUL NUTTY FLAVOR AND IS DELICIOUS AS A DRESSING, DIP, OR DRIZZLE.
For those of you who don't know, tahini is paste made from sesame seeds. 
There are 2 versions, hulled and unhulled.  I prefer the hulled which has the outer shell removed and therefore has a creamier taste.  I love the nutty flavor of tahini and put it EVERYTHING!  Even cookies and other baked goods!
This is my simplest tahini dressing recipe but you can definitely make it your own by adding different flavors to it.  I love dijon mustard, fresh herbs, harissa and even miso to name a few.
When you make this dressing and add your lemon juice or water the tahini will actually get thicker.  Don't freak out!  Keep mixing and keep adding water a little at a time till you get the consistency and thickness you like!
This goes perfectly with my cauliflower falafels!
Yield/Servings: 4
Author: Riyana Rupani
Print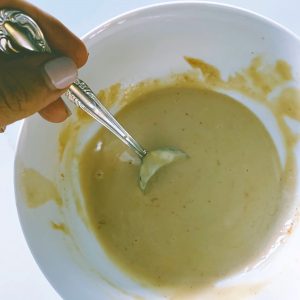 Tahini Dressing
A delicious dressing made out of sesame
PREPARATION TIME: 5 MIN
TOTAL TIME: 5 MIN
INGREDIENTS
1/2 cup tahini
1/2 lemon juiced (about 2-3 tbsp)
2 clove garlic, minced (or 1/2 tsp garlic powder
2 tsp dijon or wholegrain mustard
1 tsp cumin
1/2 cup water (or more) to thin
salt to taste
INSTRUCTIONS
Mix all ingredients. Taste and adjust seasoning