IF YOU ARE LIKE ME AND LOVE THAI FOOD, THIS ONE IS FOR YOU. THIS DISH COMES TOGETHER FAST AND HAS ALL THE FLAVORS YOU CRAVE FROM THAI FOOD.
So what's the secret to good Thai food? Balance
Thai food has a wonderful way of incorporating different flavor profiles and making them sing together!  This dish has your slightly sweet, salty, umami, and of course spicy!
This recipe came together fast an easy one afternoon.  I was literally going through my fridge trying to clear up whatever veggies and herbs I had on hand.  That day I had some Thai basil, which inspired this entire dish.
I always keep frozen shrimp in my freezer because they are a breeze to defrost and take minutes to cook.  I went with that as a protein option but you could always do this with chicken, beef, tempeh, etc.  Whatever works for you!
For the vegetables, I am sharing the ones I used based on what I had on hand that day but I promise you, you can use whatever you want.  This is a perfect fridge forage dish!
If you don't have Thai basil a combination of Italian basil and mint gives a similar taste profile.
Now let's get to it!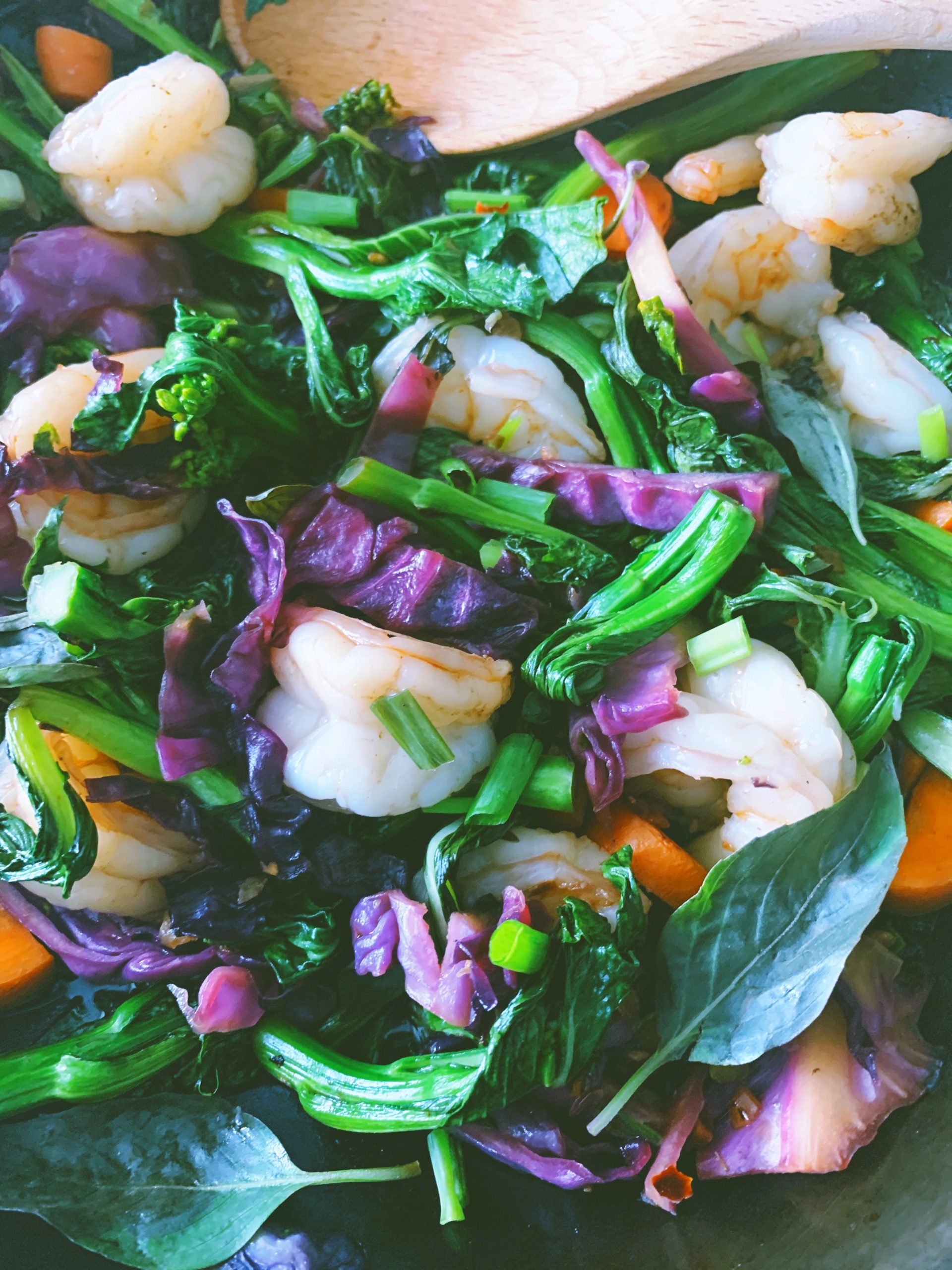 Yield/Servings: 3-4
Author: Riyana Rupani
Print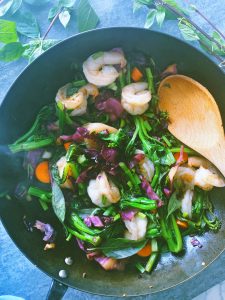 Stir-fried Prawns with Thai Basil
A simple Thai dish that comes together with whatever veggies you have on hand, and minimal pantry ingredients
PREPARATION TIME: 10 MIN
COOKING TIME: 10 MIN
TOTAL TIME: 20 MIN
INGREDIENTS
1 Tbsp oil Avocado oil
4 garlic cloves, roughly chopped
 1 tsp chili flakes or 2 fresh red chilies chopped (go with your heat preference, Omit of AIP)
2 scallions chopped and divided whites and greens
6 cups mixed veggies, chopped (I used baby kailan, purple cabbage, and carrots,)
About 20 pieces of prawns, cleaned and butterflied
2 Tbsp coconut aminos
1 Tbsp Red Boat fish sauce
1/4 cup packed of Thai basil leaves
INSTRUCTIONS
Heat oil in a wok or deep pan.
Once hot, add garlic, scallion whites, and chili. Cook till fragrant
Next, add your veggies + coconut aminos and fish sauce. Let cook 2 -3 minutes or until veggies start to become tender
Last add your prawns, Thai basil, and scallion greens.
Give everything a good toss, let prawns cook through and serve!