IF YOU LOVE BIG FLAVORS, THIS ONE IS FOR YOU!
Looking for something to serve up alongside your newly hacked rice? 
Chili Garlic Prawns are here for ya. I use my quick chili sauce in this recipe and it is yum! Lots of flavor in this recipe and none of the guilt!
I personally love prawns. You can buy them frozen, and they thaw and cook up in minutes. Easy & fast are my two favorite words when it comes to meal prep!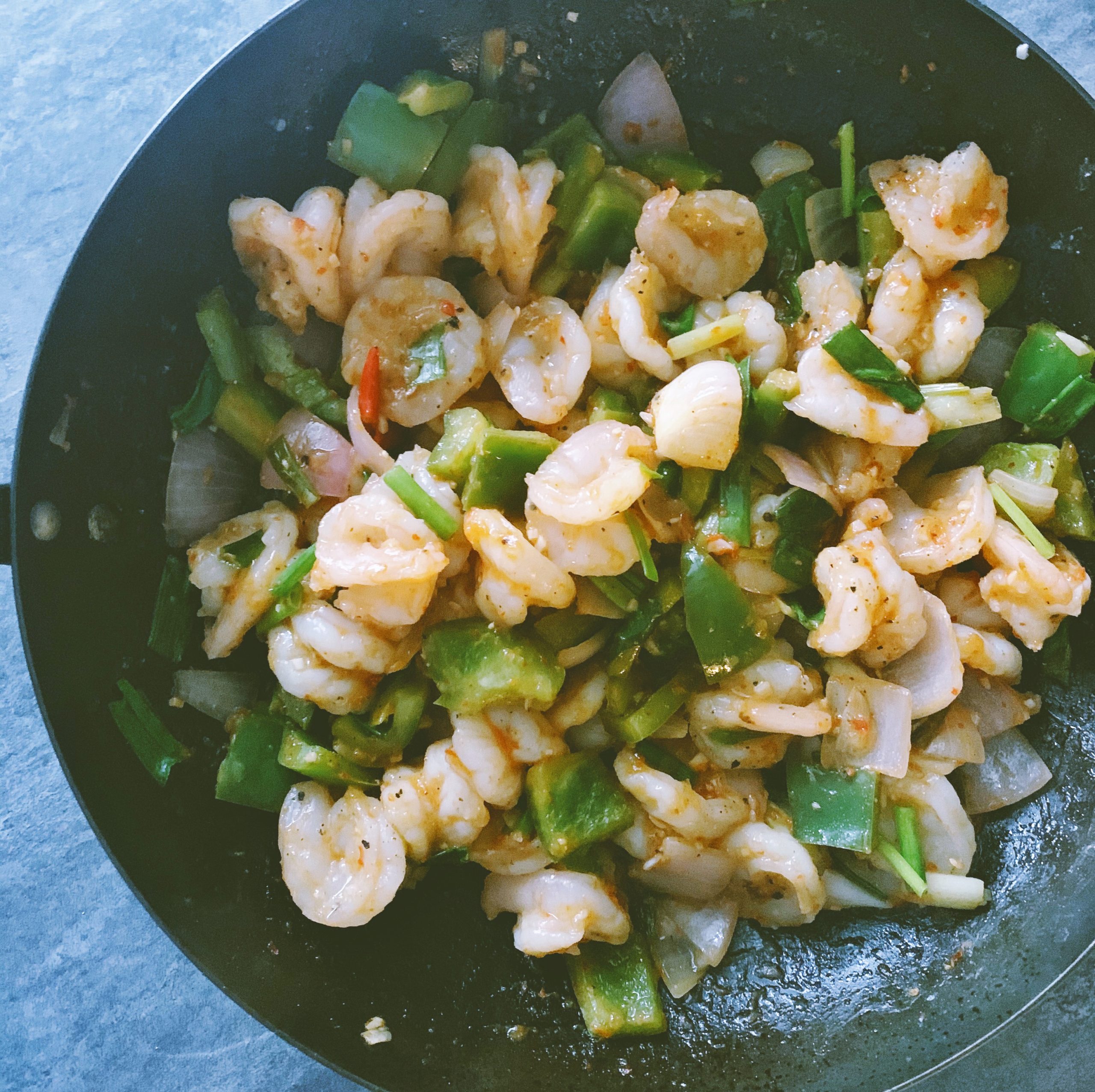 Yield/Servings: 2
Author: Riyana Rupani
Print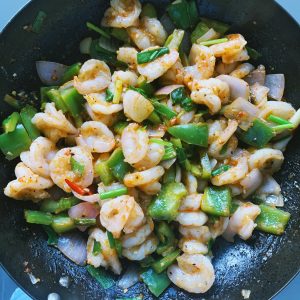 Garlic Chili Prawns
A firey & delicious Asian inspired prawn dish.
PREPARATION TIME: 10 MIN
COOKING TIME: 15 MIN
TOTAL TIME: 25 MIN
INGREDIENTS
marinade
250 g/0.5 lbs cleaned prawns
1/4 tsp Pepper
1/2 tsp Salt
2 Tbsp Arrowroot or Tapioca flour
2 Tbsp Avocado Oil (for cooking)
Sauce
1 Tbsp Avocado Oil
3 garlic cloves, chopped
1 Red or Green chili, roughly chopped
1/2 Bell-pepper chopped into 1-2 inch pieces
1/4 cup chopped Spring Onions, whites and greens separated.
1 Onion chopped into 1-inch pieces
3 Tbsp of my quick chili sauce
1 Tbsp Coconut Aminos
2 tsp White Vinegar or Black Vinegar
2 Tbsp water
Salt & Pepper to taste
INSTRUCTIONS
In a bowl, combine the cleaned and dried prawns with the other marinade ingredients (except Oil). Mix everything well and set aside for 10 mins. This helps the excess moisture from the prawns to be released.
Heat the 2 Tbsp avocado oil in a pan and fry the prawns on medium heat. Be careful not to overcook them. Nothing worse than rubbery prawns.
Remove the prawns onto a paper-towel-lined plate. The prawns should be slightly crisp
Clear up the pan and add 1 Tbsp more oil. Sauté the garlic until fragrant. Add chilies, capsicum, and onion cubes and whites of the spring onions. Sprinkle with a little salt.
Sauté everything on a medium-high flame, for about 2 minutes until the bell peppers are half cooked and still crunchy.
Add chili sauce, coconut aminos, vinegar and pepper, and 2 Tbsps of water.
Mix and allow the sauces to bubble. Taste and add adjust to your liking.
Switch off the stove and add the prawns.
Toss well and add the greens of the spring onion.