THIS IS MY SIMPLE VERSION OF THE CLASSIC INDIAN DISH MADE WITH MINCED MEAT AND LOTS OF LOVELY SPICE.
Most times I find the best meals are the simple classic ones.   
Keema is a classic Indian dish. In case you didn't know keema literally means minced.  So you guessed it, this a dish made with minced meat.  I am using lamb in my recipe but you can feel free to change it up to mutton, beef, chicken, or pork. I find the recipe works well with any meat.  If you are vegetarian, I have done this with tempeh with great results!
For the veggies used I personally prefer either carrot or peas, but if you want something more hearty, potatoes are a great option!
The mint added in this recipe is a must! Lamb and mint are a match made in heaven!
Serve this up with some simply sliced onion, fermented beets, and delicious low-carb flat bread or paleo paratha
FYI – This dish tastes even better the next day when all the spices have really soaked in, so make a double batch and "love your leftovers"!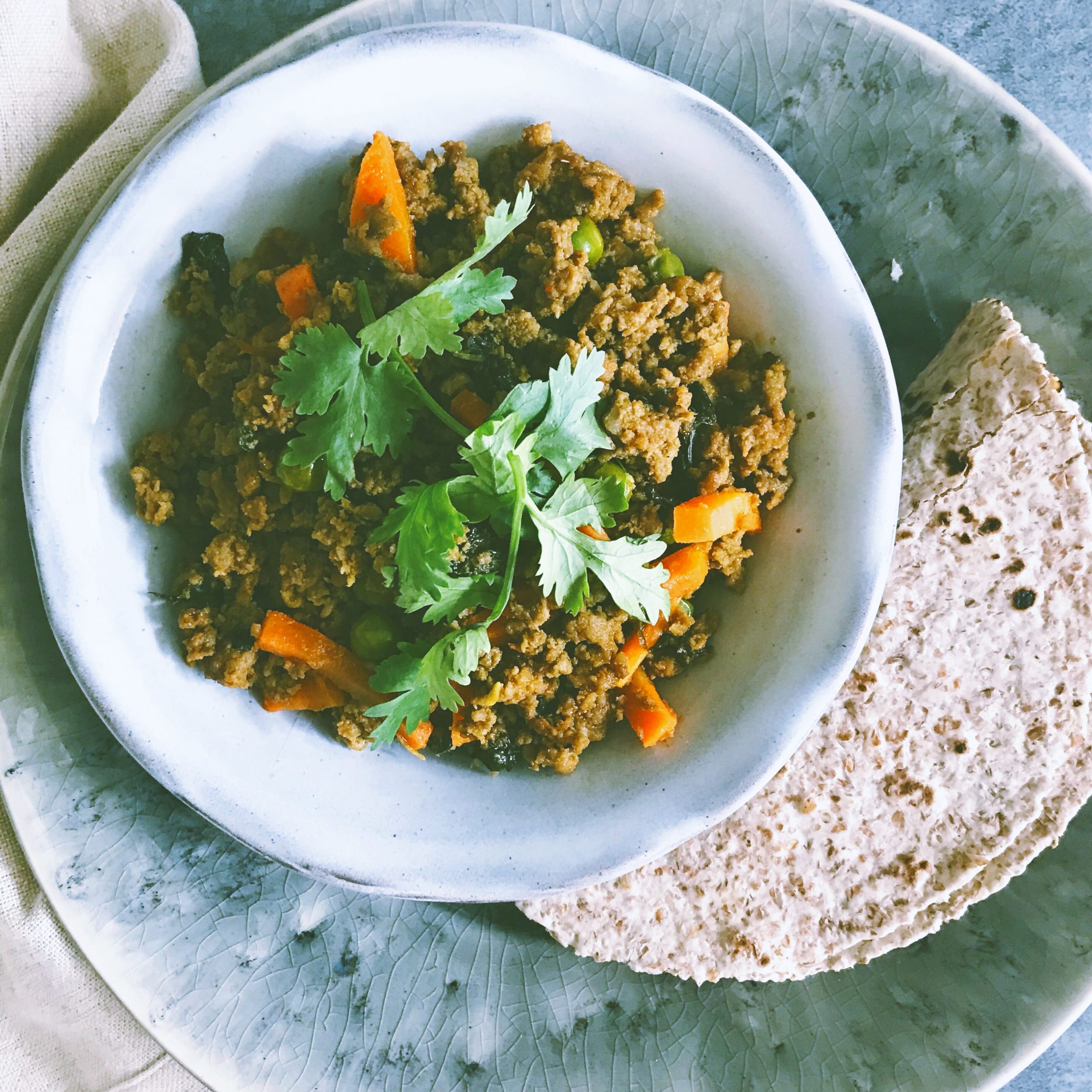 Yield/Servings: 3-4
Author: Riyana Rupani
Print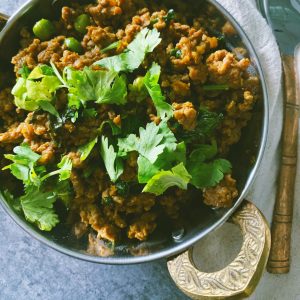 Lamb Keema
A delicious Indian style minced lamb recipe.
PREPARATION TIME: 10 MIN
COOKING TIME: 40 MIN
TOTAL TIME: 50 MIN
INGREDIENTS
500-600 gram (1.2-1.5 lb) minced lamb
2 tbsp ghee
3 green cardamom pods
1 large onion, finely chopped
6 cloves of garlic, minced
1 ½ inch piece of ginger, finely grated
1-2 chopped green chili (or not if you don't want it spicy)
1.5 tbsp tomato puree
1 tsp turmeric powder
½ tsp garam masala powder
1 tsp Kashmiri chili powder or paprika
3/4 - 1 cup water
Salt, to taste
handful mint leaves chopped
handful cilantro leaves, chopped
1/2 cup frozen peas or 2 carrots chopped (or both!)
INSTRUCTIONS
Heat ghee in a deep pan on medium heat. Once hot, add the green cardamom and cook till fragrant.
Add the chopped onions. Cook until softened & brown in color. Don't rush this, the browned onion is what gives the keema the depth of flavor we are looking for.
Add the garlic, ginger, & green chili and cook for 2 minutes stirring frequently.
Stir in the tomato puree & cook for 2-3 min.
Turn the heat slightly up, add the minced lamb, and stir continuously.
Add your spices - turmeric, Kashmiri chili powder/paprika, garam masala, and salt and give everything a good mix.
Stir well for a few minutes until the lamb is evenly cooked and browned. Add the water & bring to a boil.
Add the carrots or peas at this point if you are using them.
Cover and cook on low heat for about 15 minutes.
Last stir in the chopped, cilantro & mint leaves.
NOTES:
Feel free to change up the veggies and use whatever you like. Works well with potato, sweet potato, and green beans from my experience!