A DAIRY-FREE VERSION OF THE CLASSIC PESTO. NO ONE WILL EVER KNOW THE DIFFERENCE!
This one is a no brainer and something I make in bulk and store it in the freezer for easy quick meals. Great on almost anything!
I use walnuts instead of pinenuts most of the time simply because pinenuts are kinda expensive for the amount of pesto we go through! ⁠⠀
⁠⠀
I also like to superfood my pesto with either baby spinach or using fresh spirulina from Simpliigood⁠ (use code healthyishandhappy for 10% off!).  This spirulina packs a nutritional punch without the nasty flavor usually associated with spirulina.  I highly recommend it!
⁠⠀
Here is my quick and simple recipe.⁠⠀
Yield/Servings: 1 Cup
Author: Riyana Rupani
Print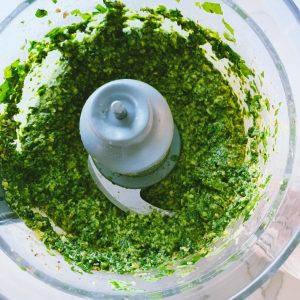 Dairy-Free Pesto
delicious over literally everything!
PREPARATION TIME: 5 MIN
TOTAL TIME: 5 MIN
INGREDIENTS
2 cups packed fresh basil
1 cup packed baby spinach or other leafy green (optional)
1/4 cup pine nuts or any nut you have on hand.  I find blanched almonds or walnuts work well.  Sunflower seeds are great for a nut-free option.
3 large cloves garlic, roughly chopped
2 Tbsp lemon juice
4 Tbsp nutritional yeast
1/2 tsp salt
1/4 tsp chili flakes (optional)
1/3 cup extra virgin olive oil
water if needed to get the consistency you are after.
INSTRUCTIONS
To a food processor, add the basil, spinach/spirulina, nuts, garlic, lemon juice, nutritional yeast, chili flakes, and salt and blend on high until a chunky paste forms.
drizzle in the olive oil a little at a time (streaming in while the machine is on if possible) and scrape down sides as needed. Then add 1 Tbsp of water at a time until the desired consistency is reached
Taste and adjust flavor as needed
Stores in the fridge for a week and in the freezer up to 1 month or more.