IF YOU LOVE TRADER JOE'S EVERYTHING BUT THE BAGEL SEASONING, BUT CAN'T GET IT LIKE ME, NOW YOU CAN MAKE YOUR OWN!
You can take the girl outta NY but you can't take the NYer outta this girl
Missing home, and missing everything NY at the moment, and this seasoning mix just makes me feel a tiny bit better…
I was devastated when I finished my last bottle of Trader Joe's everything but the bagel mix because I legit put this stuff on EVERYTHING (Everything other than a bagel unless I'm actually in NY 😆), so of course, I needed to find a replacement.
Guys, making this stuff is easier and simpler than you think! I for sure will never be buying it again!
Next time I make my grain-free crackers, you better believe they are gonna be everything but the bagel crackers!
Yield/Servings: 1/4 Cup
Author: Riyana Rupani
Print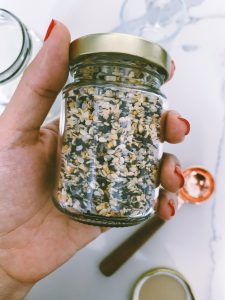 Everything But the Bagel Copycat Seasoning
A delicious seasoning blend to top anything savory!
PREPARATION TIME: 5 MIN
TOTAL TIME: 5 MIN
INGREDIENTS
INSTRUCTIONS
Add to a jar.
Shake it up.
Done!