CRAVING SOMETHING CRISPY AND SAVOURY? TRY THESE!
Here is one of my favorite crispy crunchy clean snacks that hits the spot and calms those potato chip cravings. Serve these up to friends or enjoy yourself!⠀
Baked Lotus Root Chips!
We are lucky in Asia, this versatile vegetable is pretty easily available and they make the tastiest vegetable chips! (Move over Kale!)
Yield/Servings:
Author: Riyana Rupani
Print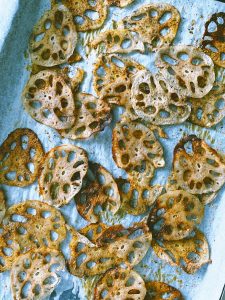 Lotus Root Chips
A delicious guilt-free option when craving something crispy!
PREPARATION TIME: 10 MIN
COOKING TIME: 30 MIN
TOTAL TIME: 40 MIN
INGREDIENTS
2 large lotus roots
about 3 tbsp olive oil or avocado oil
seasoning of choice - salt, pepper, cayenne, chaat masala, tandoori masala are all some of my favorites... tons of options!
INSTRUCTIONS
Preheat oven to 180C/350F
Cut the ends of the lotus roots & peel the skin off with a peeler
Make slices 1/8″- 1/4″ thick. A mandoline really comes in handy here!
Get a baking sheet and line it with parchment paper. ・
Either spray or brush the pan with olive or avocado oil.
Place slices in a single layer on the baking sheets, brush or spray with more oil, and season with your spices of choice.
Bake for anywhere from 10-20 minutes and check for ones that are browning rapidly.
Remove the browned ones and place them on a piece of paper towel to absorb excess oil.
Put the baking sheets back in the oven and repeat the process of checking and removing finished ones at 5-minute intervals.
The entire process can take 30-45 minutes depending on your oven and how thinly you sliced the lotus root.
Let cool and enjoy on their own or with dip.
NOTES:
watch these babies carefully, baking time can vary based on the thickness of your chips and on your oven and they burn quite fast.