THESE POTATOES ARE SIMPLY PERFECT. SOFT ON THE INSIDE AND CRISPY OUTSIDE.
Some people like their potatoes mashed, I prefer mine roasted and golden!
These babies turn out perfect every time!
They are the perfect side dish for the holidays or a nice dinner anytime.  You can't go wrong with roasted potatoes, a definite crowd-pleaser.
In this recipe I steam or boil my potatoes first before coating them with my seasoning of choice and roasting them up.  This leaves you with delectably soft potatoes that aren't dried out.
You want to make sure you don't skimp on the duck fat or ghee.  This is what will give your potatoes that crispy outside and beautiful golden color.
Finish them off with a good squeeze of lemon and a sprinkle of herbs to really brighten them up!
If you want to prep ahead of time, you can steam/boil these ahead of time (up to a week) and store them in the fridge when you are ready to go.  You may need to keep them in the oven a bit longer if you are using them straight out of the fridge.
These are great served up hot or at room temperature so a wonderful choice if entertaining.
Change things up!
I love these drizzled with my tahini dressing or Schug.
or give them an Indian twist by sprinkling a tsp of chat masala, and cumin powder and using fresh cilantro as your herb of choice!
Yield/Servings: 4
Author: Riyana Rupani
Print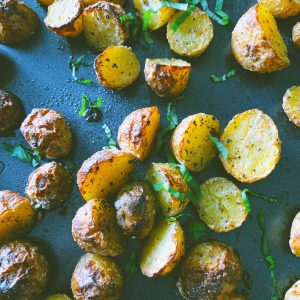 Perfect Roasted Garlic Potatoes
soft on the inside, crispy on the outside
PREPARATION TIME: 10 MIN
COOKING TIME: 35 MIN
TOTAL TIME: 45 MIN
INGREDIENTS
500g /1lbs baby potatoes, fingerling potatoes, or larger regualr potatoes, washed, and cut as needed. (if you using larger veriaty, peel and chop to 2" pieces)
3 tbsp ghee or duck fat (heated a bit if needed to bring to a liquid form)
1 tsp of garlic powder
salt & pepper to taste
zest and juice of 1/2 a lemon
fresh herbs of choice - I like flat leaf parsley, oo chives or dill, or basil!
INSTRUCTIONS
Instant Pot
preheat your oven to 200C/400F.
Ensure all your potatoes are the around the same size. I like cutting my baby potatoes in half as I like them all around 2" in size.
Add 1 cup of water to the Instant Pot fitted with a steamer insert and add your potatoes.
Press the Manual or Pressure Cook button and program it cook for 5 minutes under high pressure. Lock the lid, and make sure the valve is on sealing.
Once the potatoes are done cooking, wait 10 minutes and then manually release the pressure.
Once your pototoes are cool enough to handle. Toss them in a bowl with the cooking fat, garlic, salt, pepper, and lemon zest.
on a lined baking tray, spread your coated potatoes out so they are in a single layer.
pop them in the oven for 15-20 minutes or until golden brown.
Once done, squeeze the juice from half a lemon and toss with fresh herbs of choice.
Stove top
preheat your oven to 200C/400F.
If making these on the stovetop. cover your potatoes with water and bring to a boil for 5 minutes.
drain the water and allow them to dry/cool.
follow step 6 onwards from above.