HOW INDIANS DO CHINESE.
Tangy, savory, and full of spice.
The name of this dish says it all but let's clarify, Chili Chicken (or tofu or tempeh or paneer, or fish or shrimp or ANYTHING) is a spicy and tangy Indian version of a Chinese dish.  Yes, Indo-Chinese is a thing and I hope to bring you many more clean dishes with those flavors in the future!
Usually, this dish includes deep-frying and ingredients like ketchup, white sugar, and soy sauce (cringe, cringe, Cringe!).
This is my rendition of it, and it which is still full of spice and tang, minus all the processed ingredients.
You could try cooking the chicken, tempeh, or tofu in an air-fryer and I am sure that would taste great, I, unfortunately, don't have one (yet) so can't confirm.
This recipe can be served as an appetizer or a main course and if you want to make it saucier, just double the coconut aminos, chili sauce, and vinegar, and add 1/2 a cup of water.
If the sauce isn't thick enough, make a slurry with 1 tsp arrowroot or tapioca flour and mix with 2 Tbsp cold water and add it to your dish
My chili sauce of choice is Ri's red chili sauce but if you don't have access to Ri's, you can make my quick garlic chili chutney instead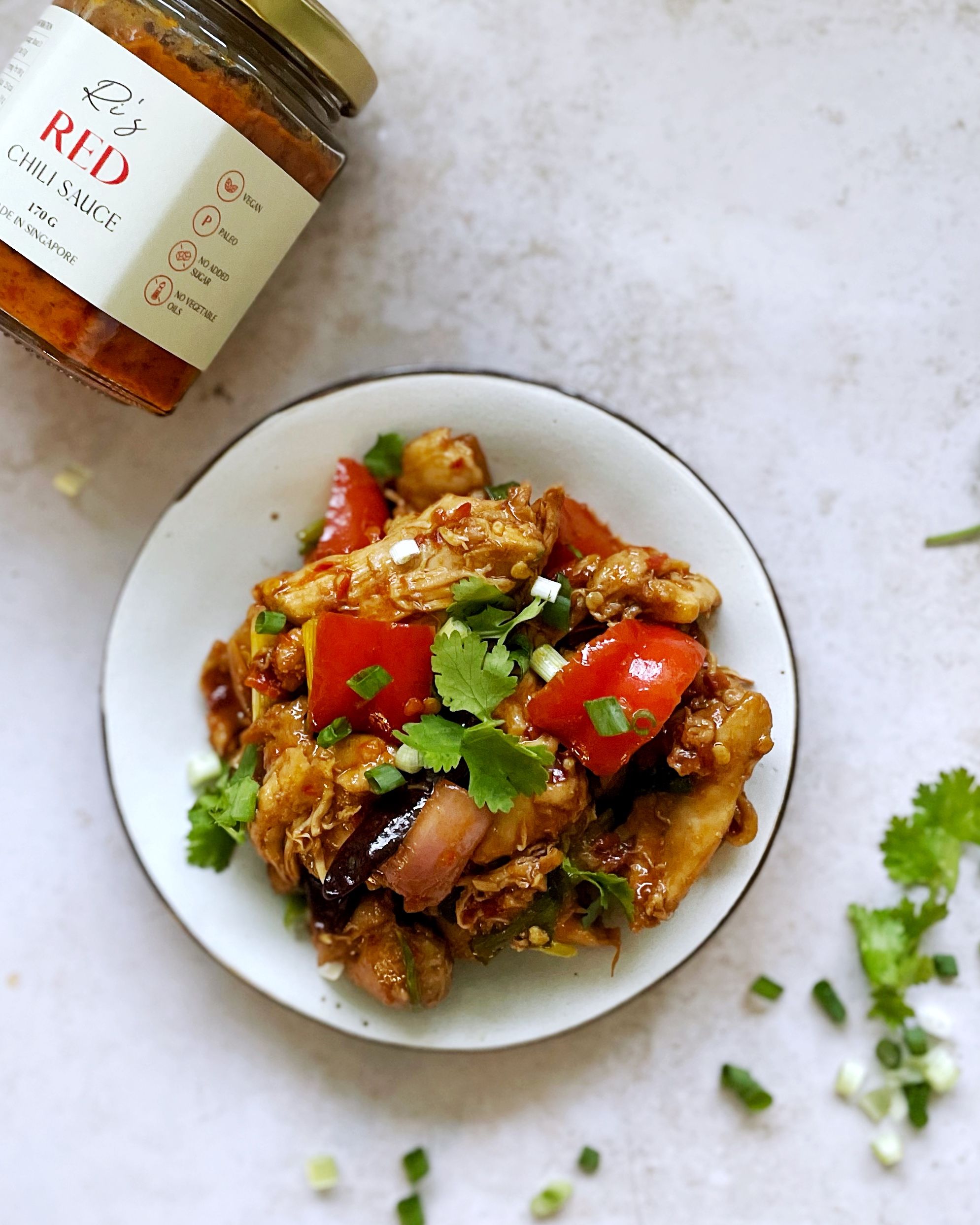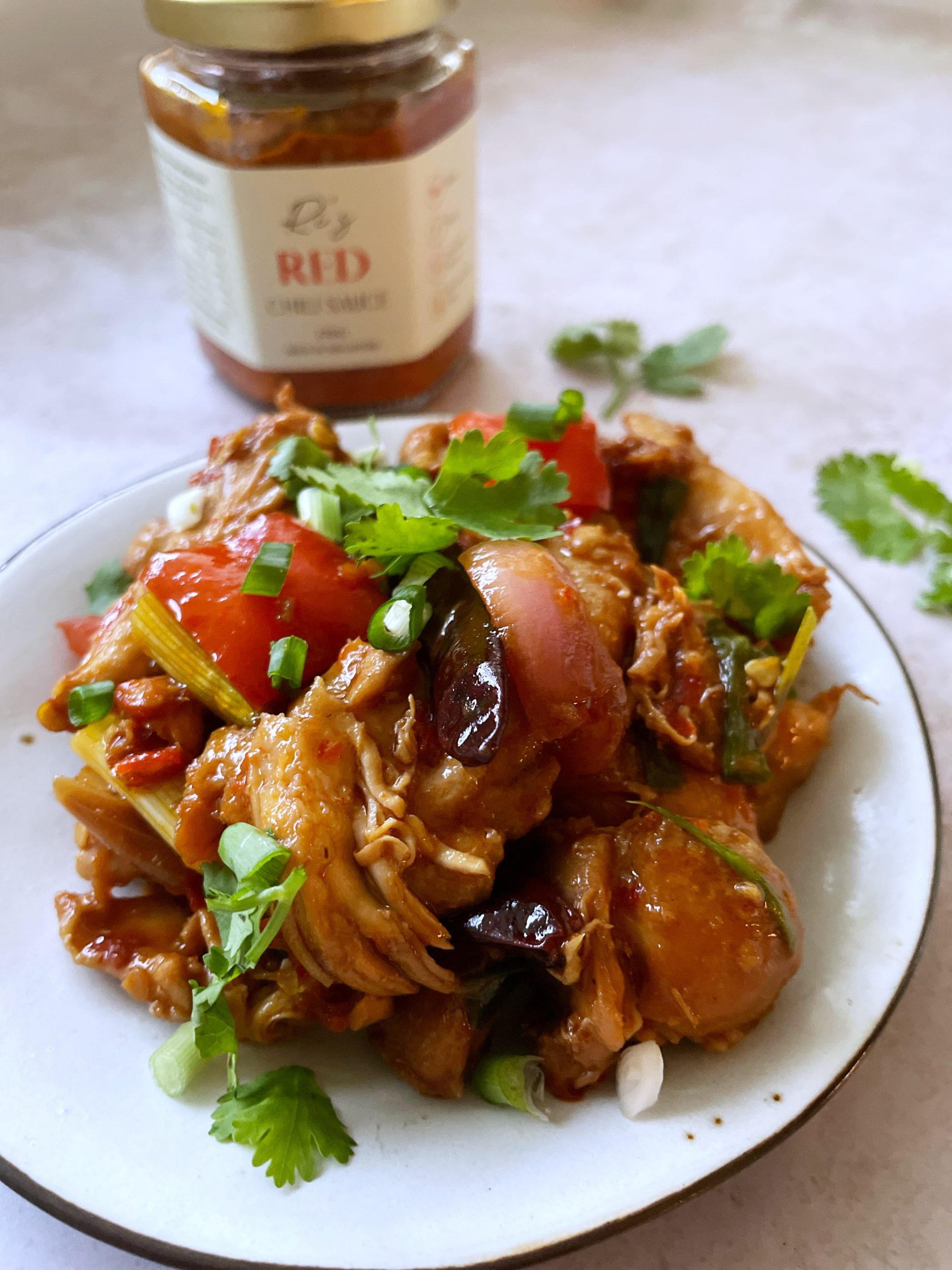 Yield/Servings: 4
Author: Riyana Rupani
Print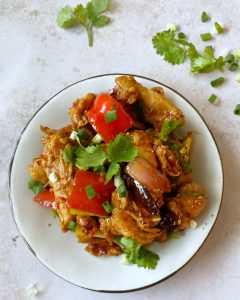 Chili Chicken or Tofu or Tempeh or Mushroom or Paneer (Indian/Chinese)
One of the most popular Indo-Chinese recipes
PREPARATION TIME: 10 MIN
COOKING TIME: 15 MIN
TOTAL TIME: 25 MIN
INGREDIENTS
500g/1.2 lbs chicken thigh cut into bite-size pieces or sub for tofu, tempeh, mushroom, or paneer
salt & pepper to taste
1/2 tsp Kashmiri mirch or paprika
4 Tbsp arrowroot or tapioca flour
5 dry red chilies, broken
3 Tbsp avocado oil
2 Tbsp ginger, minced
2 Tbsp garlic, minced
2 green chilies, slit
1 small onion, quartered
1/2 red bell pepper, chopped into large pieces
1/2 green bell pepper, chopped into large pieces
3 Tbsp coconut aminos
5 Tbsp white vinegar
2 tsp toasted sesame oil
2 spring onions, cut diagonally
INSTRUCTIONS
Mix the chicken or tofu or tempeh or paneer with salt, pepper, and arrowroot or tapioca flour. Mix well and set aside.
In a wok-style pan, heat the oil on medium-high heat. Add the chicken/tofu/tempeh/paneer in, and try to avoid the pieces from clumping together.
Cook uncovered, stirring frequently. Once done, remove from the pan
In the same oil, add in the broken dry red chilies and cook for 30 seconds.
Add in the ginger, garlic and green chilies, mix and cook for a minute.
Add in the onion and the bell pepper and cook for another minute or so.
Add in the coconut aminos, chili sauce, and the vinegar and mix.
Now add back the chicken or vegetarian protein choice.
Cook until the sauce coats everything well.
Once done, turn off the flame and add in the sesame oil and spring onions.
Toss once again and serve immediately
NOTES:
This recipe can be served as an appetizer or a main course and if you want to make it saucier, just double the coconut aminos, chili sauce, and vinegar, and add 1/2 a cup of water. If the sauce isn't thick enough, make a slurry with 1 tsp arrowroot or tapioca flour and mix with 2 Tbsp cold water and add it to your dish