SIMPLE, MINIMAL, DELICIOUS.
A salad doesn't need to be complicated to be good, and this one is a perfect example!
Honestly, I feel like no meal is complete with a good salad.  It doesn't have to be complicated or have tonos of ingredients and sometimes the more simple the salad, the better it is.
This is one of my favorite salads when having friends over or when doing a BBQ. the Kale holds up well even if you prepare the salad a day in advance and it travels well and tastes good cold or at room temperature.
The hint of chili with the lemon and parmesan is delicious and then throw in those sweet chopped dates, and crunchy toasted almonds, and you have perfection!
If you ever want to up your salad game,  add in some fresh or dried fruit along with some nuts or seeds. Promise the results will be delicious!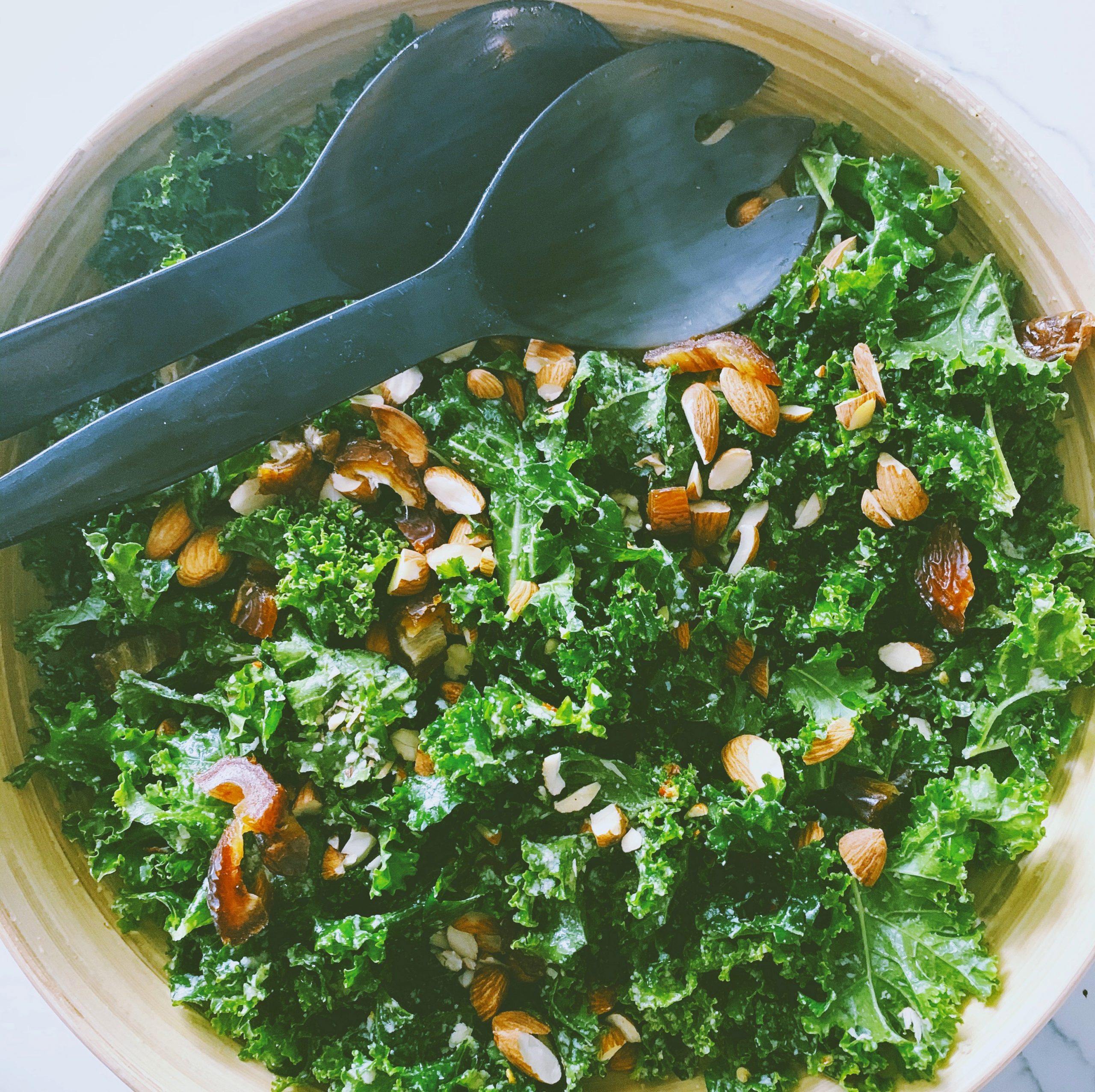 Yield/Servings: 4
Author: Riyana Rupani
Print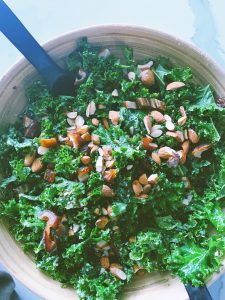 Kale, Parmesan, & Date Salad
Simple, minimal ingredients, and delicious
PREPARATION TIME: 10 MIN
TOTAL TIME: 10 MIN
INGREDIENTS
Juice of 1/2 lemon (about 2 Tbsp)
3 tablespoons extra-virgin olive oil
1/2 small red onion, finely chopped
1/2 teaspoon kosher salt
1 teaspoon red pepper flakes (or to taste)
2 bunches kale, stems removed, leaves finely chopped
1/2 cup roughly chopped toasted almonds
8 dates, pitted and chopped
1/2 cup finely grated parmesan
INSTRUCTIONS
For the dressing mix together lemon juice, olive oil, red onion, salt, and chili flakes.
Add the dressing to the kale, toss well and let sit for 20 minutes.
In a dry pan, toast almonds over medium heat for 1-2 minutes, tossing constantly, until the color deepens. Let them cool and then roughly chop
Mix in the parmesan, dates, and chopped almonds with the kale and serve immediately or refrigerate for up to 1 day.