A NEW ADDITION TO YOUR BREAKFAST ROTATION!
Overnight Muesli! Assemble at night for an easy breakfast in the morning!  Vegan, sugar-free, and grain-free.
I don't know about how things are in your house, but for me, mornings are busy!
This breakfast is a weekly staple at ours.  The kids love it as much as I do and the fact that it's ready to go in the AM makes my life easier!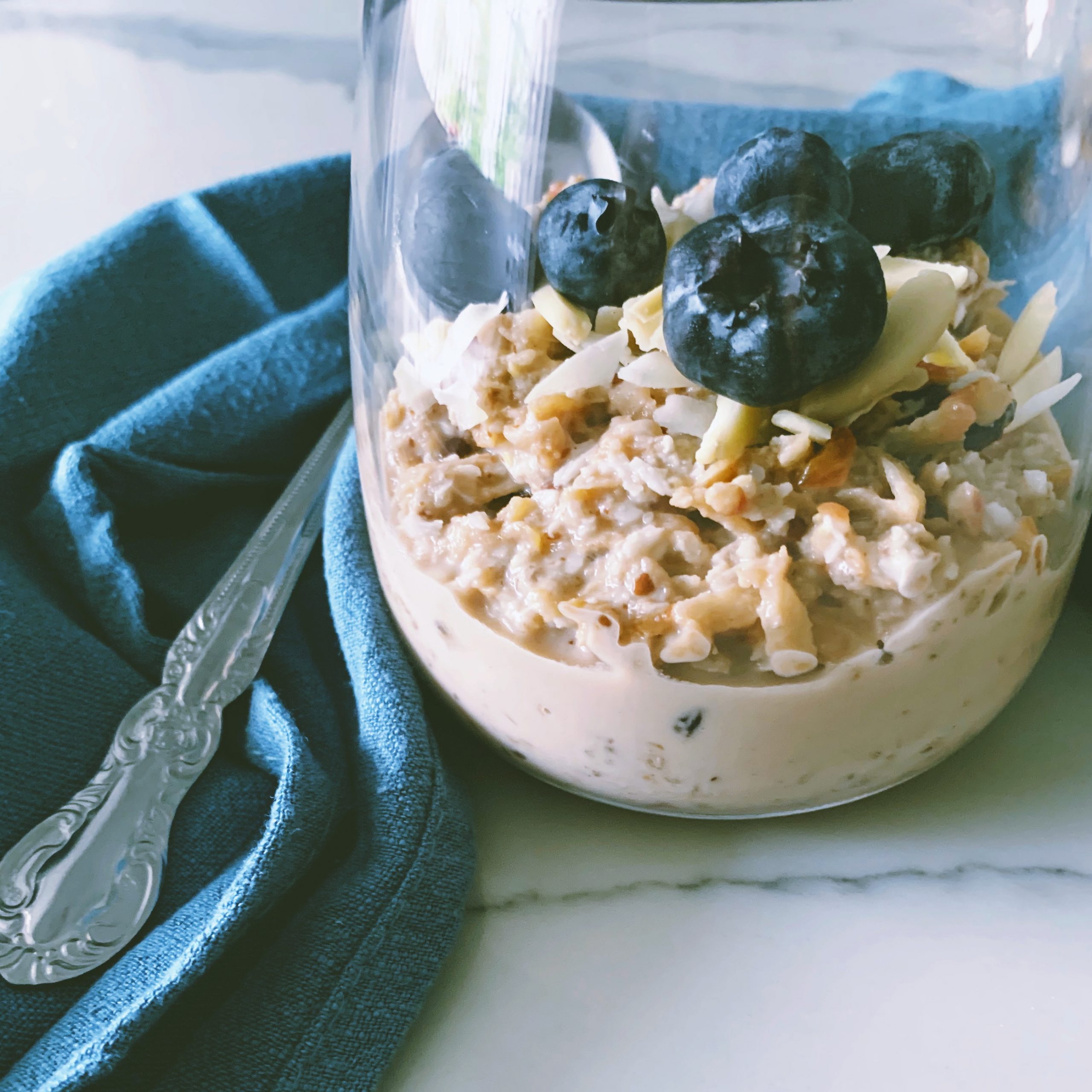 Another bonus with this recipe, it's sugar-free.  That's right, all the sweetness in the bowl of goodness comes from shredded apple.  You get all the natural sweetness along with fiber from having the whole fruit.
Feel free to change up the nuts and seeds you use. I usually go based on what I happen to have on hand at the time.
Another wonderful addition which unfortunately isn't easily available in Singapore is hemp hearts.  If you do get access to them, I would definitely include them!
Whether you prepare this the night before or in the morning itself, I promise you won't be disappointed.
Yield/Servings: 2
Author: Riyana Rupani
Print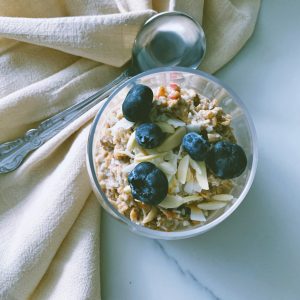 Overnight Sugar-Free & Grain-Free Muesli
If you love muesli but can't do the grains or added sugar, you are gonna love this!
PREPARATION TIME: 12 HOURS
TOTAL TIME: 12 HOURS
INGREDIENTS
3/4 - 1 Cup Dairy-Free Milk of choice (I like a combination of coconut and almond)
3 Tbsp Almond Meal
3 Tbsp Shredded Coconut
2 Tbsp Chia Seeds
1 Tbsp Flaxseed Meal
1/4 tsp Vanilla Extract
1/4 tsp Cinnamon or Ground Cardamom Powder
1 Apple Shredded (red for sweeter, green for a little tart. I like a combo!)
2 Tbsp Chopped Nuts of choice
Optional Toppings
Additional Chopped Nuts
A few Dried Cranberries or Raisins
A Drizzle of Nut butter
Fresh berries
INSTRUCTIONS
Combine all ingredients in a large mason jar or bowl. Mix well and store in a container with a lid.
Refrigerate overnight
Stir in the morning and add a bit of milk or water to loosen.
Add any toppings if desired.