SUPER REFRESHING AND SLIGHTLY FIERY!
This is currently my favorite go-to drink.
Whether you are feeling dehydrated or trying to beat a sugar craving, this drink will help.
You can have it hot in the winter and cold in the summer, but I personally prefer it cold cause ya know… Singapore weather is H-O-T 24/7/365 .
Apple Cider has a ton of benefits but mixing it with these other few ingredients really ups the benifits.
Why do I love it so much?
It tastes good and is super refreshing
It's wonderful for digestion which means it's wonderful for the gut
It's probiotic
Helps with bloating
Stabilizes blood sugar
Is full of electrolytes
Is full of antioxidants
Has anti-inflammatory benifits
Yield/Servings: 1
Author: Riyana Rupani
Print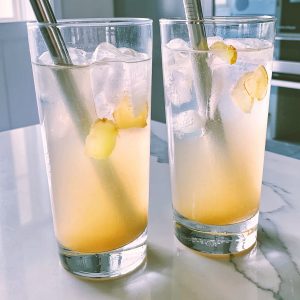 Instant Switchel
Fiery and Refreshing Probiotic Beverage
PREPARATION TIME: 2 MIN
TOTAL TIME: 2 MIN
INGREDIENTS
1-2 tbsp apple cider vinegar (with the Mother)
2 tsp fresh lemon juice
pinch of mineral salt
fresh thinly sliced or grated ginger
sparkling mineral water or regular water
1 tsp honey (optional)
INSTRUCTIONS
Mix, add some ice if desired and enjoy!