HANDS DOWN ONE OF MY FAVORITE RECIPES ON THE BLOG!
This salad is full of wonderful Thai flavors. It's creamy, crunchy, and simply delicious!
I have had friends call this my pad-thai salad and I have to agree, it does have similar flavor notes. I personally love pad-thai but love the greens in this recipe more! You get all the favor without all the guilt! I highly recommend making this salad with hearty leaves such as Kale and cabbage. They really hold up well to the dressing.
For your protein source, we are using chicken, but simply grilled prawns, or edamame are nice alternatives.
FYI on the dressing, it works wonderfully as a dipping sauce for satays and veggies or slathered over any grilled meat!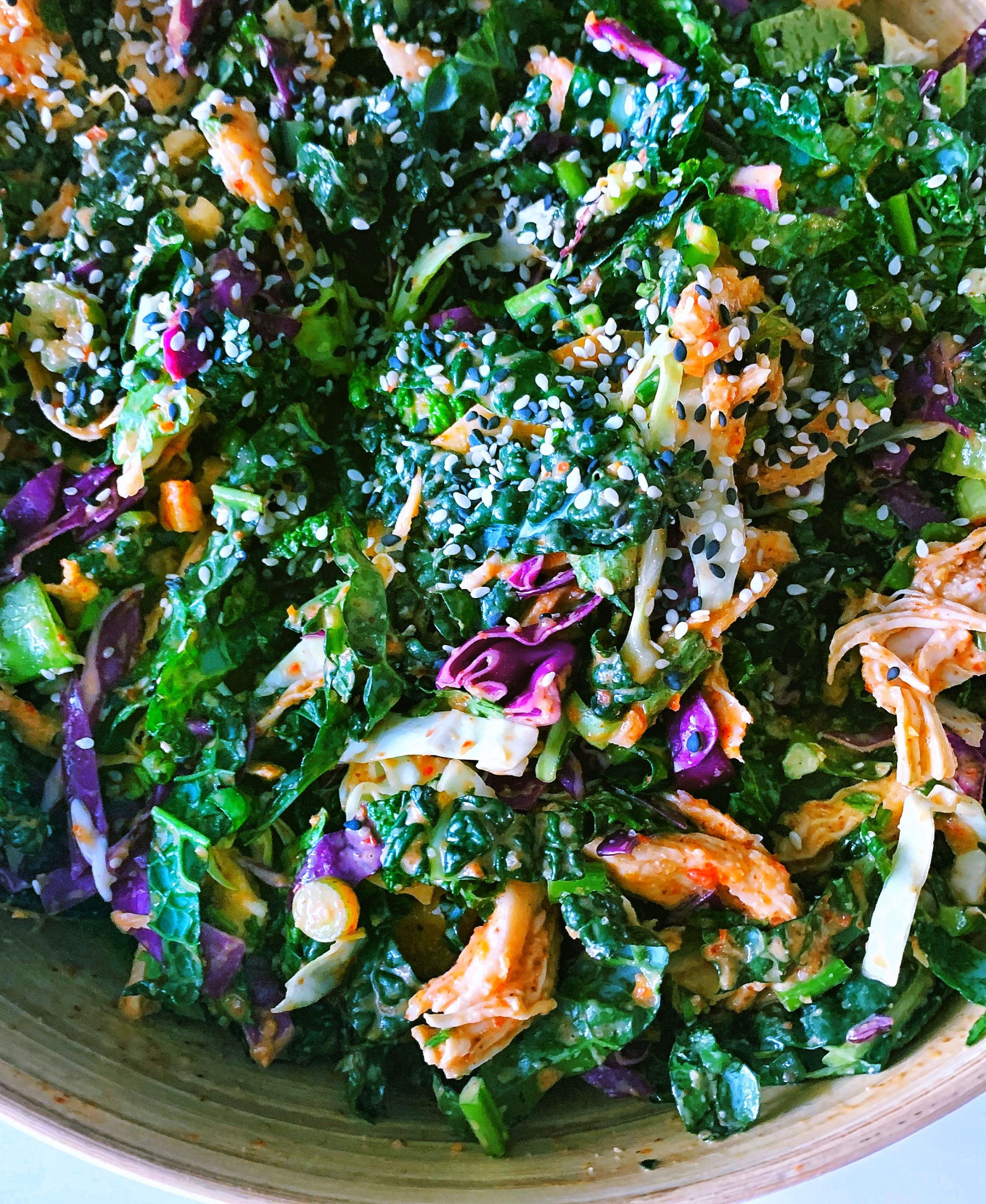 Yield/Servings: 4
Author: Riyana Rupani
Print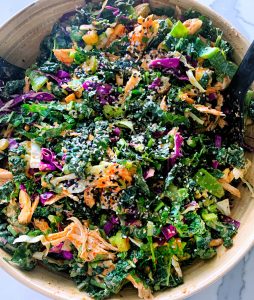 Thai Kale Salad with Chicken
A delicious Thai inspired salad that has both Vegan & Whole30 options
PREPARATION TIME: 10 MIN
TOTAL TIME: 10 MIN
INGREDIENTS
Dressing
4 Tbsp Almond Butter
2 Tbsp Chili Sauce (I used my homemade chili sauce)
3 Tbsp Coconut Aminos
5 Tbsp Lime Juice
1 Tbsp Rice Vinegar
2 Tbsp Toasted Sesame Oil
Salad
500g seasoned, grilled & Shredded chicken
250 grams broccoli sliced and chopped
½ red bell pepper sliced
1 ½ cup shredded purple cabbage
3 cup shredded kale
¼ cup chopped cilantro
¼ cup chopped mint
¼ cup chopped scallions
⅓ cup chopped almonds or almond slices
black and white sesame seeds (optional for garnish)
INSTRUCTIONS
Add all your dressing ingredients to a mason jar. Close tightly, and give it a good shake till everything is well combined.
Mix all your salad ingredients along with the shredded chicken, and dressing.
Toss to coat, and garnish with sesame seeds.