INSPIRED BY THE TRADITIONAL PEANUT SAUCE, MINUS THE PEANUTS!
I love Thai flavors and this dressing is just perfect for dressing salads, dipping satay, and veggies in, or having it slathered on your favorite grilled meat.
I am a big fan of homemade sauces and dressings. They can take any boring meal and make it special and delicious. A dressing like this can make even your leftovers exciting!
I developed this recipe for my Thai Kale salad, but the options on how you use it are endless!
Yield/Servings: 4
Author: Riyana Rupani
Print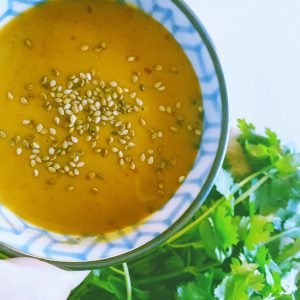 Thai Dressing | Dipping Sauce
A delicious Thai inspired dressing that's both Whole30 & Vegan
PREPARATION TIME: 5 MIN
TOTAL TIME: 5 MIN
INGREDIENTS
4 Tbsp Almond Butter
2 Tbsp Chili Sauce (I used my homemade chili sauce)
3 Tbsp Coconut Aminos
1.5 Tbsp Lime Juice
1 Tbsp Rice Vinegar
2 Tbsp Toasted Sesame Oil
Sesame seeds (optional for garnish)
INSTRUCTIONS
Put all ingredients into a mason jar.
Place the lid on tightly and shake till everything is well combined.