SIMPLE, DELICIOUS, AND PRETTY
I love easy desserts, especially those that pretty enough to serve when I am entertaining.
These coconut macaroons are a snap to put together and are so tasty, try not to eat them all before your guest come over!
There are some add-ins you can incorporate, or you can keep it simple. The choice is yours!
Some of my favorite individual add-ins are:
1/4 cup chopped salted almonds

1/4 cup cacao nibs

1/4 cup mini chocolate chips

1/4 cup dried chopped cranberries

1/4 cup dried chopped cherries

1/2 tsp of powdered cardamom

add a 1/2 tsp of almond extract

1/2 tsp of cinnamon + 1/2 tsp of vanilla extract
For the chocolate you are using to dip the macaroons in, you can use this recipe or sometimes if I don't have the ingredients on hand, I simply melt about 1/2 a bar of 78% Lindt chocolate with 2 tsp of coconut oil and use this.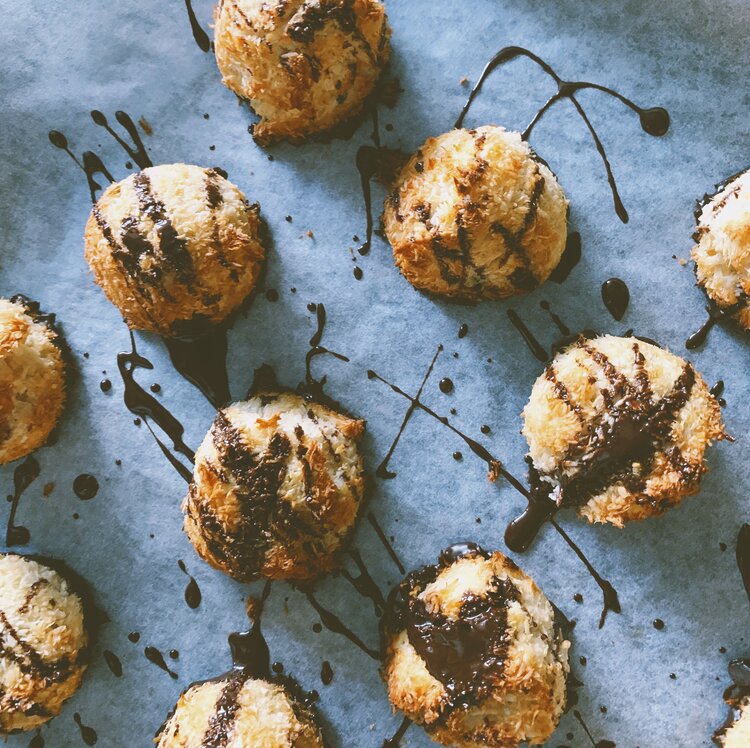 Yield/Servings: 12-16 Pieces
Author: Riyana Rupani
Print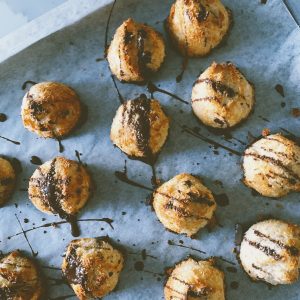 Chocolate Dipped Coconut Macaroons
A delicious and simple recipe that tastes just as pretty as it looks!
PREPARATION TIME: 5 MIN
COOKING TIME: 20 MIN
TOTAL TIME: 25 MIN
INGREDIENTS
Macaroons
2.5 cups shredded coconut
2-3 tbsp raw honey
3 egg whites, whisked till slightly frothy
see notes for additional optional add-ins
Chocolate dipping / drizzling sauce
Follow the recipe here
or use 1/2 a bar of dark chocolate (I use 78%) + 2tsp coconut oil  melted together
INSTRUCTIONS
Preheat oven to 180C / 350F
Stir together the coconut, honey, and egg whites till well combined.
On a lined baking sheet, use a cookie scooper to scoop 12-16 macaroons
Bake for a total of 15-20 minutes, rotating the pan mid-bake.
dip each macaroon in your chocolate and refrigerate for 30 minutes chocolate side up.
Once dry, flip over and drizzle with more chocolate.
NOTES:
Some of my favorite individual add-ins are:
1/4 cup chopped salted almonds
1/4 cup cacao nibs
1/4 cup mini chocolate chips
1/4 cup dried chopped cranberries
1/4 cup dried chopped cherries
1/2 tsp of powdered cardamom
add a 1/2 tsp of almond extract
1/2 tsp of cinnamon + 1/2 tsp of vanilla extract