THESE FERMENTED JEWEL COLORED VEGETABLES ARE YOUR GUT AND YOUR LIVER'S BEST FRIEND
I'm a fan of fermented foods for all their gut healing properties but fermented beets pack a double punch!
So you all know I am a fan of fermented foods. Gut issues are one of the top concerns I see with my clients and so I always recommend the addition of fermented foods. I'm a big believer in getting your probiotics through food before supplements.
But did you know beets have there own super-power even without being fermented? So, just to clue you in, beets are amazing for the liver! Our liver is constantly under so much stress filtering everything we put in and on our body. It's one of the largest organs and we definitely don't give it as much love as we should. Adding wonderful foods like beets can be extremely beneficial to the liver's detox process which means less work for the rest of your digestive system.
How do beets help? To simplify, there are 2 main ways.
1.They contain an amino acid called betaine. Betaine activates enzymes that help increase bile which is needed to digest fats.  Many toxins exit the body with our fat, and obviously we don't want to be storing fat right!
2.They contain phytonutrients called betalains. These phytonutrients give beets their beautiful color as well as helps the liver's detoxification process (Phase II to be specific).
No matter how you slice them, beets are an amazing healing food that I always have on hand.
ABOUT THIS RECIPE
You will need a mandoline or a very steady hand to slice the beets up nice and thin. Fermented beets are no-fuss and easy to prepare. These taste wonderful in a salad with goat cheese and walnuts or with oranges. I also love to have them simply on the side of a meal.
The spices I use are what I enjoy, but feel free to play around with flavors and see what you like best!
Yield/Servings:
Author: Riyana Rupani
Print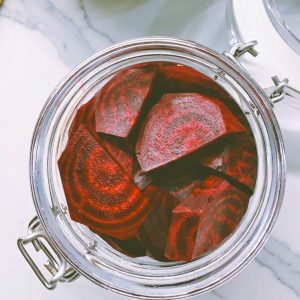 Fermented Spiced Beets
Beats are beneficial for your liver health and bile production and fermenting them makes them great for the gut as well.
PREPARATION TIME: 10 MIN
TOTAL TIME: 10 MIN
INGREDIENTS
4 small or 2 large beets, peeled and sliced 1/8 to 1/4 inch thick (use a mandolin
1 medium white onion, peeled sliced in rounds using a mandolin
2 cloves garlic, thinly sliced
1 tsp caraway seeds
1 tsp fennel seeds
½ tsp black peppercorns
½ tsp black or yellow mustard seeds
1 Tbsp coriander seeds
1 tbsp salt
2 cups of water
INSTRUCTIONS
Using a clean 1-liter clip top jar, add in the spices and garlic.
Add the beets and onion in layers. A few slices of beet, a few slices of onion and repeat until the jar is full
Leave 1 inch at the top.
In a bowl, mix the salt in the water till dissolved to make the brine.
Pour the brine over the beets, onions, & spices in the jar covered completely. Be careful not to overfill.
Seal the jar and place it in a warm space for 3-5 days.
You'll need to open the jar daily to release the air building up inside from the fermentation. This is called "burping". Make sure to do this at least once a day.
After a few days, taste the beets and, once it's as sour as you like, store them in the fridge for up to 6 months.
These beets are great on a goat cheese crostini, added to a salad, or as a side to any meal you are having.