MOVE OVER COFFEE, THIS ONE WILL LEAVE YOU FEELING ENERGIZED & ZEN!
Matcha has officially become my new found love! Sorry Coffee, you'll need to take a back seat for a while!
So why have I replaced my morning cup of jo with matcha?
Some of you know (but most of you don't), I deal with anxiety. At times it's worse than others but in general I'm always on the look out for things to help me find my inner zen and Matcha is just perfect for this.
It's got about half the caffeine as coffee, is full of antioxidants, is anti-inflammatory, and contains 1 very special ingredient – L-Theanine. This amazing amino acid seems to have magic powers for me! research shows It can help with the following:
• lowers stress and anxiety
• Increases alpha waves in your brain (meaning a relaxed)
• Improves memory and concentration
• can decrease your heart rate in stressful situations (like every morning when I try to get my boys to school! )
How do I like my matcha? As a latte with a combo of almond milk and coconut milk. It's creamy, slightly sweet, and oh so yum!
Yield/Servings: 1
Author: Riyana Rupani
Print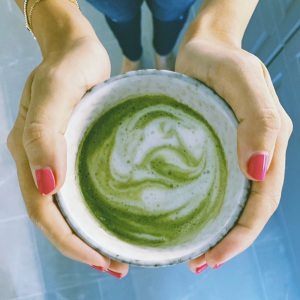 Matcha Latte
Matcha Latte
PREPARATION TIME: 1 MIN
COOKING TIME: 4 MIN
TOTAL TIME: 5 MIN
INGREDIENTS
1- 1.5 tsp ceremonial grade matcha (depending on how strong you like it)
1/3 cup hot water (not boiling)
3/4 cup unsweetened non-dairy milk - I love coconut or almond or a combination of the two! (use only coconut milk for AIP
INSTRUCTIONS
For a hot latte: Heat milk on a low-medium flame in a small pot or use an Aerrocino milk frother
Heat water in a kettle - remember you want hot, not boiling water
Measure matcha powder into a wide-mouth and wide bottom cup. You can also add a scoop of collagen powder if you like. Using a bamboo whisk if you have one, otherwise use a regular whisk, or fork to whisk the powder to ensure there are no clumps.
Once water is hot pour about 1/4 cup over the matcha powder. I like to use a hand-held frother to mix this up and ensure all the matcha is well dissolved.
For a hot latte: Once your milk is heated through, slowly pour your milk over the matcha to combine and make your latte.
For iced latte: Add ice and milk to a glass, pour your matcha over top and stir with a straw.
NOTES:
* If using coconut milk go for one that is in a BPA free can. If using almond milk, I usually recommend making your own but if that's not gonna happen I have linked my favorite brand in the recipe above.

* the hand-held electric frother also works well for the stage when you add the water to the matcha if you want to reduce your utensil use.