A NORTH AFRICAN/MIDDLE EASTERN DISH THAT IS PERFECT SERVED UP FOR BREAKFAST, LUNCH, OR DINNER!
For those of you who know me, you know I like big flavors, and this simple dish is full of them.
I always say start your day savory.  Doing this will help you keep your blood sugar balanced throughout the day, along with your energy. It'll also help you have fewer cravings!
This is a perfect dish to start your day with, but give it to me for breakfast, lunch, or dinner and you can call me happy!
Shakshouka is a North African/Middle Eastern dish with tomatoes, eggs, and spices, this dish is extremely versatile and forgiving, so don't be afraid to use what you have on hand.
Change it up:
Add extra veggies

like eggplant, bell pepper, mushrooms, spinach, zucchini – They all work beautifully!  You can even skip the eggs and make a vegan version of this dish.
Keep your spices interesting

! I sometimes like to give this a Mexican feel and add taco seasoning & nutritional yeast or make it more Indian by adding a bit of garam masala or tandoori masala.
No matter how you dish it, this meal is a winner.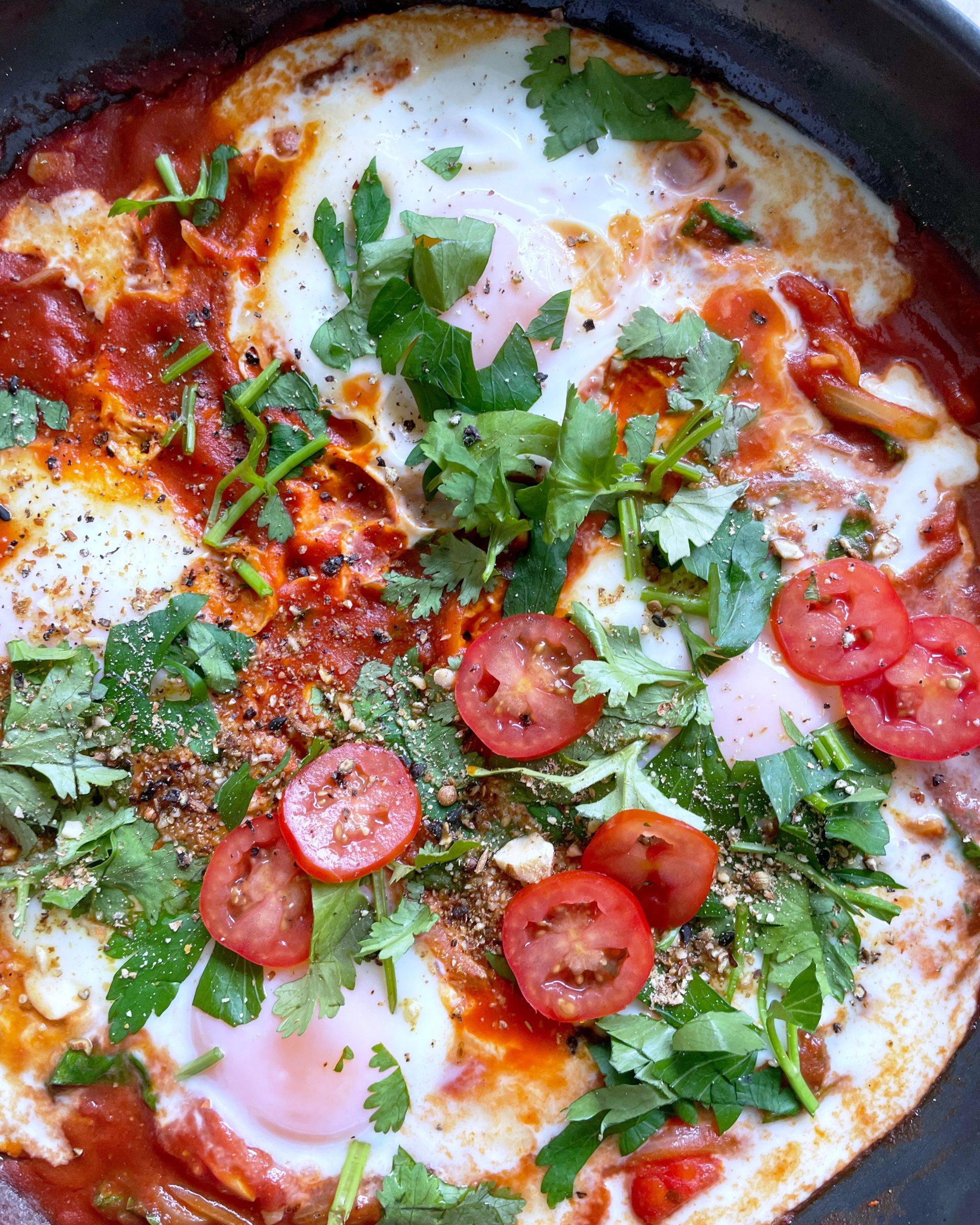 Yield/Servings: 2
Author: Riyana Rupani
Print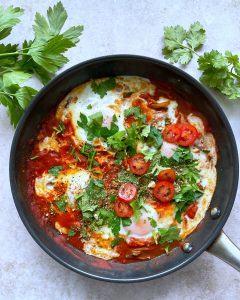 Shakshouka
A complete breakfast with tons of flavor and easy to prepare.
PREPARATION TIME: 5 MIN
COOKING TIME: 7 MIN
TOTAL TIME: 12 MIN
INGREDIENTS
Main Ingredients
1 tbsp extra virgin olive oil
1 medium onion, sliced
2 clove of garlic (or 1/2 tsp garlic powder)
1 tsp cumin powder
1 tsp paprika
1/4 tsp chili powder (or to taste)
1.5 cup good quality crushed tomatoes
4 eggs
1/2 cup of any additional veggies you like  - baby spinach, kale, zucchini, mushroom, peppers, eggplant (optional).
salt & pepper to taste
Optional Toppings
chili flakes
sliced cherry tomatoes
sliced or chopped avocado
roasted peppers
chopped cilantro
chopped parsley
Ri's garlic chili oil or other hot sauce
INSTRUCTIONS
On a medium flame, heat your extra virgin olive oil.
Once hot, sauté the onion and garlic for about 30 - 45 seconds. Add the cumin and paprika, chili powder, and a bit of salt.  Continue cooking for about a minute or until aromatic.
Add your crushed tomatoes and any other optional veggies you are adding and lower the heat. Mix, cover, and let cook for a few 3-5 minutes.
Next, make 4 wells and carefully crack an egg in each well.  Cover and let cook for 7-10 minutes depending on how you like your eggs.
Garnish and enjoy