WHAT IS CHIMICHURRI? IT'S A DELICIOUS ARGENTINEAN SAUCE TYPICALLY SERVED WITH BARBECUED AND GRILLED MEATS, BUT IF YOU ASK ME, IT TASTES AMAZING OVER ANYTHING!
Seriously, a good sauce makes all the difference in taking a boring meal and making it into something special. Part of my weekly meal prep routine is always to make one or two sauces that I can use to spruce up grilled veggies, protein, or use as a dip for a light and easy snack. This one takes 5 minutes to make and is so full of flavor; I am sure you are gonna love it!
Some of my favorite ways to use Chimichurri is to drizzle it over lamb chops, Grilled Paneer or Halloumi skewers, or over a nice warm kale salad sprinkled with toasted pine nuts, pomegranate seeds. Honestly, the options are endless with this versatile sauce. I hope you enjoy it as much as I do!
Yield/Servings: 4
Author: Riyana Rupani
Print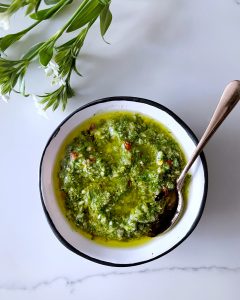 Chimichurri
A wonderful sauce drizzled over anything from grilled meats to seafood or veggies. also great as a dip!
PREPARATION TIME: 5 MIN
COOKING TIME: 5 MIN
TOTAL TIME: 10 MIN
INGREDIENTS
1/2 cup flat-leaf parsley
1/2 red onion
3 cloves garlic
3 tsp capers
1 tbsp dried oregano (or 2tbsp fresh)
1 tbsp red wine vinegar (use apple cider vinegar for AIP)
2 tsp chili flakes (omit for AIP or if you don't like any heat)
1/2 cup olive oil (good quality cold-pressed, extra virgin please)
Salt to taste
INSTRUCTIONS
Add all ingredients to a food processor or blender and pulse to the desired consistency. - You want the sauce to be a little chunky so avoid over-processing.
Serve over meat, fish, or veggies
NOTES:
If you aren't a fan of onion, scallions make a wonderful milder alternative.