I LOVE THAI FOOD, AND ONE OF MY ALL-TIME FAVORITES IS PAD KRA PAO. IT'S TOTALLY DROOL-WORTHY, AND LIKE MOST THAI DISHES, IT HITS ALL THE RIGHT FLAVOR NOTES.
So what's the secret to good Pad Kra Pao? Thai Basil!
This ingredient is a must, and if you try and sub with regular basil, I'm sorry, but it just isn't going to taste the same. Thai basil is also known as holy basil, or tulsi.  It has a more sharp, spicy flavor, and it's what makes the dish what it is.
Traditionally the recipe calls for a dash of dark soy sauce, but since I couldn't find a clean version of this, I omitted it from the recipe. The only difference I could see was the color. The dark soy sauce gives the dish a much more rich brown glaze. Taste-wise, it didn't make a significant difference for me.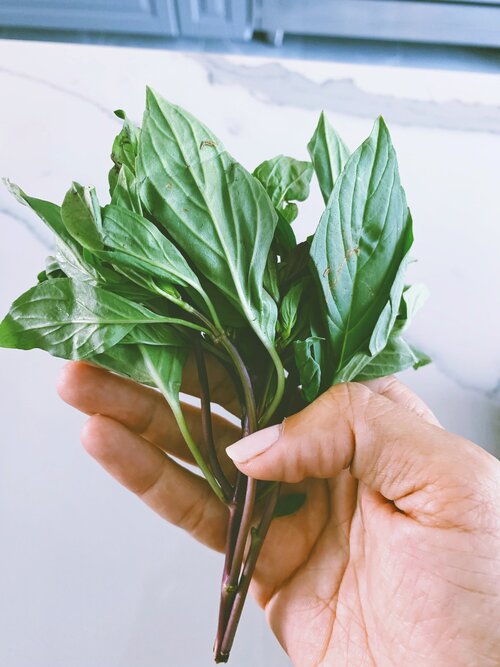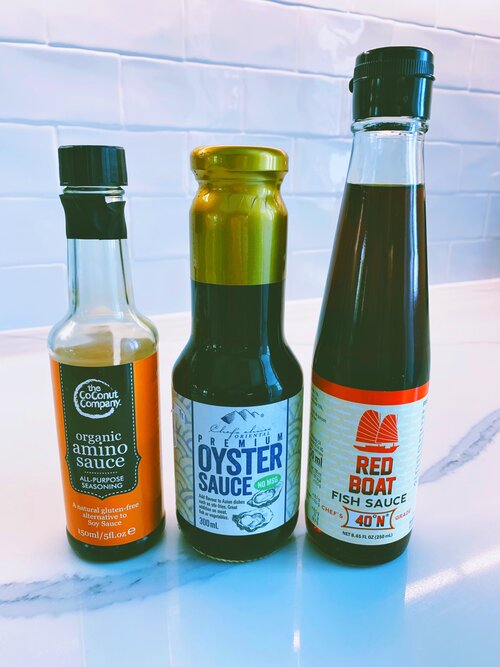 "Clean" Paleo compliant Asian Sauces which are my go-to's when making Asian food.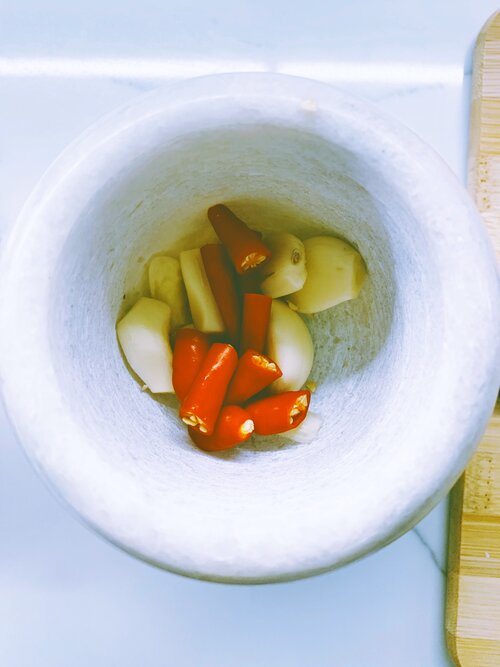 Using a Mortar & Pestle is how they do it in Thailand. It really draws out the oils to give the dish it's base flavors.
Lastly, I use a mortar & pestle to pound the garlic & chili together. I find this helps bring out the oils and flavors, and this is how you would traditionally see these ingredients prepared in Thailand. If you don't have a mortar & pestle, you can simply chop the garlic & chili.
I hope you guys love this clean version of Pad Kra Pao as much as I do!
Yield/Servings: 4
Author: Riyana Rupani
Print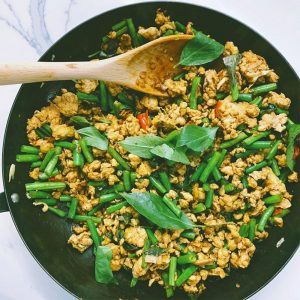 Thai Basil Chicken (Pad Kra Pao)
A delicious and simple Thai dish filled with herbs & spices. A definite crowd pleaser! Tastes great along with steamed Jasmine rice or served as an appetizer in lettuce cups
PREPARATION TIME: 15 MIN
COOKING TIME: 10 MIN
TOTAL TIME: 25 MIN
INGREDIENTS
4-5 Cloves Garlic
2 Red Chili
2 small shallots or 1/2 medium red onion finely chopped
1.5 tbsp Avocado Oil
250g Ground Chicken (fattier meat is better)
1 cup Chopped String Beans
1 tsp Fish Sauce* - or more to taste
1 tbsp Oyster Sauce
1 tbsp Coconut Aminos*
1/2 cup Fresh Thai basil Leaves
INSTRUCTIONS
Have all the ingredients ready to go, as cooking happens fast.
pound the garlic and chilies in a mortar and pestle (if you don't have one, you can mince them with a knife but the mortar & pestle help bring out the oils & flavor of the garlic & chili ).
Heat your wok or pan on high heat, and add about 1.5 tablespoons of oil to the pan.
When the oil is hot, add the chilies and garlic & chopped shallots. Stir fry them for about 30 seconds or until they become fragrant. Don't let them burn or get too dry.
Add in your chicken. Keep stir-frying continuously. At this point you want to continue to stir and cook your chicken until it's just about 1/2 way cooked, this should take about 2 - 3 minutes. If it starts to get dry, add just a tiny splash of water.
Add the string beans, followed by the sauces, and if using, finish with the dark soy sauce. Keep stir-frying for about another 30 seconds.
Grab your holy basil, toss it into the pan, fold it into the chicken, and then immediately turn off the heat. Serve with some steamed jasmine rice
With all Asian cooking; you will need to taste and possibly add more seasoning. All the sauces are a bit different, and you want to make sure everything tastes balanced.
NOTES:
* Coconut Aminos are a gluten and soy-free version of soy sauce. It is slightly sweet as it is derived from coconut nectar. If using soy sauce or tamari, add 1 tsp of coconut sugar

* For the Fish Sauce, I always recommend the Red Boat brand. It doesn't contain any sugar or preservatives