THESE WILL SOON BECOME YOU AND YOUR KID'S FAVORITE CHOCOLATE CHIP COOKIE!
Are you looking for a healthier version of your classic chewy chocolate chip cookie? Look no further!
I'll just tell you now, do yourself a favor and make a double batch… These are seriously delicious! Hands down one of the best home made chocolate chip cookies I have made (Paleo or not). And of course, they are quick and easy to make! Done in 20 minutes, start to finish!
You can make these as chocolatey as you like by modifying what type of chocolate you use and how much. If I make these for the kids, I usually make them with chocolate chips that are 70%-75%, but if I am making these for adults, I go as high as 85%.
Can't find dark chocolate chips? No problem.
Just pick up your favorite bar of dark chocolate and chop it!
I like to sprinkle sea salt flakes on my cookies because the salt highlights the chocolate, but this step is optional. Omit if the combination of sweet and salty isn't your thing!
Hope you love them as much as we do.
Yield/Servings: 12 Cookies
Author: Riyana Rupani
Print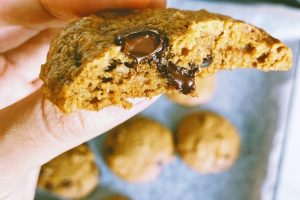 Favorite Paleo Chocolate Chip Cookies
These will definitely become a favorite in your house!
PREPARATION TIME: 10 MIN
COOKING TIME: 10 MIN
TOTAL TIME: 20 MIN
INGREDIENTS
1 Egg
1 tsp Vanilla
4 tbsp Coconut Oil
1/3 cup Coconut Sugar
1/4 tsp Baking Soda
1 cup Almond Flour
1/4 cup Coconut Flour
1/4-1/2 cup Dark Chocolate Chips or Chunks (depends on how chocolatey you want them)
Sprinkle Sea Salt Flakes
INSTRUCTIONS
Preheat oven to 350℉ / 180℃
Line a baking pan with parchment paper.
Mix the wet ingredients with coconut sugar until well combined.
Next, add in your dry ingredients and mix.
Last stir in your chocolate chips/chunks.
Scoop out a tbsp at a time and roll into a ball. Flatten on a baking sheet.
Sprinkle with flaked sea salt & bake for about 8-10 minutes.
NOTES:
For the chocolate - I always recommend using 70% or higher. If you can't find dark chocolate chips, a good alternative is to chop up your favorite dark chocolate bar. I love using Lindt 85%