THIS ONE IS NOURISHING, FILLING, DELICIOUS, AND EASY TO WHIP UP!
A Dinner your Gut will thank you for!
If there is one thing I am all about, it's simple dishes which are full of flavor. Bonus points if I can make them all in one pot or pan! This stew ticks all the boxes.
It's warming, nourishing, full of bold flavor, and will keeps you full and happy.
This dish is built around the smokey flavors of bacon but if you are vegetarian, I've got a tasty version for you too! The veggies I used are just what I happened to have on hand, so feel free to mix it up. Additionally you can also add additional protein. I have tried prawns, and shredded rotisserie chicken, and both have turned out fab!
Enjoy.
Yield/Servings: 4
Author: Riyana Rupani
Print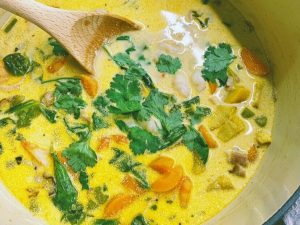 Whole30 Bacon & Vegetable Stew
This one is nourishing, filling, delicious, and easy to whip up!
PREPARATION TIME: 15 MIN
COOKING TIME: 20 MIN
TOTAL TIME: 35 MIN
INGREDIENTS
5–6 Slices Sugar-Free & Preservative-free Bacon (replace with sliced brown mushrooms for vegetarian option)
2 Tbsp ghee, or coconut oil(use coconut oil for AIP)
1/2 large onion, diced
2 Cloves Garlic, Minced
3 cups meat stock or bone broth or vegetable Stock
1 medium sweet potatoes, diced
1 medium carrot, diced
2 stalks celery, chopped
1 bay feaf
1/2 tsp dried thyme
1/2 tsp dried oregano
1/2 tsp paprika (omit for AIP)
1 tsp turmeric
2 cups chopped kale or baby spinach
1 cup full-fat coconut milk
salt and pepper to taste (omit pepper for AIP)
1/4 cup fresh parsley
Chili Flakes (optional, omit AIP)
INSTRUCTIONS
In a Regular Large Pot
Cook bacon in a large pot until well done and crispy. Set aside*
In the same pot add your ghee or coconut oil.
Once heated through, add onions and cook until translucent.
Next, add garlic and cook another 30 seconds.
Add broth, veggies, bay leaf, and dried spices. Bring to a boil, reduce heat and simmer (covered) until veggies are tender, about 15 minutes.
Stir in chopped kale or spinach and cook until wilted.
Add in coconut milk and season with salt and pepper.
Garnished with chopped crispy bacon and parsley.
In a Instant Pot
On saute mode cook bacon or pancetta till well cooked and crispy. Remove and let cool. Chop once cooled.
Add your oil or ghee and heat through. Add onions, and cook until translucent.
Turn the saute function off. Add the garlic and cook on the residual heat.
Next, add your broth and with a wooden spoon scrape the bottom to get any bits from sticking.
Add in all your other ingredients except the coconut milk, fresh parsley, and bacon.
Put the lid on, set the Instant Pot to pressure cook with a time of 2 minutes.
Let the pressure release naturally.
Open the pot and add your coconut milk.
Garnish with chopped parsley & crispy bacon
NOTES:
* Cooking the bacon in the same pot as the stew is important to get that nice smokey flavor. You can also use Pancetta.⁠

* For a vegetarian / Vegan option replace the bacon with mushroom. I like chopped shitake or portabello. No need to remove the mushrooms like the bacon. Replace the meat stock with vegetable stock.