A WONDERFUL FRESH & NUTRIENT PACKED WHOLE30 DRESSING.
This dressing reminds me of summer
It's fresh creamy and is absolutely perfect for creating a Mexican style slaw or a hearty salad.
I personally love this as a part of a good Taco Bowl. Here is my rendition of the classic fish taco bowl.
Make sure you are using a good quality mayonnaise that isn't full of inflammatory oils. Either make your own or use a Whole30 compliant one like this.
Yield/Servings: 3
Author: Riyana Rupani
Print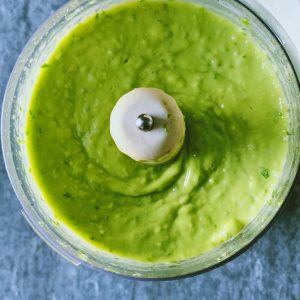 Creamy Avocado Lime dressing
A wonderful fresh & nutrient-packed Whole30 dressing.
PREPARATION TIME: 8 MIN
TOTAL TIME: 8 MIN
INGREDIENTS
1 ripe avocado
2 Tbsp good quality mayonnaise(replace with coconut cream for AIP, and I recommend Primal Kitchen vegan mayo for Plant-based)
½ cup of water
2 cloves garlic, crushed
1/3 cup chopped cilantro
1/3 cup scallion, chopped
2 tbsp lime juice
zest of 1 lime (optional but recommended)
1/2 tsp onion powder
salt & pepper to taste (no pepper for AIP)
INSTRUCTIONS
In a food processor combine all ingredients until smooth.