DELICIOUS SPICED FISH ON TOP OF A COOL AND CREAMY MEXICAN STYLE SLAW!
This Taco Bowl is a complete meal, full of healthy protein, fat, and fiber.
I was born in California and grew up with Mexican flavors. Since then, I have always had a thing for the cuisine. I love the bold seasonings, the spiciness, and of course all the avocado! This recipe has all of that. A cool creamy slaw, topped with a spicy blackened fish ontop.
As an option, I also like this bowl with prawns instead of fish. You would just season the prawns and cook them up in a skillet.
Yield/Servings: 4
Author: Riyana Rupani
Print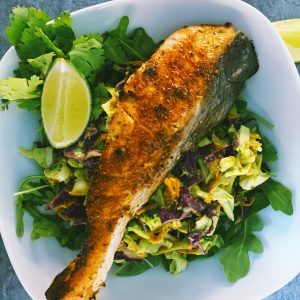 Whole30 Fish Taco Bowl
This Taco Bowl is a complete meal, full of healthy protein, fat, and fiber
PREPARATION TIME: 10 MIN
COOKING TIME: 30 MIN
TOTAL TIME: 34 MIN
INGREDIENTS
Roasted Sweet Potato
4 cups cubed sweet potato (buy precut to save time)
2 tsp olive oil
2 tsp cumin
1 tsp paprika
1/2 tsp salt
Blackened Fish
4 pieces of white fish about 150grams each (I like this barramundi) or salmon
1 ½ tsp smoked paprika
1 tsp garlic powder
1 tsp dried oregano
1 tsp onion powder
2 tsp cumin
1/4 tsp cayenne pepper
2 Tbsp olive oil or ghee
Salt & pepper
Mexican Slaw
1/4 cup chopped scallions
¼ cup chopped cilantro
3 cups shredded purple & white cabbage (or buy a coleslaw mix)
Salad
Garnish (optional)
Fresh chopped cilantro
Fresh or pickled jalapenos
Salsa
Lime wedges
Guacamole
Fresh chopped cilantro
INSTRUCTIONS
Preheat the oven to 180 degrees Celsius (375F). Place the cubed sweet potato on a baking tray, drizzle with olive oil, sprinkle with the cumin, salt, and paprika and bake in the oven for 20-30 minutes until tender.
To make the coleslaw in a bowl combine the shredded cabbage and 1/4 cup chopped scallions. Pour approximately half of the dressing over the coleslaw and toss until its well coated. Set aside.
To make the fish, on a plate mix together all the spices. Place the fish in the spice mixture and use your fingers to pat the spice onto the fish so that it's well coated on all sides without skin. Heat the oil in a pan on medium-high heat and cook the fish for 3-4 minutes per side until golden in color and cooked through.
Plate by putting a base of lettuce, adding some sweet potato, and slaw, top with a piece of fish and drizzle with more sauce and garnish.