PANDAN & COCONUT MAKE THE BEST COMBINATION
It's Chinese New Year!
I love this holiday for many reasons, but of course, the food is what gets me the most excited! The dumplings, spring rolls, glutenous rice (FYI doesn't actually have gluten!) and longevity noodles are some of my favorites, but what's a holiday without a little sweet treat!?!?
This year, my kids decided they wanted to make a healthier version of one of their favorite local treats for CNY.  They picked Ondeh Ondeh from the book A to Z of Singapore by Indigrow.
If you haven't checked out the beautiful Indigrow brand, I encourage you to do so.  I love their philosophy about raising children to not only appreciate their own culture but the culture of others from all over the world. In an increasingly diverse & global world, being culturally aware, kind & curious are traits I definitely want to instill in my children!  
Use the code HAPPYINDIGROW to get 10% off your order
Like the book says "Ollu the Owl is overeating Ondeh Ondeh", you better believe my kids can do the same!
If you don't know what Ondeh Ondeh is, they are little glutenous rice "cake balls" filled with palm sugar and coated with coconut.  They are often green in color due to the pandan they are infused with.
My version has all the same flavors as the traditional treat, but in a kid-friendly form that is a cinch to put together.  It's grain-free, dairy-free, and uses just a little honey to sweeten.  Better for your blood sugar levels and won't leave your kids with a sugar rush and bouncing off the wall (so better for your stress levels too)!
These cupcakes got that beautiful green color and that lovely chewy texture of coconut.
If you are not a fan of Pandan or don't have access to it, simply omit it.  You will have a lovely simple coconut cupcake recipe.  Or if you want to replace the pandan with another flavor, I recommend orange!  Still festive and full of flavor.  Try adding the zest of 1 orange along with 2 Tbsp fresh orange juice.
Gong Xi Fa Cai Everyone!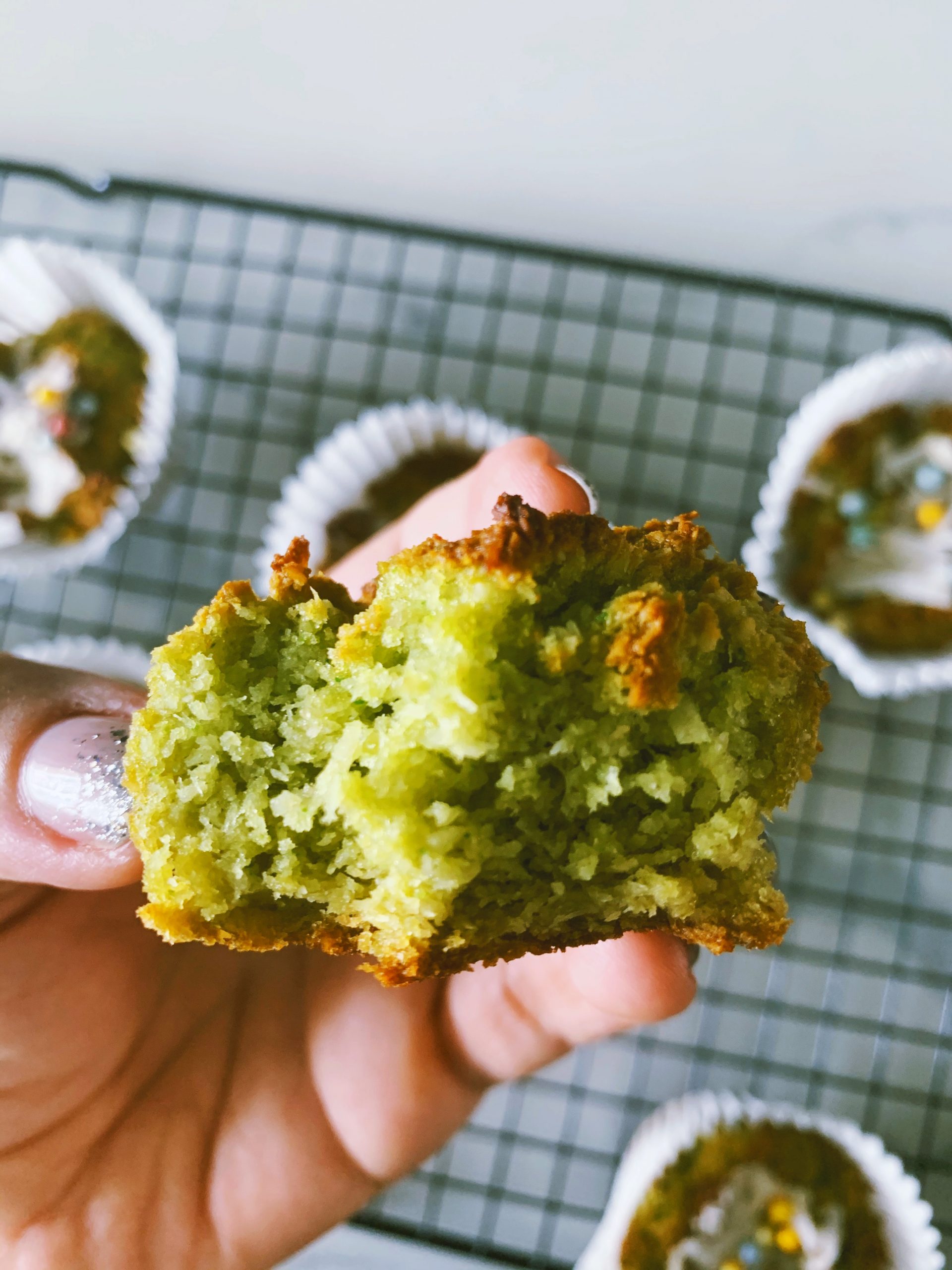 Yield/Servings: 10
Author: Riyana Rupani
Print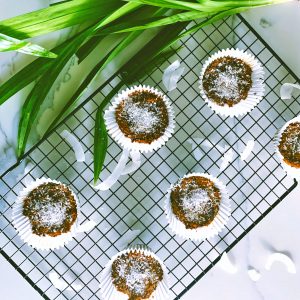 Ondeh Ondeh Cupcakes
All the beautiful pandan and coconut flavors packed into healthy little cupcakes!
PREPARATION TIME: 12 MIN
COOKING TIME: 20 MIN
TOTAL TIME: 32 MIN
INGREDIENTS
Wet Ingredients
3 eggs at room temp
1/4 cup honey
1/3 cup coconut milk
3 Tbsp coconut oil
1 tsp vanilla extract
40g fresh pandan leaves
Dry Ingredients
1 1/4 cup desiccated coconut
1/2 cup almond flour
2 tsp coconut flour
3/4 tsp baking powder
1/4 tsp salt
Optional toppings
a drizzle of honey and sprinkle of coconut
coconut butter
"frosting" made of cashew butter & a bit of honey
toasted coconut
INSTRUCTIONS
Preheat your oven to 180C/375F and line a cupcake tin with liners.
In a blender combine all your wet ingredients and blend until your pandan leaves and broken down well. Let the pandan infuse in the liquid for a minimum of 10 minutes.
In a large bowl, mix together your dry ingredients.
Use a strainer and strain your wet ingredients into your bowl with your dry ingredients. You want to get all the flavors of the pandan but don't want the actual pieces of the leaves getting into your cupcakes.
Give everything a good mix and spoon the batter into your lined cupcake tin.
Bake your cupcakes for 18-20 minutes. Let cool for 5 minutes in the pan before removing to a wired wrack to cool completely.
Top with toppings of choice and enjoy!