PERFECT TANDOORI STYLE PRAWNS.
These tandoori prawns are great as an appetizer or a main course.  
These skewers are no-fuss and take minutes to make.  I tend to always have frozen prawns on hand at home.  They are an easy protein that thaws quickly and cooks up just as fast.
Whether you are entertaining on the fly or need a quick dinner, this is a great option.
Love this served up alongside classic green chutney and make it a meal with some Indian spiced roasted vegetables.
FYI – this marinade works well with so many different proteins and veggies.  chicken, lamb, paneer, potato, fish, etc.  If you are doing chicken or lamb, I would recommend adding 2 tbsp of yogurt or coconut yogurt to help tenderize the meat. 
Enjoy!
Protip!  Use a good quality tandoori masala.  Many spice blends can have additives and pesticides.  my choice is Indian Spice Box for all my Indian spice blends.
Yield/Servings: 10 skewers
Author: Riyana Rupani
Print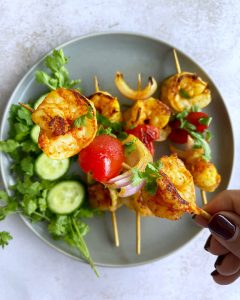 Tandoori Prawns/Shrimp
A simple Indian spiced prawn dish that can be served as an appetiser or main
PREPARATION TIME: 10 MIN
COOKING TIME: 10 MIN
WAITING TIME: 30 MIN
TOTAL TIME: 50 MIN
INGREDIENTS
10 wooden skewers
about 20 prawns, deveined and butterflied
1 tsp paprika
2 tsp tandoori masala
1/4 tsp turmeric
1/4 tsp chili powder
salt to taste
2 tbsp lemon juice
optional - additional vegetables to add to your skewers - onion, bell pepper, cherry tomato, etc.
1 tbsp  avocado oil or ghee for cooking
INSTRUCTIONS
soak skewers in water for 30 minutes.
Marinate prawns in your spices and lemon juice and set them in the fridge for a  minimum of 30 minutes.
Skewer shrimp, alternating with any veggies if using.
Heat up your avocado oil or ghee on a pan (ideally a cast-iron). FYI, this cooks up amazing on a BBQ.
make sure your pan is nice and hot.  Add your skewers to the pan making sure things don't get too crowded.  Allow the prawns to cook for 2 to 3 minutes per side.  Ideally, we want a little char on the prawns.
Remove and repeat with remaining skewers.
Enjoy with green chutney.