SIMPLE, BEAUTIFUL, AND TASTIER THAN YOU THINK!
A no-fuss, easy and inexpensive way to get more veggies on your plate! 
No matter what veggie you choose, roasting them ups the yum factor and actually makes them easier to digest. 
 Fear cabbage because of digestion and bloating?
I have many clients who come to me with digestive troubles and cringe at the thought of eating certain veggies because it leaves them feeling bloated and uncomfortable, but if you cook them as I have done here, it makes the veggie much easier to digest!
If you fear cruciferous vegetables because you have a Thyroid condition, let me explain.  
Cruciferous vegetables have something called goitrogens in them, and these goitrogens interfere with the uptake of iodine by the thyroid. Iodine is an essential mineral for thyroid health.
BUT roasting them(or cooking in any way) actually significantly reduces their goitrogenic properties and the effect they have on the thyroid.
So please don't fear your cruciferous vegetables, just cook them!
Today I simply roasted up some beautiful purple cabbage.  I love the jewel-like color but you can use any variety of cabbage with this recipe.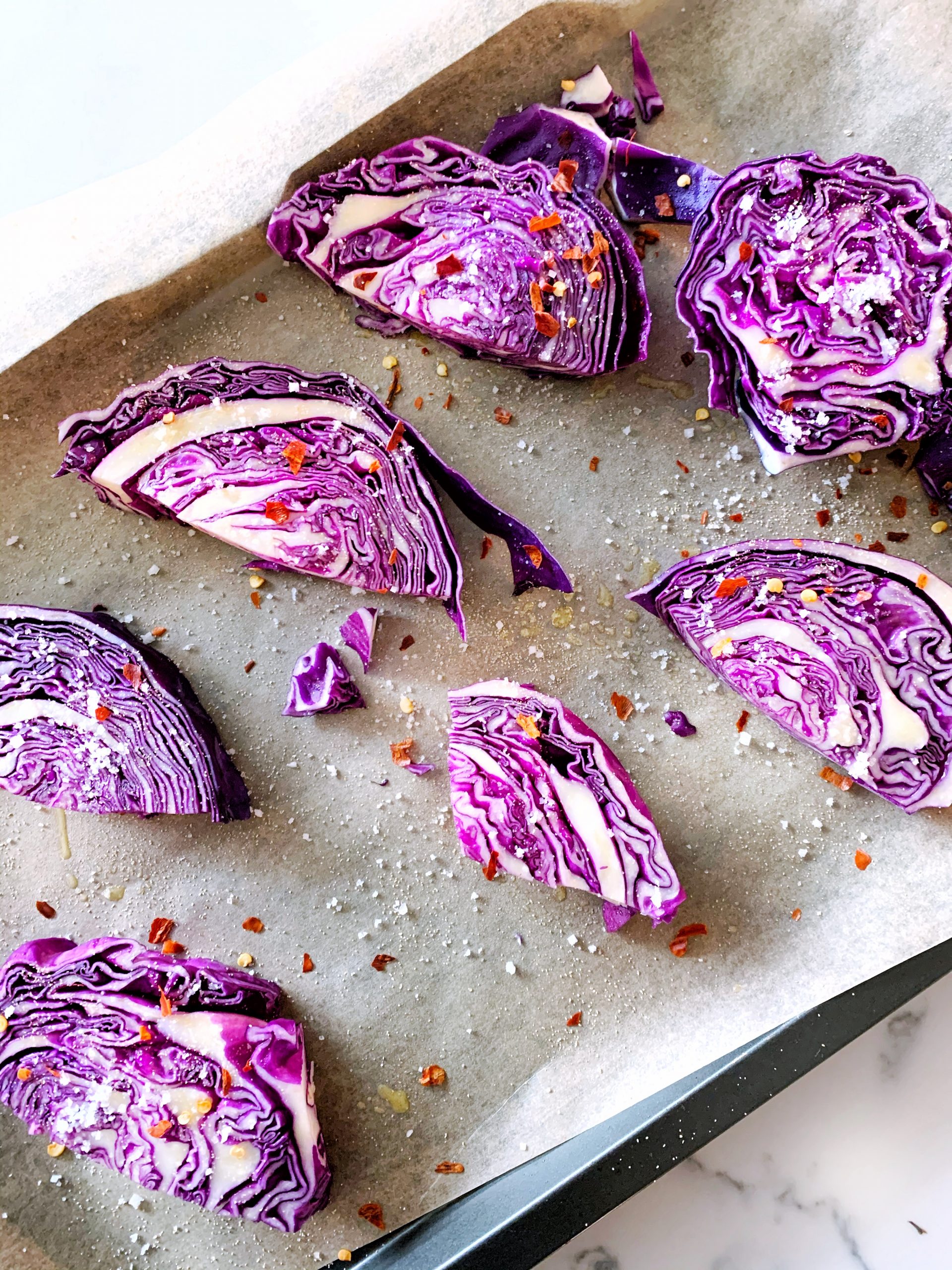 If you are worried it won't taste good…. trust me!  You will be pleasantly surprised.  If you enjoy roasted Brussel sprouts, broccolini, or anything that has a bit of a char, this won't disappoint!
I have simply seasoned the cabbage with some garlic powder, sea salt, and chili flakes, but feel free to add, modify, and playground with flavors you like.
I personally like to keep the cabbage simple and add flavors through a good sauce.  Here are some of my fav
No matter how you serve this up, I am sure it won't disappoint!
Yield/Servings: 4
Author: Riyana Rupani
Print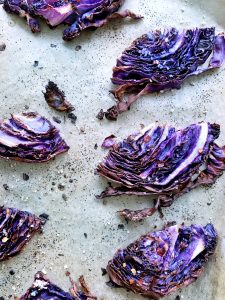 Roasted Cabbage
A delicious side dish that will have you coming back for more
PREPARATION TIME: 10 MIN
COOKING TIME: 20 MIN
TOTAL TIME: 30 MIN
INGREDIENTS
Drizzle of olive oil or olive oil spray
1 large cabbage, red or green.
1-2 tsp Fleur de Sel or good quality sea salt
1 tsp garlic powder
Red pepper flakes to taste
INSTRUCTIONS
Preheat your oven to 400F/200C and line a baking sheet with parchment paper.
Remove the cabbage's damaged outer leaves and cut it in half. You can then cut it into wedges or thick slices as in the picture. Make sure the cabbage is washed and dried well.
Place the wedges in a single layer on the baking sheet and drizzle/spray with the olive oil, then season with the salt, garlic powder, and red pepper flakes.
Roast the cabbage for 20-30 min or until browned and crisp.
Enjoy with a drizzle of one of Ri's chili oil for an extra kick!