SO MUCH CREAMY GARLICKY FLAVOR IN EVERY BITE!!
Mediterranean Magic happening here with my Creamy Garlic Tuscan Prawns!
If you love dip-able delicious sauces that are bursting with flavor!  This is for you
And remember, just because it's creamy doesn't mean it has to have dairy!
I served this up to friends without telling them it was dairy-free and they were shocked (in a good way)!
We use ghee, coconut milk, and nutritional yeast, and those three together, give you all the cheesy feels!  The creaminess paired with the flavors of the sun dried tomato, garlic, and capers are just heavenly!
While the version I made used all Paleo ingredients, you can definitely be more indulgent and swap out the broth for white wine, and if dairy works for you, coconut milk for cream and parmesan is amazing instead of nutritional-yeast.
This dish is also AMAZING with chicken instead of shrimp, and for vegetarians, mushrooms are wonderful!  cook the chicken or mushroom ahead, similarly to the shrimp, and add them back in and let those flavours meld and mold!
I loved this served on it's own but this dish would be amazing served over your favorite gluten-free pasta, zoodles,  or scooped up with a good bread.
I am dying to try this with a grain-free focaccia.
This recipe looks promising!  
No matter how you dish this out, this one is a wonderful served for lunch, dinner, or entertaining.  Since the recipes uses nutrtional yeast instead of parmesan, the texture stays the same even when it cools.
Let me know what you think of this.  Definitely a favorite over here! 
CREAMY, SAVORY, AND SPICY.
Hope you all enjoy this one!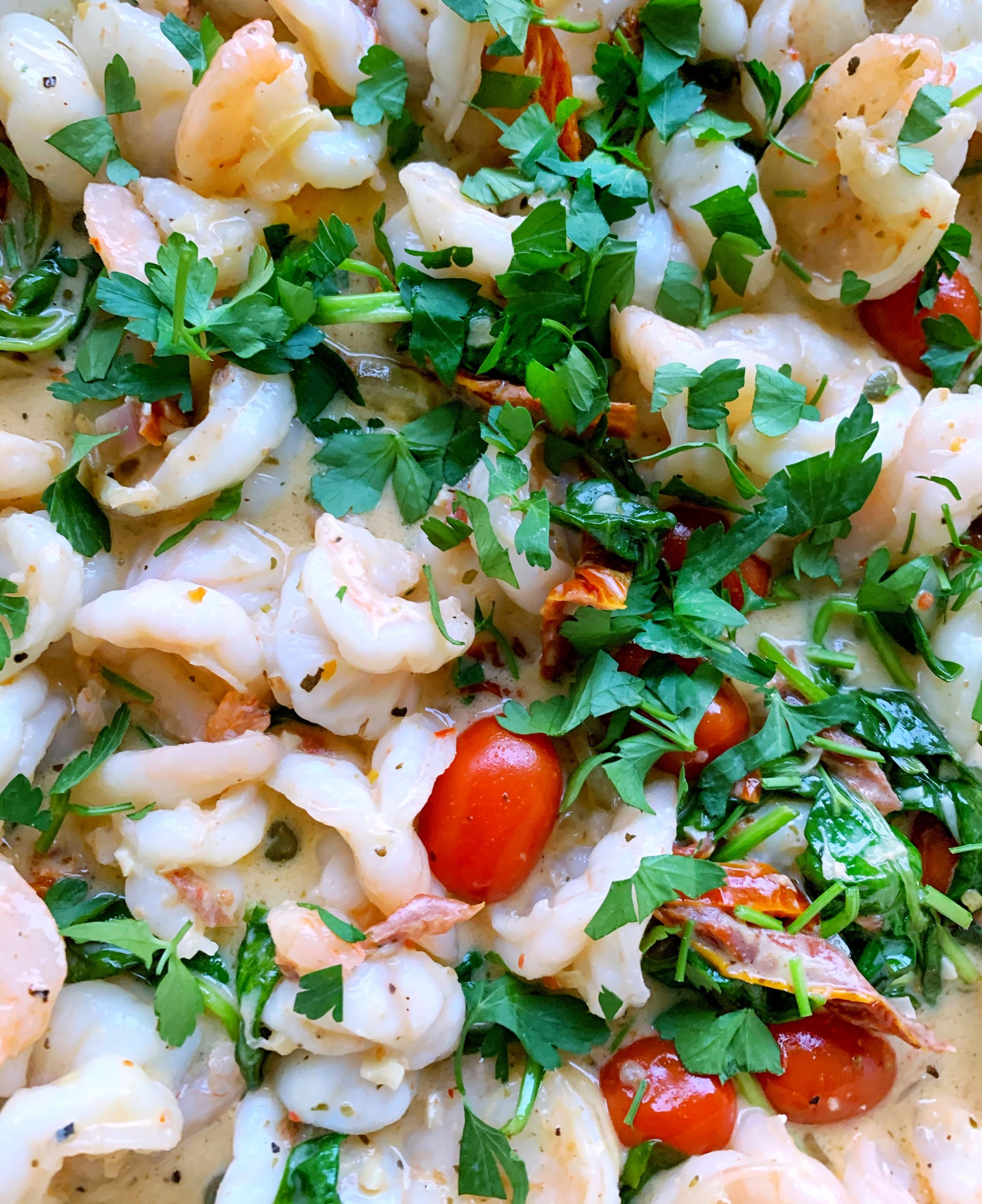 Yield/Servings: 4
Author: Riyana Rupani
Print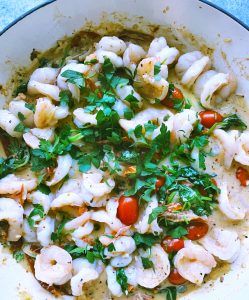 Creamy Garlic Tuscan Shrimp
So much creamy garlicky flavor in every bite! It tastes too good to be good for you!
PREPARATION TIME: 15 MIN
COOKING TIME: 15 MIN
TOTAL TIME: 30 MIN
INGREDIENTS
500g/1.2lb medium prawns uncooked, peeled, with tail on or off
salt and pepper
2 Tbsp ghee
1 onion, sliced
6 cloves garlic minced
1/2 cup chicken broth (or dry white wine)
1/3 cup sun dried tomatoes sliced
10 cherry tomatoes
1 cup coconut milk
1 Tbsp capers
1 tsp Italian seasoning
1/2 tsp chili flakes or to taste
More salt and pepper to taste
1/4 cup parmesan cheese or 2 Tbsp nutritional yeast
3 cups fresh baby spinach
Chopped Fresh Parsley and or basil
1 Tbsp tapioca flour mixed with 2-3 Tbsp coldwater to form a slurry (if needed)
INSTRUCTIONS
Heat the ghee in a skillet over medium-heat.
Season the shrimp with salt & pepper and cook for 2 to 3 minutes per side or until pink. Set aside.
In the same pan, add the onion and garlic to the skillet and cook until fragrant and onion is translucent, about 2 to 3 minutes.
Pour in the stock or wine and stir and simmer until it reduces by half.
Add in the sun-dried tomatoes and cherry tomatoes, cook for 1-2 minutes to allow the flavors to release.
Add in your coconut milk, season with Italian seasoning, and chili flakes and let everything come to a simmer.
Add in your parmesan cheese or nutrtional yeast and taste and adjust for salt & pepper as needed.
Add in your spinach and allow it to wilt.
Bring the shrimp back to the pan and toss everything.
Serve the shrimp topped with fresh parsley or basil or both.
If you find the sauce to thin, use the tapioca flour slurry to thicken