A SIMPLE PREPARATION OF YOGURT, SPICES, AND HERBS.
Raita is a staple side in Indian cuisine.
You will often see it served up next to a number of dishes, but the most popular is probably biryani. 
The recipe I am sharing today is the simplest version of raita.  You'll find tons of variations and you can definitely get creative with it as well.  Today we are using cucumber, for the vegetables, and coriander for the herbs.  I've made this with the addition of pomegranate and mint and it's been delicious!
Don't be afraid to get creative with the vegetables, fruits, and herbs you use!
I love this alongside 
Used as a salad dressing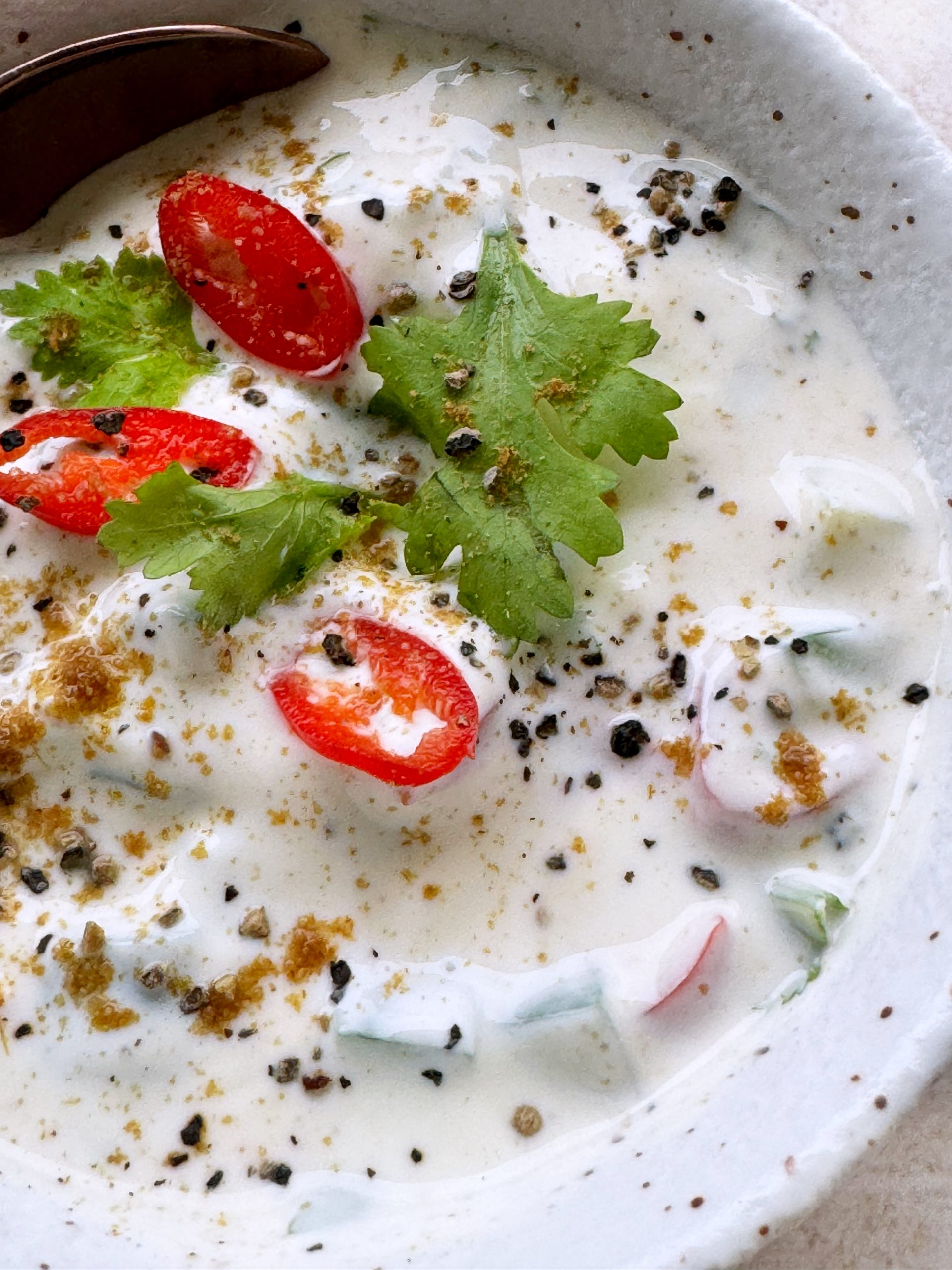 Yield/Servings: 1.5 cups
Author: Riyana Rupani
Print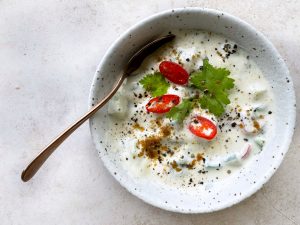 Raita
A simple dressing or side made from yogurt and vegetables or fruit
PREPARATION TIME: 10 MIN
TOTAL TIME: 10 MIN
INGREDIENTS
1 cup yogurt.  For dairy-free, I like almond or cashew yogurt.
1/2 tsp salt (or to taste)
1/4 tsp black pepper (or to taste)
1 tsp cumin powder
1 green chili, chopped finely (optional)
1 small onion, finely chopped
1/2 cucumber, chopped
2 Tbsp of chopped coriander leaves
INSTRUCTIONS
In a bowl, mix your yogurt with the salt, pepper, cumin powder, and chili if using.
Next add in your onion, cucumber, and coriander and gently mix in.
Taste and adjust salt/seasoning as desired.
Chill until ready to serve.
Garnish with more cumin powder, and coriander