WATERMELON & FETA FOR LIFE!
Cold, refreshing, juice, sweet and salty!  What a combo!
Watermelon Salad with Cucumber and Feta is an easy-to-make, refreshing salad. Perfect for those hot summer days when a good BBQ is in the plans.  It's always hot in Singapore so this salad is a staple for me!
You can make this beautiful salad ahead of time or toss it together quickly before serving.  Make sure to store this in the fridge if you make this ahead of time because you want this salad COLD and refreshing!
I also enjoy this salad alongside a meal that might be on the heavier side.  I feel it does a wonderful job cutting through the richness of a meal that might be protein and fat-forward.
The salad is lightly dressed in some simple lime juice, EVOO, salt & pepper.  I've added the classic mint you usually see in a watermelon feta salad, but I have also added some fresh sweet basil for some more earthy herby goodness.  The salad would be lovely with fresh Thai basil and some fresh-cut red chili as well!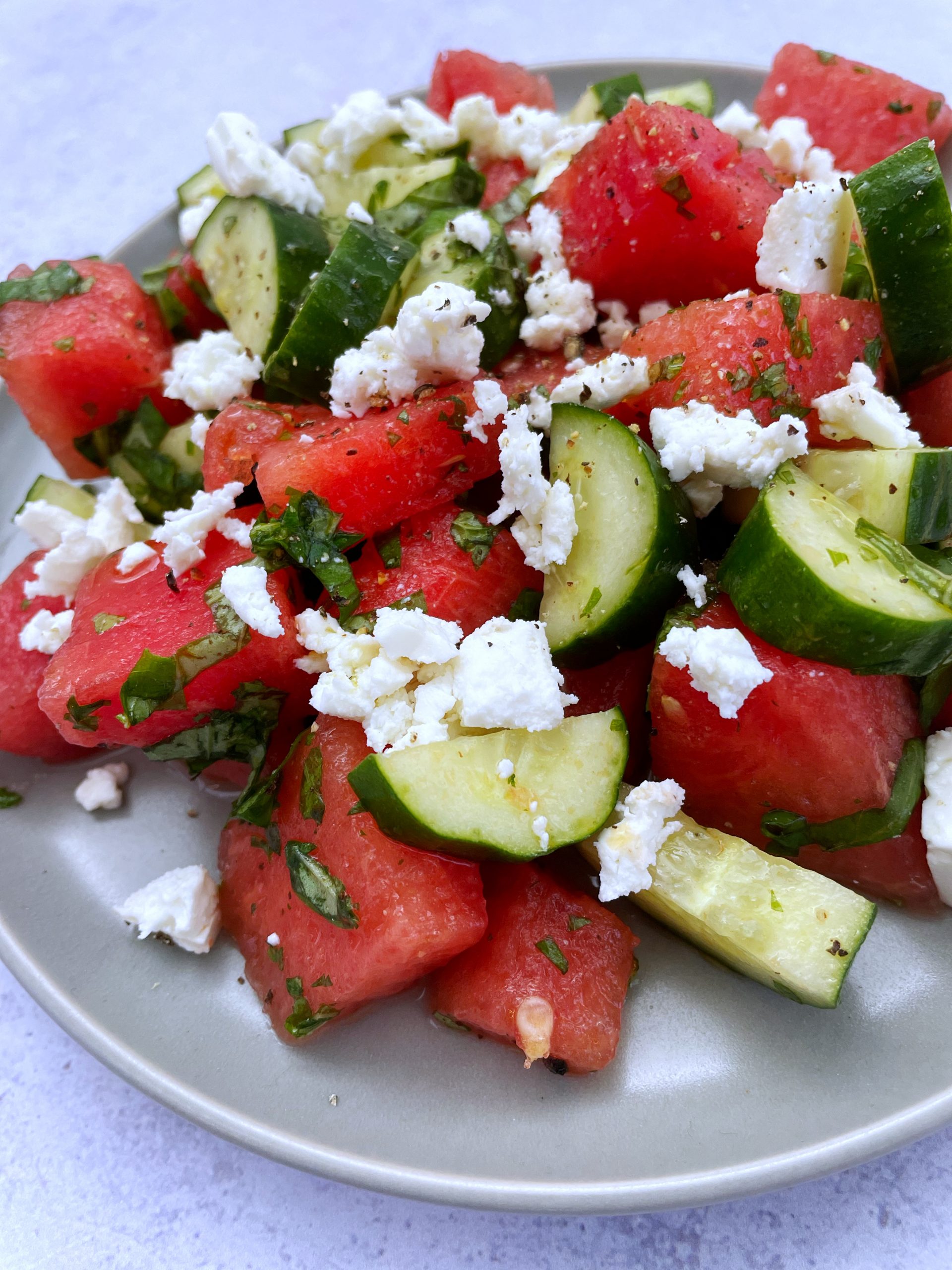 Yield/Servings: 4
Author: Riyana Rupani
Print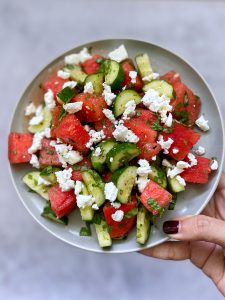 Watermelon Cucumber & Feta Salad
A refreshing salad for those hot summer days
PREPARATION TIME: 10 MIN
TOTAL TIME: 10 MIN
INGREDIENTS
4 cups watermelon, cubed
1 cup cucumber, sliced (I like Persian cucumbers)
3oz/85g feta cheese, crumbled or cut into cubes
2 tablespoon chopped mint
1 tablespoon chopped basil
1 lime, juiced (about 2 Tbsp)
salt and fresh ground black pepper to taste
extra virgin olive oil to taste
INSTRUCTIONS
In a large bowl add the watermelon, cucumber, feta, basil, and mint. Squeeze the lime over the salad, drizzle with olive oil, and season with salt and pepper. Stir to combine.
Taste for seasoning and serve